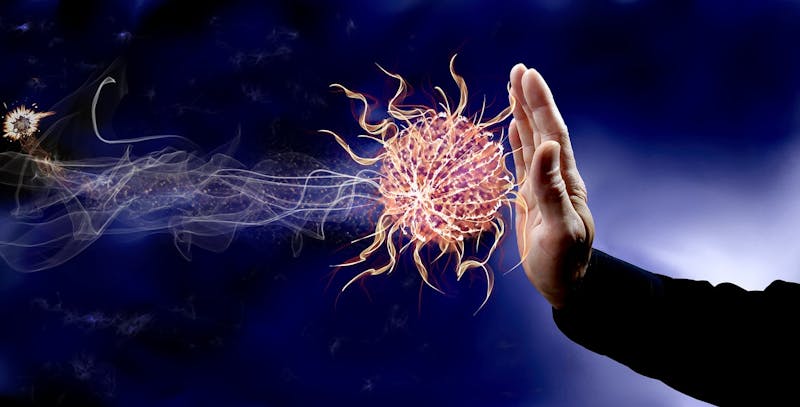 One of the best ways to prevent a viral infection, or any kind of sickness, is by boosting your immune system. Although the immune system is complex, there are a lot of natural ways to boost your immune system that are actually fairly easy to incorporate into your daily routine.
10 Natural Ways to Boost Your Immune System
1. Wash your hands.
Washing your hands is the single most effective way to prevent the spread of all infections. Wash hands for at least 20 seconds with soap and warm water. If you don't have access to soap and water, you can use hand sanitizer. But keep in mind that hand sanitizer shouldn't take the place of regular hand washing.
2. Don't touch your face.
Viruses that affect your respiratory system enter your body through mucosal membranes, which are found in your nose, mouth, and lips. Keeping your hands away from your face is an effective way to reduce your risk of becoming infected with viruses and other pathogens that can make you sick.
3. Eliminate sugar.
Sugar competes with your body's ability to absorb vitamin C. The more sugar that's in your body, the less vitamin C is allowed into your white blood cells. Ditch it, in all forms, for now.
4. Quit smoking.
Smoking also interferes with vitamin C absorption. If you can't quit, make sure you're getting AT LEAST an extra 50 mg of vitamin C per day (on top of the current recommendations).
5. Cut out alcohol.
Alcohol negatively interferes with your gut bacteria and reduces your immune function. Excessive alcohol consumption reduces the number of T cells, C cells, and macrophages – important structures for proper immune function. You need these cells to fight off microorganisms and prevent an infection.
6. Exercise.
Moderate exercise helps regulate your immune system and reduces your risk of infection (when compared to a sedentary lifestyle). It also helps reduce chronic inflammation and skews the immune system from what's called a Th1 to a Th2, which not only reduces your risk of getting a respiratory infection like the coronavirus, it also reduces the risk that the infection will be severe if you do get it.
7. Meditate.
Meditation helps reduce stress, and lower stress levels are connected to better immune function. Aside from that, meditation also directly influences the immune system by increasing antibodies (molecules that help neutralize pathogens and viruses) and the number of white blood cells.
8. Do something relaxing.
Panic and fear increase stress hormones, which lower the number of white blood cells in your body and suppress your immune function. As a result, your ability to fight off infection declines. Get off social media, stay away from the news, and do something relaxing that helps lower your stress levels.
9. Eat a healthy, balanced diet.
One of the best natural ways to boost your immune system is by eating a healthy diet. Up your natural intake of vitamin C (good food sources include citrus fruits, tomatoes, broccoli, Brussels sprouts, strawberries and red and green peppers), avoid sugar and refined carbohydrates, and keep your blood sugar as stable as possible.
Focus on getting lots of antioxidants and phytonutrients from fruits and vegetables. If you're having trouble getting everything you need from your diet, try a greens powder to help you meet your needs.
10. Intermittent fast.
Intermittent fasting triggers the body to start producing new white blood cells. It also promotes autophagy – a cellular cleansing response that helps your body detox naturally. If you're new to fasting, aim for a 14 to 16-hour overnight fast to see how you feel and then go from there.
*This article is for information purposes only. It's not a substitute for proper medical advice. Always check in with your doctor for questions about your health.