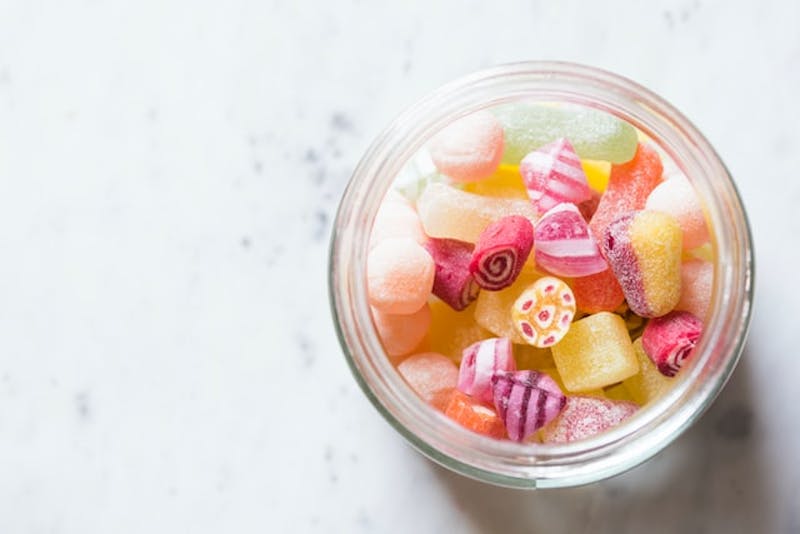 You don't have to give up sweets forever if you want to lose weight or manage a condition that requires you to cut back on sugar in your diet.
Cutting sugar out of a diet is a common piece of advice you may hear when given a plan to improve your health.
Whether it's to lose weight or to treat a condition like diabetes, cutting back or eliminating sugar is one of the most beneficial ways to improve your health. You don't even have to completely eliminate it to see improvements. Just cut back to a moderate amount.
But cutting back on sugar isn't easy.
Why is it so hard to stop eating sugar?
It turns out that sugar might be as addictive as some drugs.
The reality is that sugar causes our bodies to release dopamine, a feel-good neurotransmitter. In other words, the more sugar we eat, the better we feel in the moment.
Over time, our tolerance towards sweet foods builds, which means we need more sugar to feel that high. So if candy is a regular part of your diet, you may find over time that you want to eat more of it to feel satisfied.
But if sugar is has addictive qualities, why is it that you can go overboard in candy but almost never with fruit and other whole foods with sugar?
All sources of sugar are not created equal
Our bodies use sugars to survive.
And while there are diets like the ketogenic diet that relies on very few sugars in the diet, cutting out sugar altogether is not required for most people to live a healthy lifestyle or lose weight. It is possible to keep types of sugars in your diet and be healthy.
That's because not all sugar is the same, and the source of your sugar matters.
"Free sugars" are the sugars that are added to the snacks we buy to make them taste better. These are different from the naturally occurring sugars in apples, strawberries, and other fruits we eat.
The problem with these free sugars is that they occur in such high quantities in foods like ice cream, candy, and cookies. Our bodies aren't meant to consume such high quantities of sugar in one sitting. And when this happens on a consistent basis, that's where health problems arise.
But it is possible to still get a sweet fix without the addictive side effects of sugar with healthy sugar alternatives.
3 healthy sugar alternatives
Stevia
Stevia is now one of the most popular healthy sugar alternatives available. It's a natural and zero-calorie sweetener that comes from a South American shrub called Stevia rebaudiana.
Not only is it natural and calorie-free, but it's sweeter than sugar. It also doesn't taste exactly like sugar, as most people can spot the difference between something sweetened with sugar versus with stevia.
The leaves of the plant from which the sugar is derived are also rich in phytochemicals and other nutrients. As a result, stevia has some health benefits. Stevioside, one of the compounds that give stevia its sweet flavor, can lower blood sugar, blood pressure, and insulin levels. These benefits make it an excellent substitute for those who need to cut sugar to manage their diabetes.
Monk Fruit
Monk fruit is a small fruit that grows in Southeast Asia, and from it comes a sweetener that's a natural and healthy sugar alternative.
Like stevia, monk fruit contains zero calories and is noticeably sweeter than sugar. Unlike stevia, monk fruit contains sugars like fructose and glucose, but the sweet flavor comes from mosgrosides.
Mosgrosides are actually antioxidants that give monk fruit an added health value beyond being zero-calorie. The reason the sweetener is zero-calorie despite monk fruit having natural sweeteners like fructose and glucose is that in the process of making monk fruit sweetener, the mongrosides are separated out. The fructose and glucose don't make it into the sweetener.
Yacon Syrup
A sweetener that's growing in popularity is yacon syrup. It is extracted from the yacón plant found in South America.
It's similar to molasses in terms of consistency and its dark color, but it tastes sweeter.
The syrup also contains a unique type of sugar molecule that our bodies can't digest. The sugar is called fructooligosaccharides―and these sugars make up 40-50% of the sugars in the syrup. This means that it contains ⅓ of the calories contained in regular sugar.
Plus these sugars come with health benefits. They can lower your glycemic index, improve your body weight, and reduce the risk of colon cancer.
And since our own bodies don't absorb these sugars, the bacteria in our gut eat them instead. These fructooligosaccharides help the bacteria in your gut flourish, which brings more health benefits. Healthy gut flora is connected to better weight and improved brain function.
5 recipe ideas to use these healthy sugar alternatives in your own diet
Yacon syrup salad dressing
A salad makes for a delicious meal when you have the right additions to dress it up. Yacon syrup can be used to make a dressing that will make you excited to eat your greens.
Yacon syrup chocolate chip cookies
Cutting out sugar doesn't mean giving up on cookies. The best part of these sugar alternatives is that you can enjoy being on your diet when you have the right ingredients. Yacon syrup can make delicious chocolate chip cookies that anyone would enjoy.
Monk fruit brownies
Brownies are still on the menu when you use monk fruit instead of sugar. Get your chocolate and sweet tooth fix with brownies that won't cause an insulin spike.
Stevia Blueberry Muffins
Blueberry muffins are a tasty treat to have with coffee in the morning. It's possible to keep a favorite morning routine with this blueberry muffin recipe that uses stevia instead of sugar.
Stevia Keylime Tart
There are a lot of varieties on key lime tarts out there that use healthy ingredients. It's possible to get the sweet and tart mixture with stevia instead. And this recipe uses avocado and other whole foods to make a healthier version of a favorite summer dessert.
Get support creating a healthy and sustainable diet
We help our weight loss patients maintain a healthy and sustainable diet. That means a diet that they can actually stick to for a long time. While we recommend limiting the amount of sugar you consume, we also know what it means to be realistic while being healthy.
If you want to learn how to eat for your body and for your goals, we can help you create a plan that will be healthy, safe, and help you lose weight.
Whether you want supplements or just the support of a doctor and a diet, we have a range of programs that help you get down to a healthy weight and help you feel like yourself again.
To get your first consultation, visit your closest Valley Medical Weight Loss location today.