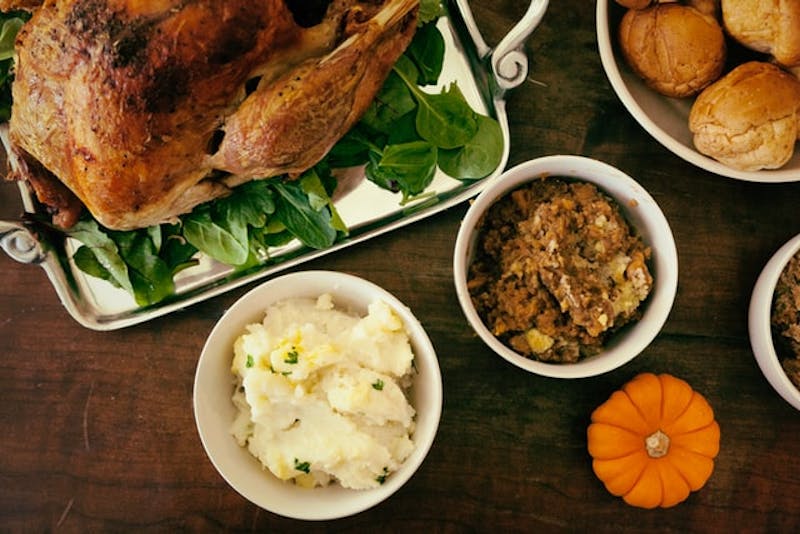 No one wants to give up the delicious Thanksgiving feast for their diet plan. We have some tips to help you have a healthy and enjoyable Thanksgiving. Plus we added some healthy Thanksgiving recipe inspiration!
The holiday season is the feasting season. There's no other time of year that we go out of our way to eat so much food on so many occasions back to back.
Which means if losing weight is your goal, this is the toughest time of year to get through. Temptation is everywhere. Whether it's at work or with family, there are opportunities to eat extra anywhere you go and with everyone you see.
Especially on Thanksgiving, which is now right around the corner.
While Thanksgiving is likely to be quite different for many of us this year due to COVID-19, if your household still plans on having a small holiday gathering at any time this season, there's no doubt delicious food will be involved. So you need a plan about how to navigate the influx of food with your weight loss goals. You need a strategy for a healthy and enjoyable Thanksgiving.
But it's important to keep in mind—Thanksgiving isn't about restriction and being miserly.
It's about family, friends, community, and all the delicious foods we enjoy at this time of year. Now isn't the time to be hard on yourself or to deprive yourself of everything you enjoy about the holiday.
But enjoying yourself doesn't mean going wild and forgetting about all the progress you've made either.
So what can you do to get through the holiday without feeling guilty and setting back your progress?
Tips for a healthy and enjoyable Thanksgiving (and rest of the holiday season)
1. Stick to normal portion sizes
The first way to get through this is to be aware of your portion sizes during each meal.
Oftentimes the feasting on Thanksgiving becomes an event to eat the most delicious food possible. And then sit in a stupor the rest of the day.
While eating delicious food is fun, neither the after-effects nor guilt of overeating are worth it.
You can still enjoy delectable foods. Just keep in mind optimal portion sizes:
Vegetables — 2 to 3 cups

Fruits — 1½ to 2 cups

Grains — 5 to 8 ounces

Dairy — 3 cups (fat-free or low-fat)

Protein foods — 5 to 6½ ounces

Oils — 5 to 7 teaspoons
Does this mean you need to break out the measuring cups and weigh your food at the Thanksgiving buffet? No way!
Just be aware of how much you're putting on your plate and aim to keep your portion sizes in an ideal range for the meal. Keep in mind everything you've had throughout the day and plan your plate accordingly.
This way you still get to enjoy the food that's available. Because in reality, the food itself isn't what makes you feel guilty. There's nothing inherently wrong with eating your favorite holiday foods.
The guilt comes from overeating far beyond what you know is reasonable. But you can avoid that by staying aware of your portion sizes as you pile food on your plate.
2. Leftovers are great!
When there's so much food available, it's tempting to just keep eating. Especially if you're someone who tends to feel guilty about not clearing your entire plate.
But there's nothing wrong with saving food for another day. In fact, that's one of the best parts of all the bulk holiday cooking. You get to have all that delicious food (and avoid cooking) for days afterward.
The same should be kept in mind when it comes to dessert. If your family is big on sweets and has multiple dessert options, there's no need to have every dessert in one day. Choose one and know that you can always have another dessert the next day.
3. Slow down
While it's natural to want second helpings of everything for holiday meals, remember to slow down.
It takes time for your body and mind to register that you're full. So as you finish your first plate of food, wait 10 minutes to see if you actually want that second helping as much as you think you do.
You'll likely find that if you wait before grabbing that second serving you won't want as much food, or any more food at all.
4. Load up on vegetables
Vegetables are the ultimate foods to load up on if you want to feel full faster. They're low calorie and full of fiber that fills you up faster than if you load up on carbs.
So to help you keep your calorie intake under control, make sure you get a lot of veggies on your plate in proportion to other types of foods. This allows you to get nutrient-dense foods and avoid overeating that happens when you load up on the lower satiety, high-calorie foods available to you.
5. Limit alcohol
When you think about how you want to allot your calories every day, you want almost all of your calories to come from healthful sources.
Alcohol isn't one of those healthful sources. Whether you drink wine, mixed drinks, or beer, the calories range from 150 to 200 per serving. And that adds up fast–especially when we're likely to drink more around friends and family.
Plus, alcohol is also known to make you feel hungrier. Despite consuming all those calories from alcohol, your brain thinks you're starving. Hence the cravings for fat-filled, greasy, and salty foods after a heavy drinking session.
So when you want to stay healthy, alcohol isn't what you want to go wild indulging in. This isn't to say you have to avoid all drinks. But for the sake of your health, limit the amount of alcohol and drink 8oz of water after any drink you will serve you well in the long run.
6. Make some time to be active during the day
You know you're likely to eat a few more calories than you normally do on any holiday family gathering. So go into that event prepared.
Make time for exercise in the morning. Burn those calories so you can eat a little bit extra without the guilt. You can go for a mile walk or take it at a jog. You can get a quick lift in at the gym. Or do a tougher yoga sequence from home. Whatever you like best to get movement in and burn extra energy so you have some wiggle room in your diet later.
Moving after or in-between meals is also a great way to get your blood flowing and help you digest better. Whether it's after your meal or before you settle in for the football game, go for a brief walk around the neighborhood. And this is something you can do with those you've gathered with and a nice change of pace from the usual day.
7. Use fresh whole foods as much as possible.
Whether you're cooking everything or contributing just one dish, try to cook with as many fresh and whole foods as you can.
Making your dishes from scratch takes more time. But the payoff for your health and the quality of food is worth it.
And if you're looking for some inspiration, here are 5 healthy and enjoyable Thanksgiving recipes that are freshly made from scratch that are on the healthier side of things while still being delicious:
Give any one of these tips a try and you're sure to feel better about how you eat on Thanksgiving. And you won't feel like you risked all the progress you made in your weight loss goal.
And it's worth keeping all these tips in mind as December rolls around. With all the holidays between now and New Years', it's easy to get carried away. But you can enjoy these months while still staying on track to lose the weight you want with the right plan and mindset in place. Try following a few of these tips and you're sure to have a healthy and enjoyable Thanksgiving this year.
Remember, if you need support and a weight loss plan, our experts can help you through the holidays and beyond.
Sources