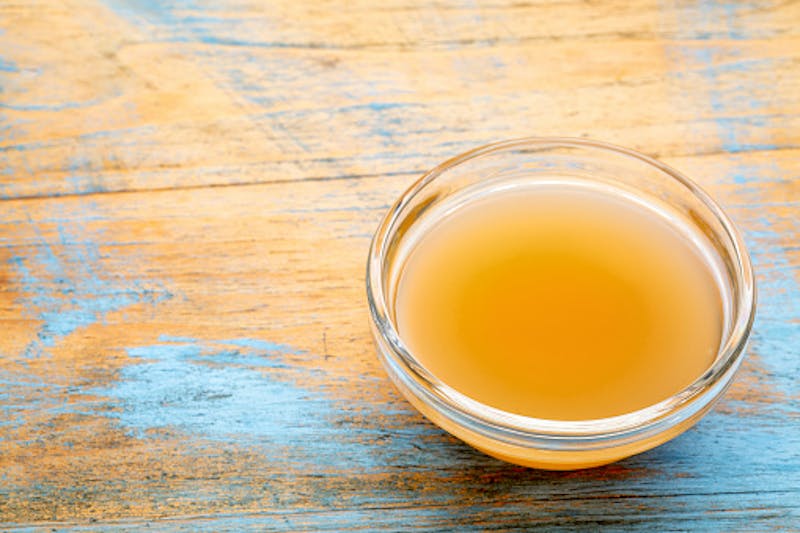 Okay, so maybe it's not exactly a "superfood", but the year just started and there's already been a lot of talk about apple cider vinegar, or ACV, as the regulars are calling it. For years, celebrities like Megan Fox and Miranda Kerr have sworn by ACV as a weight loss aid. Both beauties claim that drinking the vinegar daily is at least in part responsible for their svelte figures. That all sounds promising – and easy enough – but could it be too good to be true? To find out, we did some research on what the experts had to say.
Can Apple Cider Vinegar Help you Lose Weight?
The research on whether apple cider vinegar can actually contribute to weight loss is lacking; but one study out of Japan in 2009 found that drinking two tablespoons of diluted apple cider vinegar twice a day with meals helped participants lose four pounds in a period of 12 weeks. Researchers think that this benefit could be attributed to acetic acid, one of the main components in apple cider vinegar. Acetic acid can help speed up metabolism, contributing to weight loss. Another study found that drinking apple cider vinegar may help reduce appetite; however, researchers speculated this may be due to the fact that some participants felt nauseated after taking it. Although the research is promising, it would take more studies to really make a claim about whether apple cider vinegar can help with weight loss.
Other Benefits of Apple Cider Vinegar
While it may not be a magic potion for weight loss, apple cider vinegar does have plenty of health benefits, so it's worth including in your daily diet. It's rich in beta-carotene, calcium, and potassium, as well as probiotics, and enzymes, which contribute to a healthy gut and digestive system. Apple Cider Vinegar is also rich in antioxidants, which help fight off the substances (called free radicals) that contribute to cancer.
Choosing an Apple Cider Vinegar
As with most foods, the apple cider vinegar available for purchase differs. Some is highly processed, which leaves it lacking in the nutrition department. When choosing an apple cider vinegar, it's best to choose a raw version that has the "mother" intact. The "mother" is a cloudy substance that consists of cellulose and acetic acid. It's the mother that contains most of the vitamins, minerals, probiotics, and enzymes of the vinegar. You'll be able to spot it right away because the ACV will look cloudy and a bit murky. This is a good thing!
How to Drink It
When drinking apple cider vinegar, it's best to dilute it in 8 to 10 ounces of water. This makes it easier on the stomach and your tooth enamel, which can respond negatively to the acidity of the vinegar. After drinking the diluted apple cider vinegar, swish warm water in your mouth; and then wait at least 30 minutes before brushing your teeth.