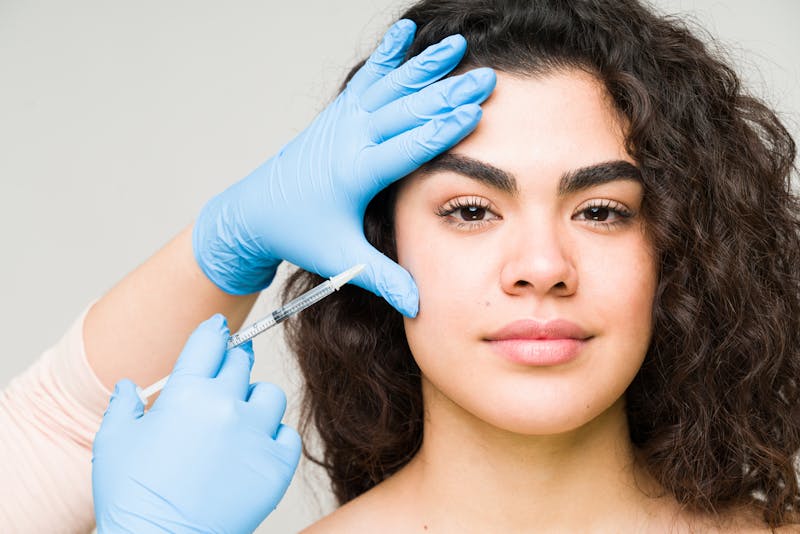 Valley Medical Weight Loss and Med Spa is excited to announce a revolutionary new addition to our aesthetic treatments—the Bellafill 5-year dermal filler! You walk out the door with noticeably smoother skin and you will enjoy gradual volume restoration over the next few months. Most importantly, long-lasting results!
What Is Bellafill?
Bellafill is a collagen-based FDA-approved dermal filler. It contains bovine collagen gel and polymethyl methacrylate (PMMA) microspheres. The collagen gel provides an instant smoothing base to lift and correct wrinkles and indented skin. The microspheres provide continual support and collagen production for up to 5 years.
Bovine collagen—you may be familiar with bovine collagen as it's the same type of collagen added to nutritional collagen protein powders. Consuming collagen provides various whole-body benefits, including improved joint health, wound healing, and skin elasticity. Injecting collagen gel directly under troubled areas provides targeted smoothing and rejuvenation.
PMMA—as the bovine collagen dissolves, the polymethyl methacrylate microspheres within the gel remain. Polymethyl methacrylate microspheres (PMMA) a is a biocompatible material that has been safely used in medical implants and other devices for more than 65 years. These microspheres provide structural support and contain a proprietary formula that stimulates long-lasting collagen production.
Most often used for wrinkles on the face, neck, and jowl areas, this filler can also be used to minimize under-eye bags, lift acne pockmarks, and add volume in areas of the body that have cellulite or indentations.
Does Bellafill Really Last 5 Years?
An impressive 83% of clients are satisfied with their results at the 5-year mark. The only exception is when Bellafill is used to lift the skin to smooth acne pockmarks. Although the microspheres continue to support collagen production to smooth skin from underneath, pockmarks are external. For pockmarks, you will likely require a follow-up treatment in about 12 months.
Here's a look at how long our other fillers last:
Radiesse—15 months.
Juvederm—up to 2 years.
Sculptra—up to 2 years.
Bellafill—up to 5 years.
Where Can Bellafill Be Used?
Bellafill 5-year dermal filler sculpts and adds volume to fine lines and wrinkles on the face, neck, and jowl. It's sometimes used on other areas of the body to lift external indentations.

This includes smoothing:
Laugh lines
Under-eye bags
Acne scars/pockmarks
Targeted cellulite on the body
Skin indentations on the body
Does Bellafill Look Natural?
Yes! If you are looking for an aesthetic treatment that delivers natural results, Bellafill is one of your top options—especially when speaking of fillers. In other words, you'll still look like you!
As you age, the cells in the fat layer under your skin shrink. This creates volume loss that makes you look gaunt and aged. It also makes wrinkles look more pronounced. When combined with the gradual collagen loss that is part of the natural aging process, you may not look as youthful and energetic as you feel.
Fillers are one of many aesthetic treatments that can restore a more youthful appearance.
Why Is Collagen So Important?
Collagen fibers (fascia) perform a variety of functions throughout your body. Think of them like layers of spiderwebs that sit under the skin. They run both vertically and horizontally throughout your body, connecting and providing support to your skin, muscles, tendons, ligaments, joints, bones, and organs.
Fascia is made primarily of collagen and requires collagen to keep it healthy. As you age, your body produces less collagen, which can leave your skin looking and feeling thinner, drier, and less elastic. Nutritional supplementation helps, but only go so far. There are many aesthetic treatments that stimulate collagen production to restore a youthful quality to your skin.
Valley Medical Weight Loss and Med Spa offers a variety of collagen-boosting and anti-aging options, many of which can be combined or strategically spaced out. During your consultation, we'll discuss the best options to make you look as young as you feel!
How Soon Will I See the Results?
Results are immediate! Our naturopathic doctor or nurse practitioner will strategically fill the skin underneath your wrinkles with Bellafill 5-year dermal filler. So, you'll see the difference before you walk out of the office. There may also be a bit of swelling, but it will subside gradually over the next week or so—sometimes in as little as a day or two.

Expect your skin to smooth and lift more over the next 90 days as the collagen is absorbed and your natural collagen production is revitalized.
Does It Hurt?
Before we begin, we will apply a local anesthetic so that you won't feel a thing. Your treatment area will be red afterward, and you may experience a bit of swelling. The swelling should subside in 24 hours, but it may take up to 7 days before full sensitivity subsides.
Are There Any Side Effects?
Bellafill is considered generally safe for men and women over the age of 21, with all skin textures, skin tones, and skin types. As a minimally invasive aesthetic treatment, the side effects are typically mild. Healthline advises that you may experience:
Swelling, bruising, or bleeding at the injection site
Skin redness
Itching
Tenderness
Rash
Feeling the filler under the skin
Infection at the injection site
Let us know if you have a history of severe allergies, if you are allergic to bovine collagen, are allergic to lidocaine, have a bleeding disorder, or are prone to keloids (thick scarring).
Following pre-and post-care will minimize the likelihood of side effects.
Is There Any Downtime With Bellafill?
Pre- and post-care for Bellafill 5-year dermal filler are minimal. We will provide you with an instruction sheet, that we may personalize to your unique needs.

Pre-Care
Stop taking blood-thinning medications one day prior. This includes ibuprofen, aspirin, acetaminophen, and prescription anticoagulants.
No alcohol the day before or the day of treatment.
Reschedule if the treatment area has a rash, cold sore, or any irritation.
Post-Care
No sun exposure, extreme heat, or drinking alcohol for 24 hours.
Use sunscreen, even if you are only walking to and from the car.
Wait 24 hours before applying makeup.
No strenuous exercise for 48 hours as it may shift the filler.
Avoid touching and excessive movement on the treatment area until sensitivity has subsided.
Apply ice to soothe swelling.
Sleep in an elevated position until the swelling has subsided.
Contact us immediately if you are experiencing significant pain, swelling, or side effects.
Why Does Bellafill Cost More Than Other Dermal Fillers?

Yes, Bellafill costs more upfront than most fillers. Since you only need refreshed every 5 years, it costs less than other fillers in the long run. The one exception where it may cost more is if you require annual treatment for pockmarks.
Treatment costs will vary depending on how many areas you want to be treated.
Want to Learn More About Bellafill 5-Year Dermal Filler?
Live in the Phoenix area and want to learn more about any of our fillers or aesthetic treatments? We know aesthetic options can be overwhelming to narrow down online. Not to worry, as you don't have to decide alone. Schedule a free consultation to discuss your aesthetic objectives—and we'll talk you through which treatments are right for you.
For your convenience, we have locations in Phoenix, Tempe, and Glendale.
Learn more about Bellafill today!