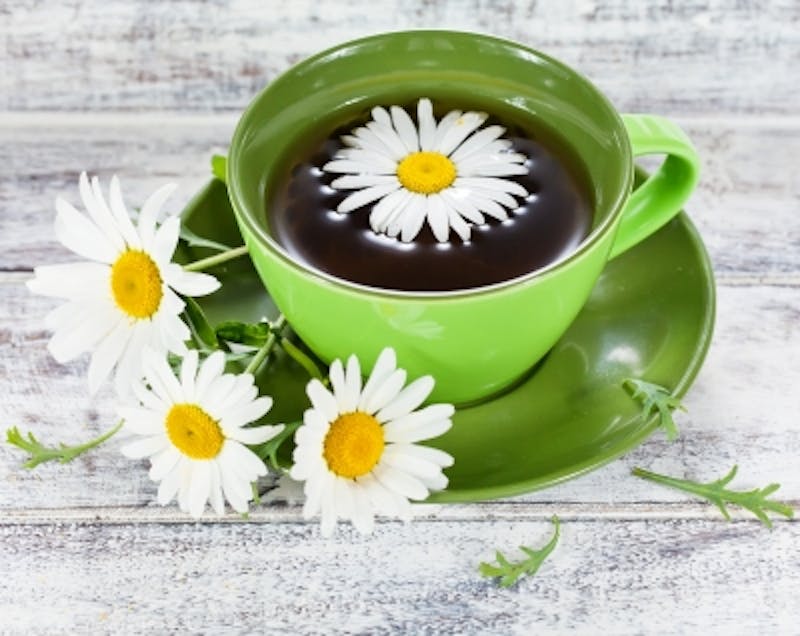 You already know to wash your hands after greeting someone with the sniffles, and your purse is stocked with a supply of antibacterial hand sanitizer, but you still get sick from time to time. What are you missing?
While practicing good hygiene and avoiding sick people can certainly help you avoid getting a cold or the flu, so can changing your diet. Certain foods and beverages can give your immune system a power boost that can keep you healthier and less susceptible to infections (on top of helping you to lose weight).
To start protecting your health today, make these foods part of your regular diet:
Chamomile Tea
This isn't just a go-to beverage when you are already feeling sick; drinking it when you are healthy can actually keep you feeling great. Drinking five cups of the tea a day can boost the levels of polyphenols in your blood. These plant-based compounds increase antibacterial activity, helping you ward off infections.
You don't have to drink your tea hot. Try cooling down on a hot Arizona afternoon with a tall glass of iced chamomile tea garnished with slices of lemon for a no calorierefresher that will help you lose weight.
Mushrooms
These tasty morsels are loaded with polysaccharides, compounds that are essential to immune system health, and they also help your body create cytokines, cells that are responsible for battling infections. Although all mushrooms have these compounds and benefits, your best bets are reishi, shiitake, and maitake varieties.
Whey Protein
Give your morning smoothie (and your immune system!) a boost with a scoop of whey protein powder. Whey is a great source of cysteine, an amino acid that changes to an antioxidant called glutathione in the body. The antioxidant protects your cells from viral and bacterial infections. If you don't like smoothies, reach for yogurt – the clear liquid that sits on top of it is pure whey protein. Instead of pouring it down the sink, stir it back into your yogurt for an immune-boosting breakfast or snack.
Tomatoes
Also loaded with antioxidants, tomatoes help protect white blood cells from damages caused by free radicals. Try eating cherry tomatoes as a healthy snack, filling an omelet with chopped slices or sipping on real tomato juice throughout the day to get your fix and improve your health.
Garlic and Onions
These flavorful foods do more than just add zing to your favorite dishes; they also contain many different compounds that boost immunity and have antiseptic properties.
If looking to either build stronger immune function or lose weight then consider Valley Medical Weight Loss. We can point out more foods to help you control your weight and put you on a specialized food plan tailored to your own physical needs.
Image by : Serge Bertasius