This weekend, we're (unofficially) saying goodbye to summer with friends, family, celebrations, and cookouts. With these cookouts comes lots of temptation, but just because you're watching what you eat, doesn't mean you have to miss out.
Cauliflower is all the rage in the nutrition world right now – and for good reason. It's packed with nutrients, low in carbohydrates, extremely versatile, and has a mild flavor that you can tweak to work for whatever you're in the mood for. We played around in the kitchen a little bit to create these cauliflower tortillas that you can use in place of a bun for a low-carbohydrate option for those hot dogs and burgers this weekend. And we think they're mighty good.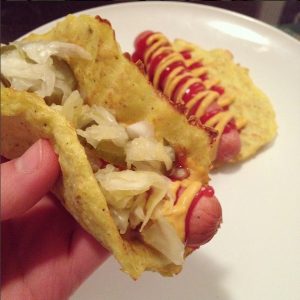 What You Need:
Small head of cauliflower
2 eggs
¼ teaspoon salt
¼ teaspoon pepper
Other spices, optional
What To Do:
Preheat oven to 375.
Take a small head of cauliflower and put it through a food processor to make cauliflower "rice". Measure out about 3 cups (packed) and steam in a veggie steamer for about 5 minutes.
Allow "rice" to cool and then place in a nut bag and strain out all of the excess water (THIS STEP IS IMPORTANT). If you don't have a nut bag, you can use a cheesecloth or a towel to squeeze out all the excess liquid.
Put the cauliflower in a bowl and add 2 eggs, 1/4 teaspoon salt, and 1/4 teaspoon pepper. You can get creative here and add some more spices and/or herbs depending on the flavor you want.
Mix everything together until incorporated.
Line a baking sheet with parchment paper and put about 1/4 cup of the mixture on the parchment paper. Use a fork to spread it out into a thin round layer. Repeat until you've used all the mixture (you may need two baking sheets). Cook for 10 minutes and then flip "tortilla" over and cook for another 5 – 6 minutes.
You're done! You can eat these right away or bring them along with you to your cookout. To eat them later, just heat up the tortilla on the grill (for just a couple minutes) when you're ready to eat it.
We hope you enjoy!