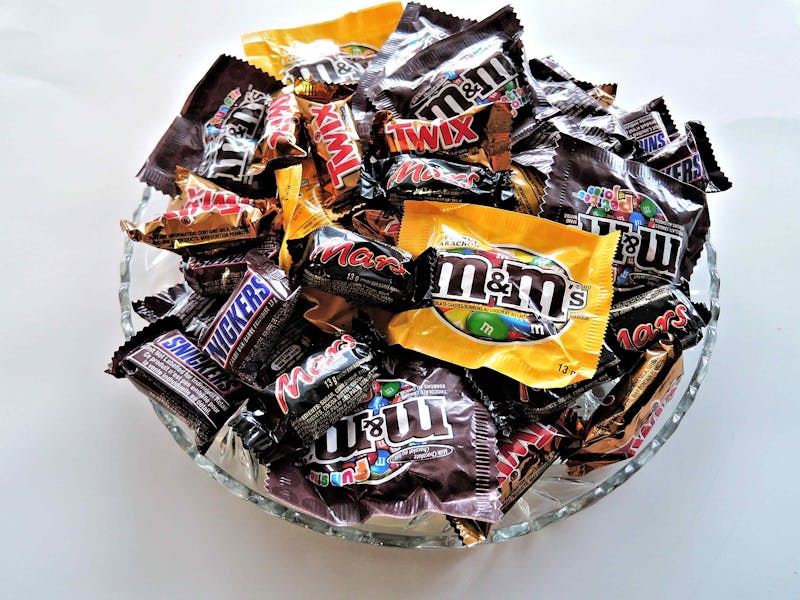 Halloween is quickly approaching and we're not sure what's scarier: the ghosts and goblins running through the streets or the sheer amount of Halloween candy overcrowding the shelves. Everywhere you look there are bags and bags of chocolates, chewy candies, and sour candies and it seems like they're practically calling out to you. But these seemingly harmless little packages contain loads of sugar (not to mention other not-so-healthy ingredients) and it's no secret that sugar is bad for your waistline – and the rest of your body too. So how can you safely get through the biggest candy time of the year without packing on the pounds? The answers may seem simple, but sometimes, simple is just what it takes to be effective.
Don't Buy Candy Until Halloween
If you're a planner, you probably want to cross "pick up Halloween candy" off your checklist ASAP. The problem with this is that the earlier you buy the candy, the more it sits around, and the more tempted you're going to be to have a piece here and take a bite there. Next thing you know, the entire bag is gone and you're off to the store to buy some more. Even if procrastinating is out of your nature, wait until the last minute to buy candy – and we mean the literal last minute. Stop at the grocery store on the way home from work on Halloween. The bonus? Many stores will already have candy on sale at this time in an effort to clear their shelves to make room for next season's treats so you'll be able to save a few bucks too.
Buy Candy You Don't Like
When buying candy for trick-or-treaters, it's pretty common to reach for candy that's your favorite. You know you like it, so it will obviously be the best choice for the kiddos coming to your door, right? Don't do this. Instead of buying the candy you love, which will only be there to tempt you (especially if there's leftovers), buy candy that you don't really care for. If chocolate is your thing, go for sour candies. Prefer taffy? Pick up some chocolate bars. If you consider yourself a lover of all things candy, do your best to choose something that you're least likely to binge on – even if it means picking up those black licorice sticks.
Call In the Reinforcements
If you have no choice but to buy candy a week or two early, enlist the help of your spouse, children, or a friend and ask this person to hide the candy in a REALLY good spot somewhere in your house. Have you ever heard the phrase "out of sight, out of mind"? It's a lot easier to pass on candy when you have no idea where it is than if you have it sitting in a huge bowl on your dining room table just waiting for the trick-or-treaters (who aren't coming for two weeks).
Don't Go Shopping Hungry
This is an everyday rule, but it's even more important during the Halloween season when candy is everywhere you look: don't go shopping hungry. When you go shopping on an empty stomach, that voice on your shoulder that says "It's okay, a little candy isn't going to matter much" tends to be a lot louder than if you went shopping feeling satisfied after a healthy, balanced meal.
Don't Buy Candy
Okay, this may make you the least popular house on the block, but sometimes desperate times call for desperate measures. If your sweet tooth just cannot be tamed, don't even tempt yourself. Your health is more important than candy and let's face it – the kids will be getting plenty of candy from the other houses. If you still want to participate in the Halloween fun, buy non-edible treats like sticker packets or bottles of bubbles and hand those out instead.