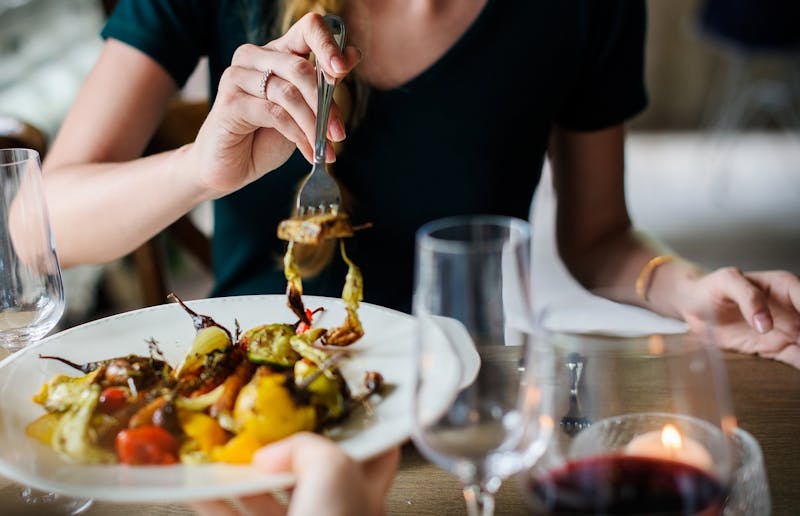 In a perfect world, every meal available at your favorite restaurants would be flawlessly tailored to your weight loss plan. Portions would be precise and chefs would only use fresh, ingredients, making sure to include lots of veggies. But we live in this world; and although many restaurants are coming around by making menus that appeal to a more health-conscious crowd, it's still possible to easily overdo it when eating out. Sure, the best way to know EXACTLY what you're eating is to just prepare all your food at home, but sometimes you need to have a night out. Eating out doesn't mean that you need to throw all caution to the wind, though. We'll teach you how to navigate a menu to make the best choices and provide some tips on how to prevent temptation so that you can master eating healthy out leave the restaurant feeling good.
Skip the Bread
A big basket of warm, fresh bread dipped in garlicky olive oil would probably be a temptation for anyone. If you're at a restaurant that serves bread, ask them to take it away from the table. When it's out of your sight, you're far less likely to munch while you're chatting and waiting for your food. If you're with a group that won't agree to removing the bread from the table, pop a piece of gum in your mouth. The fresh mint will make it less likely that you mindlessly reach for a piece of bread since the combination of flavors wouldn't taste that great anyway.
Navigating the Menu
Some restaurants make it easy for you by putting healthier dishes in their own section, but others have the lighter fare scattered throughout the menu. Look through the menu for the words "baked", "broiled", or "steamed". These terms indicate that the food was prepared using heat without extra added fat (and calories), while words like "fried", "breaded", or "crispy" mean that the food was rolled in some type of breadcrumbs and then cooked in fat.
You also want to choose dishes that allow you to pick your sides. When choosing sides, opt for green veggies, like broccoli or green beans, and double up on them. Skip cheesy or creamy side dishes. Ask the waiter to have the chef lightly steam the veggies and then toss them in a small amount of olive oil and sprinkle with some salt and pepper instead of frying them or tossing them in a vat of butter.
Start with a Salad
Start your meal with a light, fresh salad, but don't assume that all salads are healthy. Some have toppings, like cheese, nuts, and croutons, that quickly add up the calories. Choose a salad that's just a mixture of different types of veggies and drizzle it with some oil and vinegar instead of creamy bleu cheese or ranch dressing. The goal is to start filling up on fresh veggies before your meal comes so you won't be as tempted to overindulge.
Practice Portion Control Early
Restaurants are notorious for serving astronomical sized portions, and while this is nice in the sense that you're getting what you pay for, it's not nice for your waistline. While you may have good intentions to only eat half of your meal, it can be easy to overeat, especially if you're eating one of your favorite meals. Ask the waiter to bring a to-go container with your meal. Before you even start to eat, put half of it in the to-go container and set it aside. You'll get two meals for the price of one.