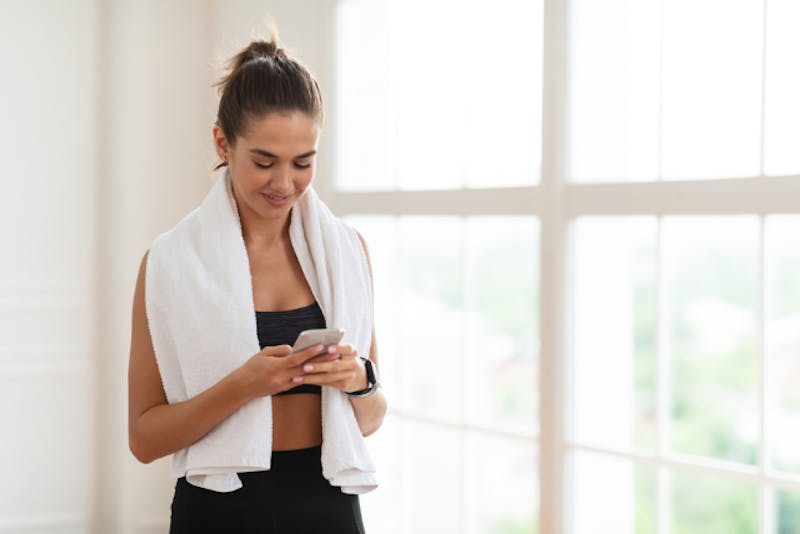 A roundup of our favorite fitness apps to help you achieve your goals
Did you know that people who keep a regular food journal are more successful at meeting their weight loss goals than people who don't? One study published by Kaiser reported that those who wrote down what they ate six days a week lost twice as much weight in six months as those who only kept a food record for one day or less. That is remarkable evidence that shows the advice, "Write down what you eat," is indeed valuable.
Why does food journaling work?
One word: Accountability. By keeping track of every piece of food and drop of liquid that goes into your mouth, you can detect patterns and notice where any unnecessary or excessive calories come from. You're less likely to make poor food choices when asked to write them down. Sneaking a bite or two of cake? Not a problem in itself. But writing down just how big those bites were and what that translates to within your nutritional intake for the day will probably help keep you on a better track.
Don't have time to keep a pen and paper journal with you?
Of course not. And after all, it's 2022. Odds are there is something you do carry with you at all times: your phone.
Today's technology makes food journaling a cinch. You can download several fitness apps that help you keep track of your calorie and nutrient intake easily. Some of these apps even allow you to scan a barcode and will give you information on whether the item in your hand is the best choice for you… or not. It doesn't get much easier than that!
We've researched dozens of fitness apps currently available. Some apps are free, while others have paid options or features. Take a look at what each app offers and decide which appeals to you the most. Need advice? Reach out to your trusted physician or weight loss practitioner.
Hint: It can be tough to find accountability on fitness apps, so look for one that features a community, offers daily reminders that pop up on your phone (make sure to adjust the settings accordingly), or has personalized professional support.
Let's count down our TOP 5 fitness apps.
5. My Plate
This app has all the requisites: food tracking (including two million items, a bar code scanner, and recipe ideas), along with workout logging and follow-along workouts if you need guidance. It makes tracking your macros very easy — grams and percentages are front and center, so you know where you stand at all times. Plus, if you're someone who thrives on community support, you can access this feature when you've had a tough day.
My Plate is all about simplicity. You pick your goals, see real-time progress, and earn badges that celebrate your success. You can even participate in challenges to stay motivated.
4. Fooducate
Crunching the info on the nutrition label to determine if a food is healthy can be tough, and Fooducate does the work for you. The app has a database of 250,000 foods — all you have to do is scan the barcode and you'll see what grade the food gets (A, being the highest, to D, being the lowest), plus an explanation of the grade and suggested alternatives.
Browse through a comprehensive food list, track exercise and movement, and join a community for even more accountability. Fooducate also offers diet tips and recipe suggestions to keep you on track.
3. My Fitness Pal
If you're trying to cut back on carbs, MyFitnessPal makes it easy. With its barcode scanner, you don't have to search for the specific food you're eating, which speeds the food tracking process. You'll also like how at the top, all your nutrition stats are congregated in a clean way, displaying your goal calories, how much you've eaten, how much you've burned through exercise, and how many you have left.
A word of caution: A study published in January 2019 in Nutrition on MyFitnessPal found that while 80 percent of participants surveyed praised the ease of use within the app, the authors found discrepancies in nutrient measurements as much of the data is user-generated. This means some of that data may be inaccurate. To get around this issue, they suggest connecting with a registered dietitian for guidance on how best to use this (and any other nutrition app) to meet your goals.
2. Lose It!
Lose It! works similarly to My Fitness Pal by providing a database of commonly eaten foods and allowing you to scan barcodes to keep track of intake. The app has the benefit of tracking sleep patterns and larger wellness goals – like macronutrient intake (for those following specific diet plans like keto) and body measurements. You can also connect the app to fitness trackers to log all of your progress in one place.
Lose It utilizes a holistic approach to health and fitness, combining personalized weight loss programs, over 40 tracking tools, and a user-friendly interface to make for an effective health and fitness application. Lose It Calorie Tracker is a great option for anyone who needs a little bit of help losing weight, tracking their progress, and staying accountable.
1. Valley Medical Weight Loss
That's right! The experts at Valley Medical have put together an application to help you achieve all of your goals. This fitness app connects you with your individualized wellness plan from Valley Medical Weight Loss in real-time. Receive daily meal planning, exercise guidance, lifestyle modification support, and motivation. You can download HERE.
What you get:
Customized wellness plan delivered daily from your provider
Meal plans, grocery lists, and recipes
Calorie counter with barcode food scanner, ability to track food by photo, and an "add your own food" option and shortcuts
Meal by meal and daily nutritional summary with calories and macronutrients
A detailed exercise program including video and photo examples/descriptions
Daily affirmations, uplifting support, and motivation
Activity tracker
Private journal to keep track of your progress and notes
Real-time sharing of your food, exercise, body, and personal journals with your provider
Direct private messaging with your provider
Track steps, water, sleep, and custom activities
If you are interested in learning more about our application, or any of our weight loss treatments, we are happy to offer a consultation. Booking an appointment is unnecessary as we are a walk-in-only clinic. Simply come in at your convenience, Mon, Tue, Thu, or Fri between 9 am-4:30 pm, or Saturdays from 8 am to 1:30 pm, or you can contact us HERE with any questions.