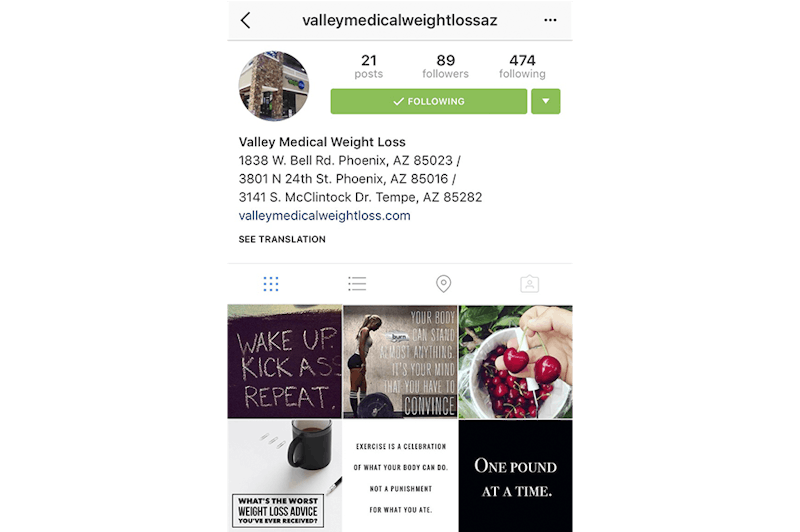 When it comes to recipes, health tips, and general motivation and inspiration, Instagram is an absolute goldmine. It may seem counter-intuitive to spend a lot of time browsing through social media when you're trying to lose weight, but if you properly control your feed – meaning you fill it with people who are inspiring, motivating, and uplifting – it can be a real asset for you. Not only does it provide a sense of community among individuals who are trying to reach a certain goal, but you'll also be able to find recipes for every specialized diet under the sun. Vegan? Gluten-free? Sugar-free? Paleo? No problem. Instagram's got you covered.
There are many inspiring accounts all over Instagram, but we've compiled a list of some of our favorites.
1. Valley Medical Weight Loss (@valleymedicalweightlossAZ)
Okay, we admit, there's some bias here; but we couldn't start this list without letting you know that we have our very own Instagram page where we share our specials and provide motivation and support. We also throw in some humor from time to time, so make sure to head over and follow us.
2. Sophie Gray (@wayofgray)
We love Sophie Gray because she's real, she's raw, and she tells it like it is. Her page is not only full of fitness and nutrition tips, she's also big on self-love. In fact, it's the foundation on which she's built her entire "brand". She encourages you to work on developing your love for yourself above all – and we can certainly get on board with that.
3. Carina Wolff (@kalememaybe)
The name is not the only thing we love about Carina Wolff's Instagram feed, although it's so clever that it definitely makes her a frontrunner on its own. Her page is bright and fun and full of easy, filling, plant-based recipes that can help you on track. The added bonus is that these recipes are so simple, that it's likely you have many of the ingredients lying around on most days. You don't have to be a gourmet chef to make a healthy lifestyle work, although when looking at Wolff's page, you'll think she is one.
4. Angela Liddon (@ohsheglows)
Angela Liddon is the founder of Oh She Glows and the author of the Oh She Glows Cookbook. She shares many of her healthy meal ideas on both her Instagram feed and her website. We love that she's able to take "boring" foods like salads, and turn them into masterpieces complete with beet noodles and toasted sunflower seeds. Follow her for some more plant-based meal inspiration.
5. Massy Arias (@massy.arias)
Massy Arias is certified personal trainer and health coach with a following of over 2 million people. She shares snippets of her workouts, and provides easy meal ideas. She even shares the occasional DIY beauty treatment.
6. Emily Skye (@emilyskyefit)
We know we said we were going to list the five health and fitness Instagram accounts that you need to follow, but we couldn't leave Emily Skye off this list. Emily posts how-to workout videos that are easy to do in the comfort of your own home with very little equipment. She also shares glimpses into her personal life that make you feel like you're connecting with a friend.
Who else do you think should be on this list? What are your favorite Instagram accounts to follow for health tips, recipes, and/or motivation?