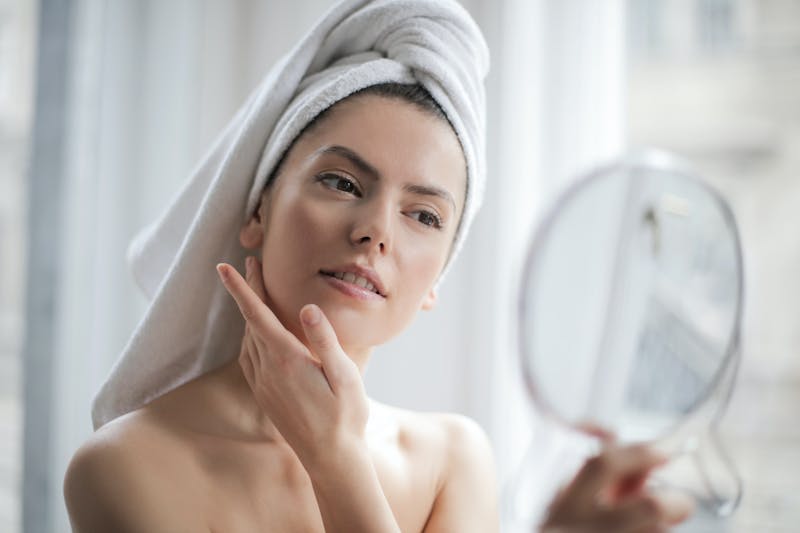 Chrissy Teigen, Kim Kardashian, and Emma Roberts are just a few of the celebrities to sing the praises of FORMA treatments. Haven't heard of FORMA? It's also referred to as the "lunchtime facial" or radio frequency facial.
Unlike cleansing treatments, FORMA is a noninvasive thermal skincare treatment that enhances, contours, and tightens the skin via deep tissue stimulation. In other words—no lasers, no injections, and no surgery. It is most often used on the face and neck, but it can be used to rejuvenate multiple areas of the body.
Here is everything you need to know about FORMA treatments.
What Are FORMA Treatments?
FORMA is a revolutionary new skin-care wand designed to help you achieve a youthful, smooth, and glowing complexion. It is a non-invasive alternative to lasers, surgery, and injections. It can be utilized for both proactive and reactive skin rejuvenation.
This treatment utilizes a combination of radio frequency (RF) energy and heat to stimulate collagen production and reduce the appearance of fine lines and wrinkles. The energy penetrates deep into the dermal layers of the skin to tighten and firm. The heat also helps improves blood flow which nourishes your skin cells.
A conductive gel is applied to your treatment area, and our naturopathic doctor or registered nurse glides the wand over each area for 30 minutes.
Benefits include:
Stimulates the production of collagen

Stimulates the production of elastin

Firms, lifts, and tightens skin

Minimizes fine lines and wrinkles

Reduces undereye puffiness

Minimizes pores

Smooths out skin

Minimizes sunspots and scars

Evens out skin texture and tone

Reduces acne and acne scarring

Contours and spot treats

Restores skin's youthful glow

Better overall skin health
What is Radio Frequency?
Radio Frequency technology is an innovative treatment that has become increasingly popular in the skin care industry. It works by sending short, concentrated, and pain-free bursts of energy through the skin to target and stimulate collagen production.
Not sure what collagen is?
You aren't alone if you aren't sure what collagen is. Collagen is the most common protein in your body. Your body's connective tissue (fascia) is made primarily of collagen. Fascia connects every bone, nerve, muscle, and organ in your body. It is what gives your body its framework, shape, and firmness.
Collagen production begins to slow around the age of 35, which is when your skin is likely to show the initial signs of sagging and fine lines. Production continually decreases as you age.
RF therapy stimulates the natural production of collagen, improving and maintaining your fascia—which improves your skin's elasticity and firmness. Peak collagen production is typically achieved at around 2 weeks after your first treatment.
Does Radio Frequency Hurt?
Radio Frequency is considered a generally pain-free treatment that is safe for all skin textures, tones, and types. If needed, a numbing gel can be applied during the treatment, but most clients only require a standard conductive gel.
The FORMA wand heats up to 109 degrees. The wand glides continuously over your skin. The wand's temperature is manually adjusted when working on more sensitive areas, such as around your eyes. Many clients compare their treatment to a relaxing hot stone massage.
Your skin will be red after your treatment. This is due to the combination of heat and increased circulation. The redness typically fades within the next hour, two hours maximum—but sometimes in as little as 15 minutes.
As with all skin care treatments, let us know if your skin is irritated before your treatment.
Is Radio Frequency Only For the Face?
No! While an RF facial is the most common treatment option, FORMA can be used to contour, tighten, and revitalize multiple areas of the body. Share your treatment objectives so that we can suggest your treatment options.
On the face, RF is used:
Around the eyes

On the forehead

On the cheeks

Along the jawline

On the neck
RF can also be used to treat:
Flabby arms

Sagging belly

Love handles

Saddlebags

Sagging buttocks

Back fat

Crepey thighs

Crepey décolletage

And more
How Long Do FORMA Treatments Take?
Nicknamed the "lunchtime facial" because treatment only takes 30 minutes. However, it takes 30 minutes per treatment area. So, that is only long enough for your face, jawline, and neck.
For example, if you would like to treat both arms, that is 30 minutes per treatment area—60 minutes total.
If you have multiple areas you would like to treat, consider beginning with one region of your body. Once you've completed your treatment series, move on to the next region of your body that you want to revitalize.
How Many FORMA Treatments are Required?
Our naturopathic doctor and registered nurse will advise on your treatment frequency. While you may see results after the first treatment, most clients require 3 to 6 treatments for optimal results.
The treatments need to be spread out at least every 2 to 3 days or once a week if that fits better in your schedule. Once complete, you can move on to another treatment area. Or continue with a maintenance schedule.
After the initial 3 to 6 treatments, you can continue with monthly, quarterly, or bi-annual maintenance on each treatment area. Our naturopathic doctor and registered nurse will advise on your ideal maintenance schedule, which is typically 1 treatment to restimulate collagen production.
What Age Should You Start Doing FORMA Treatments?
This is entirely up to you! You can utilize radio frequency as a proactive and preventative approach to the visible signs of aging—or as a reactive approach.
Head-down electronics use has led to the formation of premature neck creases, starting as soon as the late teens or early 20s. Electronics use can also contribute to premature crow's feet, caused by a combination of squinting at the screen and overexposure to blue light.
In your 20s, RF can also be used for facial and body contouring, post-pregnancy spot treatment, and a proactive approach to anti-aging.
As collagen production begins to slow in the 30s, RF can be used to reverse and slow the initial signs of aging. As whole-body sagging begins to occur in the 40s, 50s, and beyond—RF is a non-invasive and pain-free way to lift, tighten, and tone.
Have deep creases?
While deep wrinkles and skin creases can't be reversed without surgery, RF may help to drastically reduce them. This is achieved by tightening the skin, providing a lift that minimizes deep creases. It can also slow the ongoing formation of creases.
Is FORMA Safe For All Skin Types?
Yes! FORMA is safe and effective on all skin tones, textures, and skin types, including sensitive skin and dark skin.
Unlike laser treatments, RF doesn't use light waves or technologies that target pigmentation.
Laser treatment can cause hyperpigmentation in those with sensitive and dark skin. Clinical trials have found that because RF uses radio waves instead of light waves, it is generally safe and effective for dark skin.
What are the Side Effects of FORMA Treatments?
Side effects are rare, with the most common being redness that fades within an hour. For sensitive skin, it may take up to 2 hours for the redness to fade.
Other side effects include:
Temporary swelling

Tingling

Mild sensitivity
Let us know if you are experiencing any side effects. Swelling, tingling, and sensitivity typically fade within 1 to 2 days.
However, you must notify our office before your treatment if you:
Are pregnant or nursing

Have cold sores or fever blisters

Use or take Accutane, Retin-A, or Glycolic Acid

Have fillers, injections, or a recent facial peel

Use tanning beds or have excessive sun exposure

Have any skin inflammation, irritation, or open sores
What are Pre and Post-RF Care?
Pre and post-care is minimal. Advise our naturopathic doctor or registered nurse of the bullet points above and follow the instructions below:
Before Treatment Instructions
Avoid skin irritation or intentional skin tanning. Sunscreen is advisable when outdoors during daylight hours.

Discontinue any irritant topical agents for 2-3 days prior to treatment.

You should not be freshly tanned or using sunless tanner.

If appropriate, shave the area being treated prior to your scheduled treatment.

Arrive for treatment with clean skin. There should be no lotion, make-up, perfume, powder or bath/shower oil present on the skin in the area to be treated.
Post Treatment Care
Avoid very hot water for 2 days after the treatment.

Avoid scrubbing, pinching, etc. of the treated area.

Treat the skin gently, avoid scrubbing, exfoliation, or trauma to the treated area.

Avoid sun exposure to reduce the chance of hyperpigmentation.

The use of a zinc oxide sun block SPF 30+ at all times after 24-48 hours.

Contact your us immediately if there is any indication of infection, excessive swelling, redness, pain or any other unusual or untoward symptom.
Can I Wear Makeup After FORMA?
Touted as the "lunchtime facial", you will need to wait 30 to 90 minutes post-treatment before applying your makeup.
In Summary
FORMA facials and skincare treatments offer a variety of benefits, including improved skin texture and elasticity, reduction of fine lines and wrinkles, and better overall skin health. With the help of RF, you can achieve a more youthful and radiant complexion with minimal effort or risks.
FORMA Facials in the Phoenix Area
Don't let our name fool you, as Valley Medical Weight Loss & Med Spa also offers a variety of anti-aging treatments.
If you live in Phoenix, Glendale, or Tempe you can schedule a FORMA facial, and discuss a variety of anti-aging treatment options.
While we encourage aging with grace, we understand the importance of looking as youthful and energetic as you feel!
Schedule your appointment today or reach out to learn more!