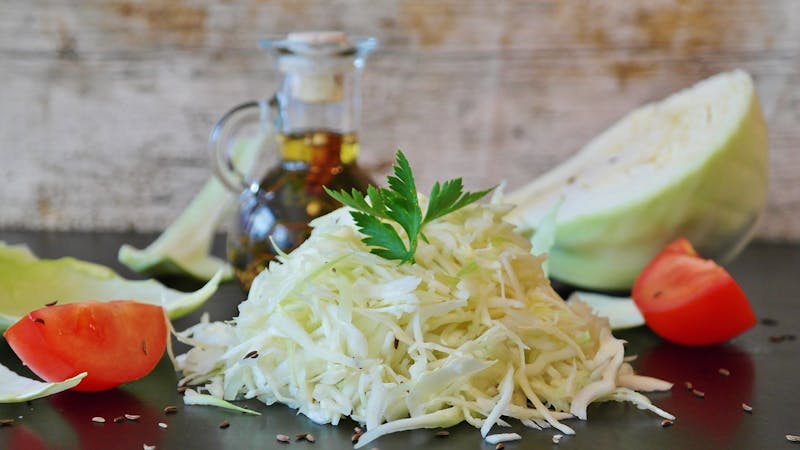 September is here and you know what that means: apples are everywhere. And if you're one of those people who likes to go apple picking, you'll probably end up with a 20-pound bag of apples in your refrigerator that you have no idea what to do with. You can only make so many baked apples and apple crisps before you think, now what?! Well, we're here to save the day. This Apple Jicama Coleslaw combines fresh apples with low-carb jicama (a root vegetable that you may not be familiar with, but you're going to love) and a little hot sauce for just the right amount of kick. Serve it alongside your favorite protein (it goes great with grilled chicken) and you have a meal that's sure to please everyone.
Apple Jicama Coleslaw
What You Need:
1/2 head green cabbage, cored and thinly sliced
1/2 jicama, sliced into matchsticks
1 large apple, sliced into matchsticks
1/2 cup mayonnaise
1/4 cup pineapple juice
1 teaspoon Sriracha
1/2 teaspoon salt (or more to taste)
1/2 teaspoon black pepper (or more to taste)
1/4 cup chopped fresh cilantro
1/4 cup roasted sunflower seeds
What To Do:
Put cut cabbage, jicama, and apple in a large bowl and toss to combine.
Whisk mayonnaise, pineapple juice, Sriracha, salt, and pepper in a bowl until mixture is smooth, about 2 minutes.
Pour mayonnaise mixture over cabbage, jicama, and apple and toss to combine. Let sit for 5 minutes.
Mix in cilantro and toss again.
Sprinkle sunflower seeds on top and serve immediately.