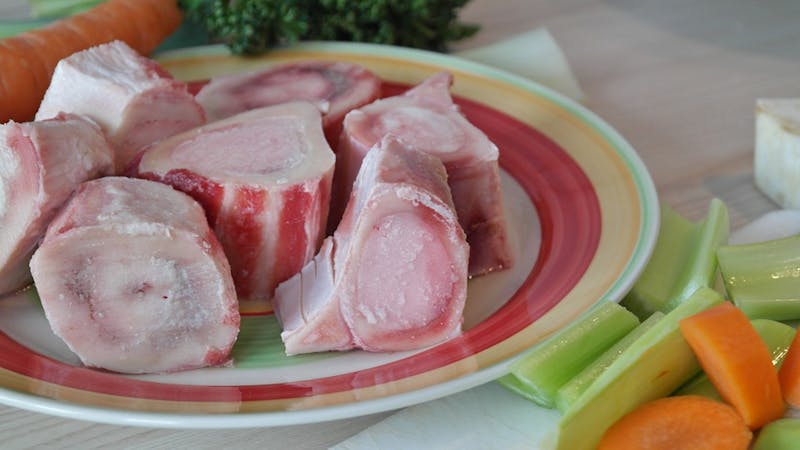 Last week we discussed the benefits of collagen and why it's absolutely vital that you include this protein in your daily diet. Because collagen is mainly found in the bones of chicken, beef, and fish, it takes a little creativity to extract the protein so you can consume it. Our favorite way to get at this health-boosting protein is to make bone broth.
This recipe uses beef and chicken feet, which are optional, but make the broth more gelatinous; however, you can use beef, chicken, or fish bones, or any combination of the three. The key is to let the broth simmer for an extended length of time, at least 24 hours if you're using beef bones. This allows all of the marrow and collagen to come out of the bones and into the broth.
What You Need:
3 lbs beef marrow bones
2 chicken feet (optional)
3 carrots, chopped
3 stalks celery, chopped
1 large yellow onion, chopped
4 cloves garlic, smashed
1 teaspoon sea salt
1 teaspoon whole black peppercorns
2 bay leaves
3 tablespoons raw apple cider vinegar
Enough water to cover
What To Do:
Preheat oven to 350°F and spread beef bones out on a baking sheet. Once oven is preheated, roast bones for 30 minutes.
Put carrots, celery, onion, garlic, salt, peppercorns, and bay leaves on the bottom of a slow cooker and place the roasted bones and chicken feet on top.
Pour apple cider vinegar over the bones and chicken feet and then fill up the slower cooker with just enough water to completely cover the bones.
Turn the slow cooker on low and let simmer for 24-48 hours.
After 24-48 hours, allow to cool and then strain out the solids. Reserve liquid in a separate container and allow to cool.
Store finished bone broth in the refrigerator for up to a week or in the freezer for up to 3 months.