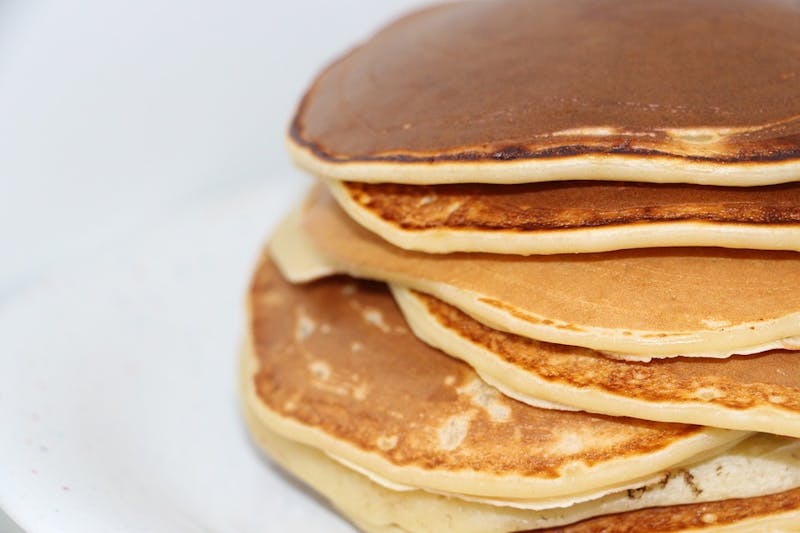 If you follow the health scene on Instagram at all, you're probably familiar with protein pancakes. Everywhere you turn there's a beautifully crafted picture – and maybe some pictures that aren't so beautiful – of different types of protein pancakes. I know what you may be thinking: "protein pancakes? Aren't pancakes mostly carbohydrates and not healthy at all?" Well, not if you make them our way.
These pancakes are not only loaded with protein, they are so simple and delicious that you can easily whip them up for breakfast (or lunch or dinner) on any day of the week. Pancakes are no longer your Sunday morning treat.
Blueberry Protein Pancakes:
What You Need:
½ cup old-fashioned oats
3 egg whites
1 scoop protein powder (any flavor you want)
2 tsp. baking powder
½ banana
½ cup blueberries
What to Do:
Put oats in a food processor and pulse until oats resemble a fine flour. Add egg whites, protein powder, baking powder, and banana and pulse until combined.
Transfer batter to a bowl and toss in blueberries.
Heat up a griddle or skillet over medium-high heat. Scoop batter (3 tablespoons at a time) onto griddle or skillet. Cook for 45 seconds to one minute on one side and then flip and cook for another 45 seconds to one minute or until golden brown.
Optional: Melt one tablespoon almond butter and drizzle over the top of cooked pancakes. Top with a tablespoon of fresh blueberries.