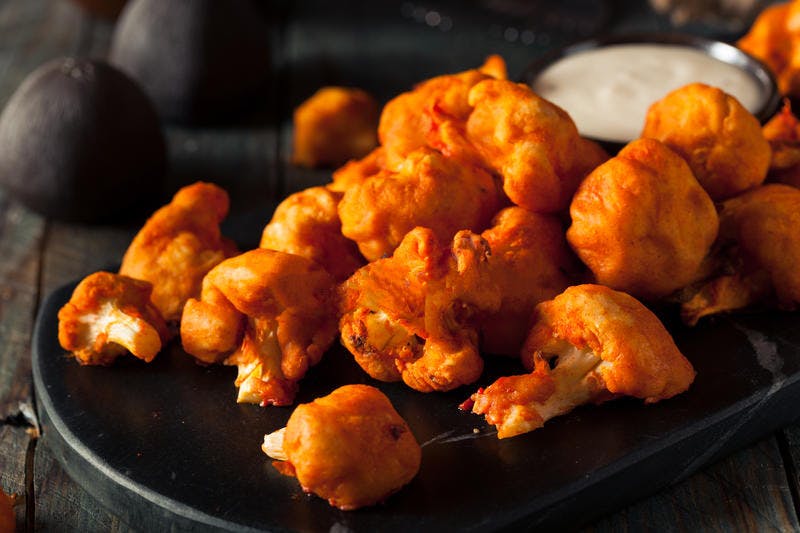 It's October, which means playoff baseball, especially if you're a Red Sox or a Dodgers fan. Even if you don't care about baseball, you'll probably find yourself at some championship game and/or World Series party. What you may not find is a healthy snack that fits into your weight loss plan. The solution: bring one yourself! These Buffalo Cauliflower Bites have all the flavor of the traditional deep fried buffalo chicken wings, but with a better nutritional profile. They're low fat, low carb, Keto, and paleo, so they're sure to please everyone at the party.
What You Need:
1 cup almond meal
1 teaspoon granulated garlic
1/2 teaspoon dried parsley
1/2 teaspoon salt
1 large egg
1 large head cauliflower, cut into bite-sized florets
1/2 cup Frank's RedHot sauce
1/4 cup ghee
What To Do:
Preheat oven to 400F. Line a baking sheet

with parchment paper.
Combine almond meal, garlic, parsley, and salt in a large sealable plastic bag and shake to mix.
Whisk egg in a large bowl. Add cauliflower and toss to coat completely.
Transfer coated cauliflower to bag with almond meal mixture and toss to coat.
Arrange cauliflower in a single layer on a baking sheet and bake 30 minutes or until softened and slightly browned.
While cauliflower is baking, combine hot sauce and ghee in a small saucepan over low heat.
Transfer to a mixing bowl and add cooked cauliflower. Toss to coat. Serve hot.