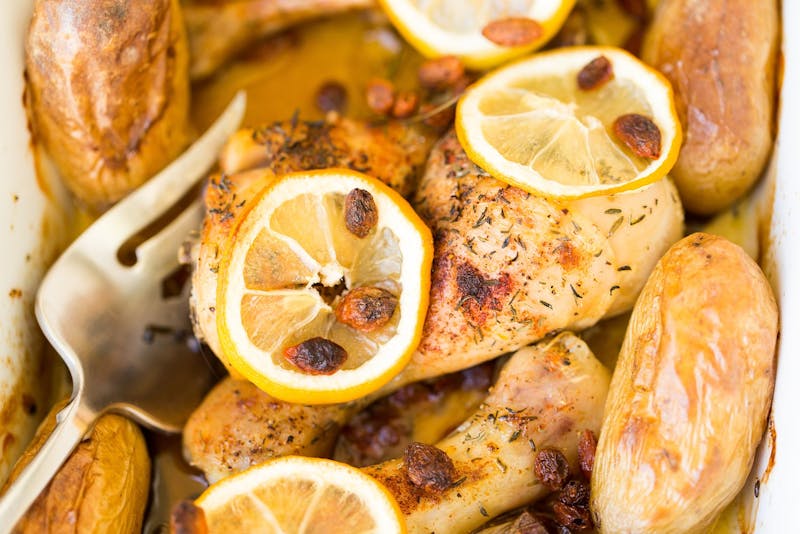 Low Carb? Keto? Neither of the above but just like delicious food? This recipe fits the bill. This gluten-free, dairy-free, low-carb, paleo (say that 10 times fast) recipe is rich in both protein and flavor. As if that wasn't enough, you can make it in your pressure cooker and have it ready in under 10 minutes. Talk about the perfect weeknight meal.
Buttery Lemon Chicken
What You Need:
1 teaspoon salt
1/2 teaspoon black pepper
3/4 teaspoon paprika
1/2 teaspoon granulated onion
1 1/2 pounds boneless, skinless chicken breast
2 tablespoons ghee
3 cloves garlic, minced
1 medium yellow onion, peeled and diced
1/2 cup chicken broth
1/4 cup lemon juice
3 teaspoons arrowroot powder
3 teaspoons water
What To Do:
Combine salt, pepper, paprika, and granulated onion in a small bowl. Season both sides of each chicken breast.
Turn on sauté function of pressure cooker and add ghee to pot. Once ghee is heated, add garlic and onion and sauté until softened, about 4 minutes. Add chicken breast and sear, about 3 minutes on each side.
Pour chicken broth and lemon juice into pot and close lid. Cook for 7 minutes on high pressure. Let pressure release naturally.
Remove chicken from pot.
Mix arrowroot powder and water and then stir into contents of pressure cooker to thicken sauce. Pour sauce over chicken. Serve with side of choice.