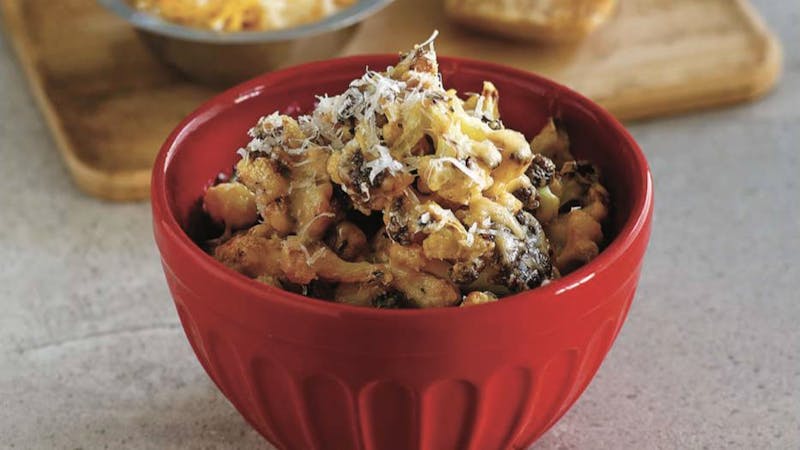 We know that when it's cooler outside, all you want to do is reach for comfort foods. Unfortunately, typical comfort foods don't really fit in well with weight loss goals. But we have good news and bad news.
The good news is that we've figured out a way to turn the king of comfort foods – macaroni and cheese – into a low carb dream. The bad news is that you're going to love it so much, it won't last very long. Once you make this Cauliflower Mac N Cheese, you may never go back to the other stuff.
Cauliflower Mac N Cheese Recipe
Serves 6
What You Need:
2 Tbsp. olive oil
1 tsp. salt
½ tsp. freshly ground black pepper
¼ tsp. granulated garlic
1 tsp. dried parsley
1 large head cauliflower, cut into bite-sized florets
1 cup shredded cheddar cheese
½ cup shredded gruyère cheese
½ cup full-fat coconut milk
1 Tbsp. ghee
⅛ tsp. ground nutmeg
¼ cup grated Parmesan cheese
What to Do:
Preheat oven to 450°F. Line a baking sheet with parchment paper.
In a medium mixing bowl, combine olive oil, salt, pepper, garlic, and parsley. Add cauliflower and toss to coat.
Arrange cauliflower on a baking sheet in a single layer. Roast 15 minutes or until browned and crispy. Transfer cauliflower to an 8″ × 8″ baking dish.
Combine remaining ingredients except Parmesan cheese in a medium saucepan over medium heat. Stir and allow to simmer 5 minutes. Pour over cauliflower and toss to coat completely. Sprinkle Parmesan cheese on top.
Bake 10 minutes or until starting to brown. Remove and allow to cool.
Divide into six equal portions and transfer each portion to an airtight container. Store in the refrigerator until ready to eat.
Make it Vegan Cauliflower Mac N Cheese!
If you want to make a vegan version of this recipe, you can make a vegan cheese sauce by combining one 15-ounce can full-fat coconut milk, 2 Tbsp. no-sugar-added cashew butter, 1 Tbsp. olive oil, 1 tsp. onion powder, ½ tsp. garlic powder, ¾ teaspoon dry mustard, ½ tsp. salt, ½ tsp. pepper, 5 Tbsp. nutritional yeast, and ½ tsp. white vinegar in a food processor and processing until smooth. Heat sauce over low heat on the stove and pour on top of cauliflower before baking.