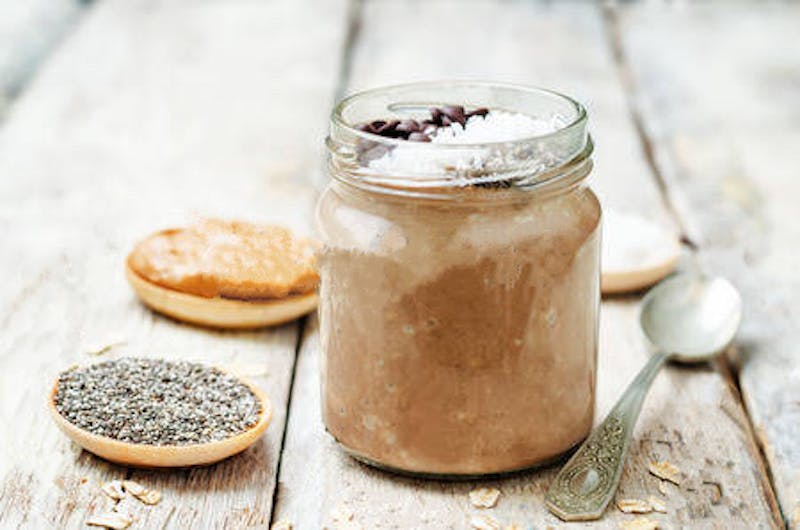 Fall is right around the corner, but for many of us (especially those of us on the west coast), summer temperatures are still in full force. At this point in the year, when it's tempting to go without a meal instead of turning the oven on, healthy meals that don't require heat are worth their weight in gold.
Overnight oatmeal is one of our favorites because it requires very few ingredients, it's easy to make, there's no cooking involved, and it's ready to go in the morning when you might typically be in a rush. Another bonus is that you can really use any combination of ingredients to create an overnight oatmeal that you love.
This chocolate peanut butter overnight oatmeal is a real crowd-pleaser because, well, who doesn't love chocolate and peanut butter together? Also, it only requires 6 ingredients, all of which we already had in our pantry. Win-win!
What You Need:
½ cup unsweetened coconut milk (or almond milk)
1 tablespoon real maple syrup
1 teaspoon cocoa powder
2 tablespoons natural peanut butter
½ cup old-fashioned oats
¾ tablespoon chia seeds
What to Do:
In a sealable glass jar (mason jars are ideal for this), combine coconut milk, maple syrup, and cocoa powder. Stir until evenly incorporated.
Add peanut butter, oats, and chia seeds and stir until combined.
Cover jar with the lid and refrigerate for at least 6 hours.
Serve cold or microwave for 30 seconds before eating.
Optional: You can enjoy the overnight oats as is, or add additional toppings before eating. Our favorite additions include sliced bananas and crushed walnuts.