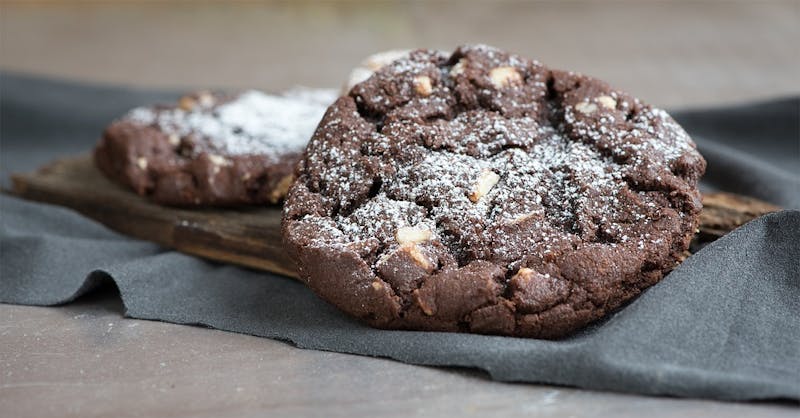 Chocolate and peppermint go together like peanut butter and jelly, like thunder and lightning, like socks and shoes. Unfortunately, chocolate and peppermint don't typically mesh well with a goal to lose weight.
Around this time of year, many people give up on their weight loss goals and go all out, promising to get back on track with the start of the New Year. We understand that you don't want to miss out on the festivities and the holiday treats, but completely throwing your goals out of the window is extremely counterproductive. Luckily, there are ways to enjoy yourself without completely going off the rails.
Take these chocolate peppermint cookies. Although they're still a treat, they're jam packed with healthy ingredients that allow you to indulge without the guilt. Make these for your next holiday party, and you'll be able to partake without feeling bad about it. Bonus points: they're delicious.
What You Need:
1 cup almond butter
1 egg
¾ cup coconut sugar
¼ cup Dutch-process cocoa powder
¼ teaspoon sea salt
½ teaspoon baking soda
¼ teaspoon peppermint extract
1 teaspoon apple cider vinegar
½ cup dairy-free chocolate chips
Optional: shredded coconut, crushed peppermint candy, peanuts
What To Do:
Preheat the oven to 350º F.
Line a baking sheet with parchment paper.
Combine almond butter and egg and mix until incorporated. In a separate bowl, combine coconut sugar, cocoa powder, salt and baking soda. Fold dry ingredients into almond butter and egg mixture. Stir in peppermint extract and apple cider vinegar until mixture is smooth. Fold in chocolate chips and any other optional ingredients.
Form dough into rounded teaspoonfuls and drop onto lined baking sheet. Flatten slightly.
Bake the cookies at 350º F for 8 minutes.
Allow cookies to cool for at least 30 minutes before removing from baking sheet.
Enjoy!