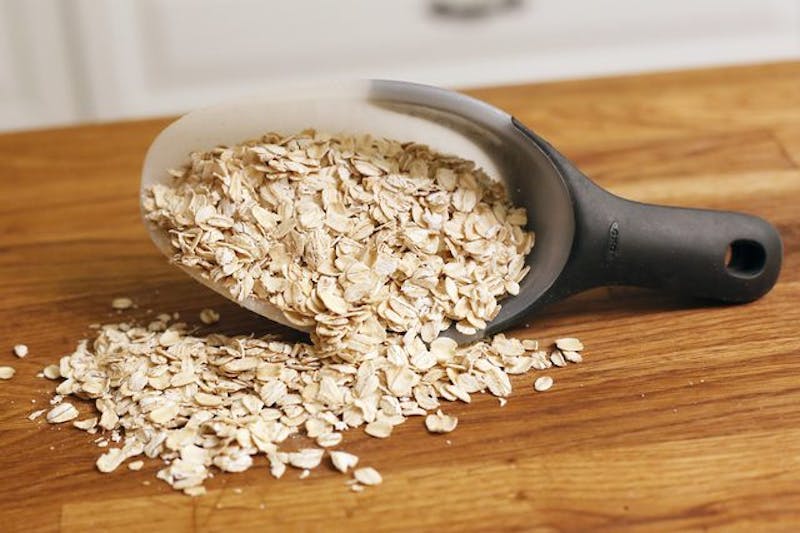 In the beginning of the month, we discussed nutritional bars and how you can navigate the health food aisle to choose the best one for you. Finding a healthy bar with minimal ingredients and a small amount of sugar is possible, although it does take a good amount of detective work. On the other hand, if you want full control over what's in your bar, you can make your own.
Now before you look at us like we're crazy, give this recipe a try. It contains only five ingredients that you can easily find in any grocery store. It's also quick and easily adaptable to your tastes.
What You Need:
1 cup packed, pitted medjool dates
5 cups rolled oats
1 cup chopped roasted, unsalted almonds
¼ cup honey
¼ cup almond butter
What To Do:
Process dates in a food processor for one minute – or until it resembles a dough-like texture.
Combine oats, almonds, and processed dates in a mixing bowl and set aside.
Place a small saucepan on medium-low heat, and add honey and almond butter. Stir until heated and combined.
Pour honey and almond mixture over oat mixture and use a spoon to combine ingredients.
Line an 8×8-inch baking dish with parchment and transfer mixture into dish. Press the mixture into the pan until flat and uniformly dispersed. Cover with plastic wrap and let harden in the refrigerator for 15 minutes or until hardened.
Once hardened, chop into evenly-sized bars. Store in an airtight container.
Make It Your Own:
This is just a template for a basic nutrition bar, but you can make it your own by swapping the almond butter for peanut butter, cashew butter, or sunflower seed butter. You can replace the honey with maple syrup or agave syrup to make it vegan-friendly. If you want to ensure that it's gluten-free, choose certified gluten-free oats. You can also add raisins, peanuts, banana chips, sunflower seeds, dried cranberries, or shaved coconut.