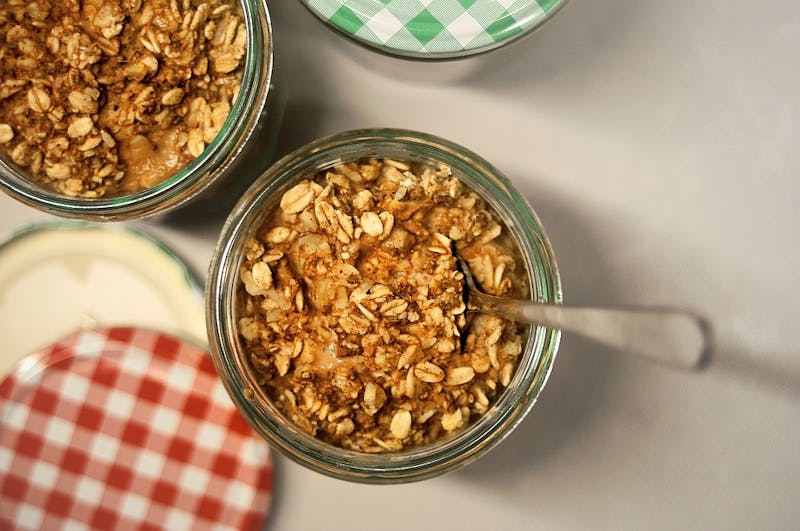 The time has come! It is officially the first day of fall; a day that we've been anxiously waiting for. Although it may not feel like it quite yet, it's time to start loading your arsenal with pumpkin recipes that are both delicious and healthy (and easy, of course).
This first one tastes so sinful that you'll think you're doing something wrong, when you're actually doing everything right.
Pumpkin Pie Overnight Oats (Serves 1)
What You Need:
½ cup old-fashioned oats
½ cup coconut milk (you can use almond milk or any other non-dairy milk of your choice!)
½ teaspoon pumpkin pie spice (if you don't have pumpkin pie spice, use ¼ tsp. cinnamon, 1/8 tsp. nutmeg, and 1/8 tsp. ground ginger)
¼ cup pureed pumpkin (you can use the canned variety, just make sure it's not pumpkin pie filling!)
1 ½ teaspoons chia seeds
¼ teaspoon vanilla extract
1 teaspoon pure maple syrup
Optional add-ins: raisins, pumpkin seeds, dried cranberries, coconut flakes, sunflower seeds, almond butter. (make it your own!)
What To Do:
Mix all ingredients (except optional add-ins) in a bowl or glass jar until combined. Cover and refrigerate overnight (or at least five hours).
In the morning, remove mixture from refrigerator and add more liquid if necessary until you reach the desired consistency.
Add optional toppings and enjoy!