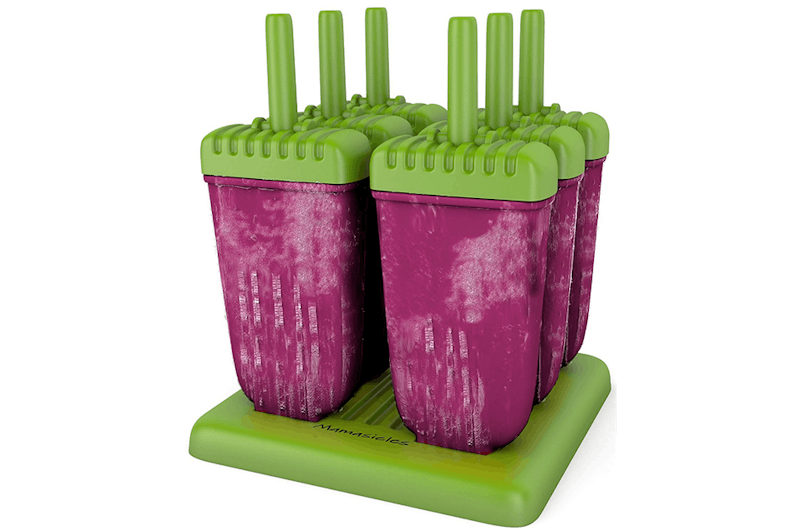 Remember when you were a little kid and you used to take those plastic popsicle makers with the plastic sticks and make fresh popsicles? If you were like me, typically your "popsicle" consisted of nothing more than some frozen orange or apple juice – or maybe some fruit punch. For me, these popsicles were a staple of summer and every time I think of them, it brings me back to memories of my childhood.
Unfortunately, these popsicles were also loaded with sugar and not much in terms of nutrition, especially if fruit punch was your thing. We wanted to create a way to bring the nostalgia of these super easy popsicles back, but in an adult version that could still serve as a summer treat, but wouldn't be a bummer for your waistline. Bonus points because we figured out a way to make them nutritious too.
These popsicles contain tons of vitamins, minerals, and antioxidants from fresh fruit, as well as some healthy fat that can help keep you full – something those other sugar-laden popsicles can't do. This recipe is a basic starting point, but feel free to use whatever you have on hand or the fruits/combos that appeal to your tastes.
What You Need:
Popsicle mold (like this one)
4 cups frozen strawberries
1 cup sliced frozen banana
1.5 cups canned coconut milk
3 tablespoons lime juice
½ teaspoon lime zest
¼ cup pure maple syrup or raw honey
What To Do:
Combine all ingredients in a high-powered blender.
Spoon mixture into wells of popsicle mold.
Freeze for 4 hours or until completely frozen.
Tips:
If you like some texture in your popsicles, stir some unsweetened coconut flakes into the mixture after you blend and before spooning into popsicle molds. You can also add fresh strawberry slices into the wells of the mold before putting in the strawberry mixture.
If you don't have a popsicle mold, you can also use paper cups and popsicle sticks. Just spoon mixture into the paper cups, put a popsicle stick on top, and freeze. Once frozen, peel the paper cup away from the popsicle.