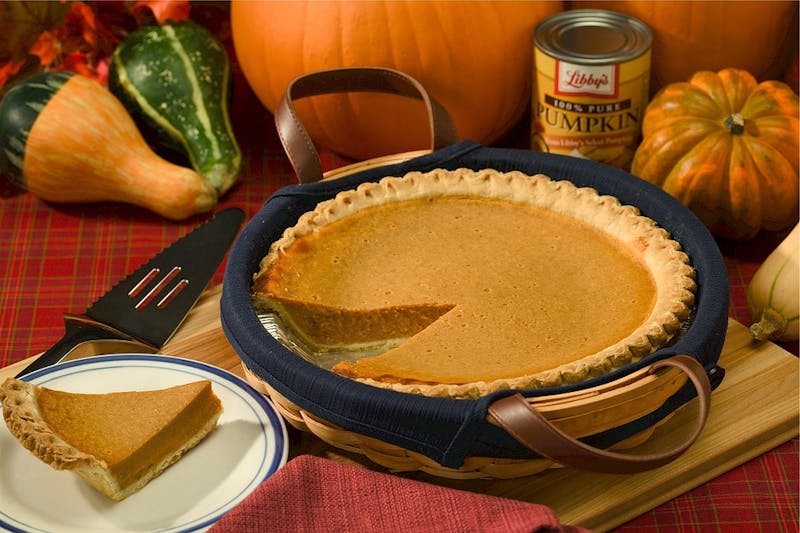 When you think of holiday desserts, your mind probably goes right to pumpkin pie. It's the star of many Thanksgiving tables, but unfortunately, even though the pumpkin packs a lot of nutrition, most versions are also full of lots of sugar. We decided to makeover the holiday treat to make it better for you.
Keep in mind that this is still a dessert and should be eaten like one — just a little! — but it's a much better option than your standard recipes.
Pumpkin Pie Recipe
What You Need: For the Crust:
1

c. almond flour

2

t

bsp coconut flour

2/3

cup tapioca flour

1/2

cup grass-fed butter

1

tbsp coconut sugar

1/2

tsp salt

1

large egg
For the Filling:
1

(15-ounce)

can

pumpkin puree

2

eggs,

room temperature

½

c.

full-fat

coconut milk

½

c. pure maple syrup

2

tbsp creamy peanut butter

¼

tsp

salt

1

tsp cinnamon

½

tsp

nutmeg

½

tsp

ginger

½

tsp

allspice

¼

tsp

cardamom
What To Do: For the Crust:
Preheat oven to 375 degrees F.
Pulse all crust ingredients, except for the egg, in a food processor. Once thick crumbs form, add egg and continue to pulse until a dough forms. Remove dough from food processor and shape into a ball. Wrap in plastic wrap and chill for one hour.
After the dough is chilled, press into a 9-inch pie plate. If dough is sticky, use parchment paper to shape dough into plate. Pierce dough with a fork.
Bake for 6 minutes, just enough to set. Remove from oven and set aside.
For the Filling:
Reduce oven temperature to 350 degrees F.
Whisk all ingredients together in a bowl. Pour into prepared, partially baked pie crust.
Bake for 45 minutes or until filling is set and no longer jiggles. Allow to cool for 2 to 3 hours before serving.
Enjoy!