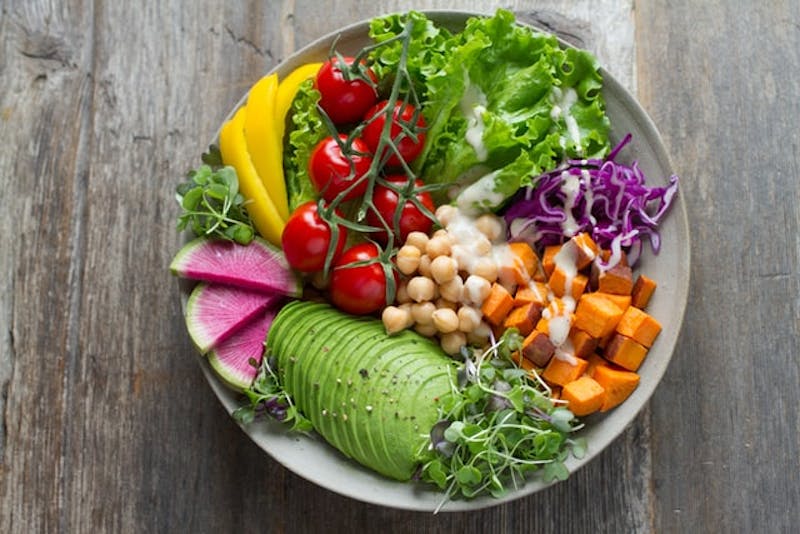 More and more research shows the benefits of plant-based diets for maintaining a healthy weight. Here's how to choose the right plant-based foods to improve your overall health and lose weight.
Plant-based diets are becoming more popular in the US with 23% of people choosing a diet of mostly plant foods.
The reason is because of the growing amount of research in recent decades about the benefits of increasing plant intake and cutting back on meat, especially red meat.
While there are a lot of ways to do a plant-based diet, and some are more strict than others, the research shows that getting more plants in your diet is beneficial for your health.
So let's break down some of the most common plant-based diets and how a plant-based diet can benefit your weight loss goals.
A plant-based diet can help you lose weight
A plant-based diet done right can help you lose weight.
"Done right" means eating whole foods instead of heavily processed plant-based foods.
For example, highly-process cereals are a plant-based option. There are no meat or animal products in them. But because they're highly processed, they're high in extra sugar and calories. Plus they end up not being very filling and you have to eat more to get full.
So highly processed cereal is plant-based but it is not a healthy or weight-loss friendly option.
Instead, to lose weight on a plant-based diet
So rather than cereal, choose oatmeal mixed with fruits, cinnamon, and honey to achieve a sweet and palatable flavor.
When you choose whole foods and complex carbs over the highly processed plant options, then a plant-based diet is effective for losing weight.
One study found that those on a plant-based diet were able to cut calories more effectively than those including animal products in their diet. This is due to the nature of whole plant-based foods being higher in fiber and are more filling. So a full plant-based meal is more likely to keep you fuller longer and help you consume fewer calories.
Another review of 12 different studies found that those who followed a plant-based diet to lose weight lost significantly more than those who kept meat in their diets.
So if weight loss is your goal, a plant-based diet can help you lose weight. Plus going plant-based provides other health benefits as well.
Other health benefits of a plant-based diet
Diets low in meat and animal products are associated with lower incidents of many diseases and conditions.
According to Harvard Medical, those on a plant-based diet are less likely to develop:
Heart disease

Diabetes

Hypertension

Cancer
So while losing weight on a plant-based diet is a beneficial short-term goal, cutting meat out of your diet or consuming it in moderation also has long-term health benefits.
Types of plant-based diets
Choosing a plant-based diet isn't as straightforward as it may seem.
While the vegan and vegetarian diets are the most commonly talked about, the category of plant-based is much broader than that.
The reason is that when you talk about a plant-based diet, the key is in thinking about what foods make up the foundation of your diet.
In other words, what do you eat the most of?
On any plant-based diet, plants will make up the majority of your diet. That means that while some people make plants 100% of their diet, for many others plants are the majority of their diet and they also eat small amounts of animal products.
That's why the percentage of plant-based eaters is as high as 23% of the population.
If plant-based meant plants ONLY, then the percentage would be much lower. Only 2% of people consider themselves vegan or only eat plants at all times.
Below are some of the most common plant-based options out there, plus the pros and cons of choosing them.
Vegan diet
The vegan diet is one that only allows for plants.
Many people find it unsustainable in the long term.
While restaurants and our culture as a whole grow more accommodating to a vegan diet, it's still not easy to find balanced vegan options everywhere.
It's also a restrictive diet. While there are many plant-based foods to choose from for a varied diet, you also have to cut out a lot of foods that are a staple in diets all over the world.
You can count out things like honey, eggs, cheese, yogurt, ice cream, or anything with gelatin in the ingredient list. And of course, any meat.
While for some removing all of this from the diet is possible, for others it's a challenge that makes a vegan diet too difficult to maintain.
But there less restrictive plant-based diets out there.
Vegetarian diet
The vegetarian diet is the less strict version of the vegan diet.
You primarily eat plants but can eat some animal-based foods.
The deciding factor on a vegetarian diet is if an animal was killed to get the product. So you can still eat eggs, honey, cheese, yogurt, and ice cream. But gelatin and any meat like chicken, pork, or fish would still be off the list.
This option gives a bit more flexibility than the vegan diet. But to be done right, like the vegan diet, the vegetarian diet requires focusing on adding non-processed foods to your diet.
It's easy to find highly processed vegetarian options and think it's good for your health because it's plant-based. But remember that whether you're choosing vegan or vegetarian, the emphasis should be on choosing a wide variety of whole foods.
Flexitarian diet
A flexitarian diet is what it sounds like—a flexible diet.
The term was coined and written about by Dawn Jackson Blatner in her 2009 book, The Flexitarian Diet: The Mostly Vegetarian Way to Lose Weight, Be Healthier, Prevent Disease and Add Years to Your Life.
It's a diet where someone will primarily eat plants and veg-based protein sources. But they will not say no to the occasional animal-based product or meat.
They may choose to rarely cook it themselves or just save their meat-based meal for the rare special occasion. The purpose of the diet is to make eating more plants a consistent habit without the restrictions of a vegan, or vegetarian diet.
The flexitarian meal plan as put forward in the book also helps with weight loss by keeping calorie count around 1,500 each day. This is within a reasonable window to make weight loss progress over time. As a result, this diet is one that's good for weight loss and for overall health as you reap the benefits of going primarily plant-based.
Mediterranean diet
The Mediterranean diet doesn't get talked about much in plant-based circles because it still includes meat in moderation.
But the diet is plant-based and predominantly made up of whole fruits, vegetables, and legumes. But you can still consume dairy and some meat.
Not only have studies shown that they're good for heart health, managing diabetes, and weight loss. It's also one of the most sustainable diets.
These more flexible plant-based diets are sustainable because the foundation is whole foods and plants. But there's still room to enjoy the foods you enjoy in moderation.
For example, with the Mediterranean diet, you can have red once a month. Fish or chicken a few times a week. You can have dairy in the form of Greek yogurt or low-fat cheese daily. And you can have wine.
The thing about dieting is that losing weight fast is only one piece of the plan.
You also need a plan for how to keep that weight off in the long run.
And that's why flexible diets, like the Mediterranean diet, that allow you to eat a variety of foods win across the board for weight loss and overall health. They're both healthy and sustainable.
Looking for support to make long-term weight loss?
We offer a range of options for our clients because we know that there isn't a one-size-fits-all solution to weight loss.
That's why we provide a range of diet plans, injections, and supplements that help you lose weight safely and with the support of our team.
With us, you can have a steady weight loss strategy under the supervision of our doctors.
You also need a plan to eat well and keep losing weight for the long run. And that's where we continue to support you until you achieve your goals.
We get to know you, your health, and your diet preferences to create a long-lasting and sustainable plan.
While a plant-based diet can help you lose weight, we know there are many options out there to help you lose your goals.
Whether that involves a flexible diet or a more strict diet will depend on your goals and the advice from your doctor. But there is a way for you to lose weight and feel healthy again.
We've helped hundreds of people across the Valley and we're here to help you too when you're ready.
Reach out to us with any questions or visit your closest Valley Medical Weight Loss location to start your weight loss plan today.