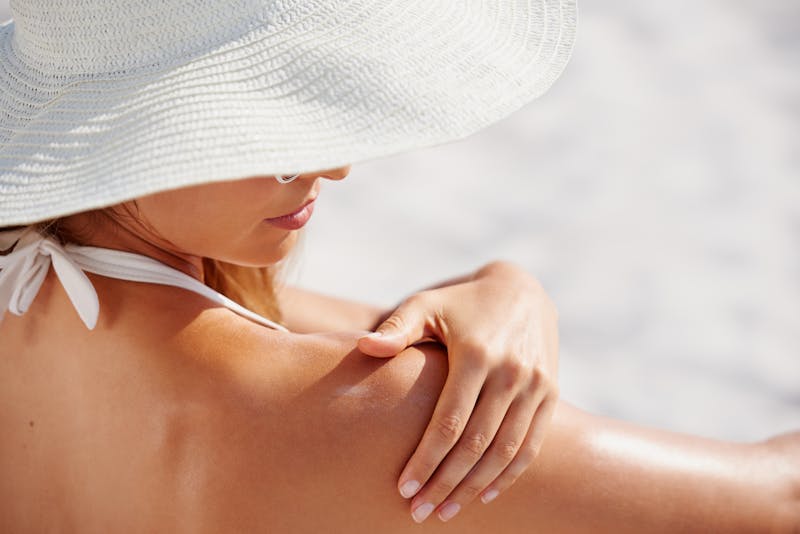 As we prepare for another hot, dry, and sometimes humid Phoenix summer, it's time to adjust your skincare routine. Even if your current products and routine work well, how you care for your skin in the summer isn't the same as in the winter.
The tips below will help you personalize your warm-weather skincare routine, rejuvenate your skin and body, and take a proactive approach to anti-aging.
#1 Educate Yourself on UV Protection
Get outside and enjoy the sun, but don't forget your UV protection! According to the Skin Cancer Foundation, regular daily use of SPF 15 can reduce your risk of squamous cell carcinoma by around 40%. And your risk of melanoma by 50%.
That being said, they also suggest a minimum of an SPF of at least 30. Many dermatologists go one step further, suggesting broad-spectrum UV protection of at least 50. This is because most of us don't apply enough sunscreen.
The average adult requires a full shot glass of sunscreen to effectively cover their entire body. Since most of us apply far less, going up to SPF 50 helps to achieve a level of protection that is closer to SPF 30.
In addition to reducing your risk for sun cancer, UV rays can damage your skin, collagen, and elastin. This damage leads to premature aging. So much so that the only thing that ages your skin more than smoking is the sun.
There are a lot of grey areas regarding sunscreen, which makes it difficult to properly care for your skin in the summer. Let's begin with the difference between SPF, broad-spectrum UV protection, and UPF.
Sun Protection Factor (SPF)
The SPF of a product tells you how long it will last before you burn. For example, if it normally takes your skin 20 minutes to burn in direct sunlight applying an SPF 15 product increases this by 15 times. SPF 15 blocks about 93% of UVB rays, while SPF 30 blocks about 97% of UVB rays. SPF doesn't protect against UVA rays.
Regardless of the SPF protection, reapply all sunscreen every 4 hours when in direct indoor or outdoor sunlight. This will help to account for what sweats away or washes away when you are outside having summer fun. If you know you will be sweating heavily or if you'll be in the water, use a water/sweat-proof formula.
Broad-Spectrum UV Protection
Ultraviolet A (UVA) rays are what age your skin. Ultraviolet B (UVB) rays are what burn your skin. We are also exposed to other harmful light spectrums, such as the blue light from our electronic devices. This is one reason to wear products with sunscreen year-round, even when you're inside all day.
Layering on more than one product doesn't double the SPF or UV protection. For example, layering an SPF 15 moisturizer over a broad-spectrum 15 sunscreen gives you broad-spectrum coverage, but it's still SPF 15—not SPF 30.
Ultraviolet Protection Factor
There is an increasing range of clothing labeled "UPF", which is short for "ultraviolet protection factor". Most clothing (unless it's sheer) has at least a bit of UV protection. Clothing designed with UPF in mind minimizes the need for sunscreen. This is one of the many reasons surfers wear wet shirts as they allow them to be outside for hours in direct sunlight without burning.
Clothing with UPF 30 or higher has the Skin Cancer Foundation's seal of approval. If your clothing isn't UV-rated, select fabrics that are any combination of shiny to reflect light, dark to absorb less light, or cotton which has natural UV filters.
#2 Adjust Your Facial Products
Learning to care for your skin in the summer often requires making some major changes to your daily skincare routine. As always, ensure all products are noncomedogenic and designed for your face.
Eye Care
Since the skin around your eyes is thin and sensitive and you don't want to risk products getting in your eyes, most eye moisturizers don't contain sunscreen. So, wear UV sunglasses when outside, turn the blue light filters on your electronic devices, and wear blue light glasses.
Face Wash
It may feel more refreshing to transition to a foaming cleanser in the summer months. If you continue to wear full makeup all summer, keep your thick and creamy cleansers to successfully dissolve your products. When on the go, use cleansing facial wipes.
Facial Serum
With increased sun exposure, it's even more important to use an antioxidant-rich serum. Being thinner than moisturizers, serums penetrate your pores stimulating cellular regeneration. This can include sheet masks.
Facial Moisturizer
Thick and creamy facial moisturizers provide an added layer of protection between you and the colder winter air. In the summer, you may prefer a gel or lighter-weight moisturizer.
Makeup
When it's warm you may also prefer lightweight makeup. This might include facial and full-body bronzer, tinted moisturizer instead of foundation, or powder foundation.
Consider a primer and setting spray to ensure your makeup stays put.
Don't forget waterproof mascara, lash tinting, lash extensions, or a Lattise prescription to stimulate the growth of darker, thicker, and fuller lashes.
Lip Care
Even if you don't wear lipstick, wear lip balm with SPF protection. If you wear lipstick, layer your SPF balm over or under—and reapply throughout the day.
Sunscreen
Even if it's noncomedogenic, you shouldn't use body sunscreen on your face. Not to worry as many AM moisturizers, foundations, and powders contain SPF 15 or higher.
When outside for extended periods of time, your makeup SPF isn't enough. Instead, apply a dedicated facial sunscreen. While it's a cream, sunscreen doesn't provide moisture. If you'll be wearing makeup, layer it between your facial moisturizer and your makeup. Without makeup, layer your sunscreen over your moisturizer.
Have dark skin? Yes, you need sunscreen too! While you may not burn as quickly, your skin is susceptible to skin cancer and UV rays that can prematurely age your skin.
Most body and facial sunscreens are white, which leaves noticeable streaks on everyone, especially if your skin is dark. It can also interfere with the color saturation of your makeup. Thankfully, there are tinted moisturizers you can layer between and a growing list of tinted sunscreens designed specifically for darker skin!
Exfoliate
To properly care for your skin in the summer, you must continue to exfoliate 1 to 3 times per week. You sweat more when it's hot, and the sweat can clog your pores.
Use a gentle daily scrub on your face, gentle chemical exfoliator, exfoliating brush, or weekly granular scrub. Don't forget to exfoliate with a loofah or body scrub from the neck down.
Use Self-Tanners
Instead of exposing yourself to harmful UV rays use facial bronzers and self-tanners year-round or during the summer months.
#3 Summer-Ready Aesthetic Treatments
Summer is a popular time to kick your spa and aesthetic treatments up a notch. From elevating and enhancing your natural beauty to targeting your troubled areas.
Pedicure
An at-home or in-spa pedicure will get your feet sandal-ready. Consider a pain-free foot peel, but plan accordingly as the dead skin takes 7 to 10 days to fully shed—and there is no way to speed up the process without hurting yourself.
While you're at it get a manicure too and consider gel polish for a chip-free finish.
Don't forget to use cuticle cream and a foot pumice or DIY electrical foot file. Follow up by applying lotion with gel lotion socks.
Standard Facial
It's important to keep up with your facials during the busier summer months as a proactive approach to sun damage and hyperpigmentation. Standard facials include cleansing, exfoliating, steaming, extraction, and intense hydration.
Peel-Free Unicorn Facial
Get the glowing skin of a facial peel, without peeling! Unlike standard facial peels, the Unicorn Facial penetrates the dermis, without irritating it. It stimulates regeneration from the inside out, leaving you with a youthful summer glow.
Facial Rejuvenation
If you'll be transitioning to barely-there makeup you may want to consider a non-invasive treatment or two.
From Juvederm to add a bit of volume while smoothing your face or lips to a rejuvenating thread lift, or a combination of microneedling and radiofrequency to tighten, contour, and repair damage.
Body Contouring
To get bikini-ready consider treatments designed to contour the body by blasting away fat and smoothing cellulite.
The Lipo Laser is a pain-free treatment that combines laser and cold therapy to target troubled areas such as the butt, thighs, abdomen, hips, and back fat.
Morpheus 8 Body combines microneedling and radiofrequency to treat skin laxity and melt away stubborn fat. It also boosts collagen production for youthful skin.
How Can We Help You Care For Your Skin This Summer?
Valley Medical Weight Loss and Med Spa offers a cutting-edge variety of aesthetic treatments that are scientifically proven to rejuvenate your skin.
If you aren't sure which treatments will help you achieve your skincare, beauty, and body objectives—we can talk you through your options.
Yes, this includes Semaglutide and a variety of medical weight loss programs to shed a few more pounds this summer!