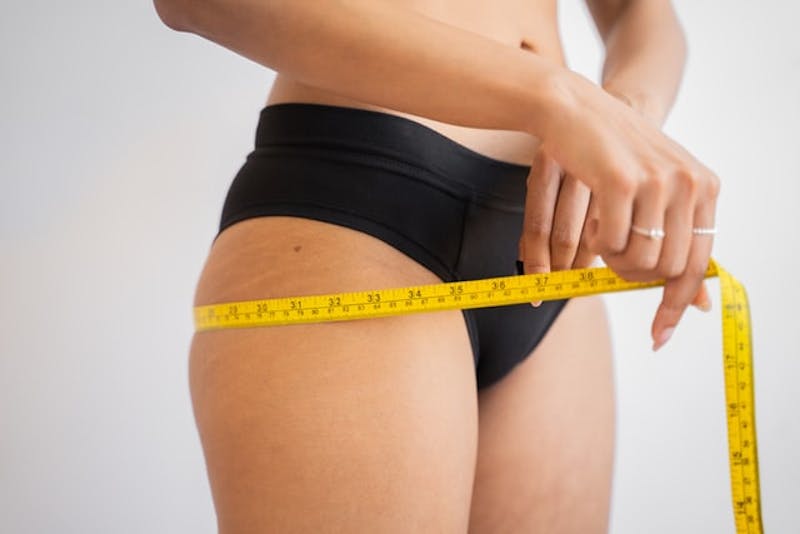 Liposuction is an option for some who want to lose a lot of weight. But as an invasive procedure, there's a lot of recovery and complication concerns that come along with it. What if it were possible to get liposuction results without going under the knife?
There's no doubt that losing weight can require a lot of effort. You have to make major lifestyle changes that happen that are challenging to stick to. Some weight loss plans require medications and supplements. And sometimes, surgery helps those who want to jumpstart their fat loss process.
One of the most common surgical options for fast weight loss is liposuction.
Liposuction is an invasive surgical procedure that gets rid of excess fat that is difficult to get rid of through diet and exercise. It's an option for those who want to lose a lot of weight fast and need the additional support to remove particularly stubborn fat.
But liposuction also requires going under the knife and a long recovery time. That means that while it has a high rate of success, there is also a higher rate of complications that come with surgery and recovery.
But what if you don't want to go under the knife to lose weight fast?
The alternatives to liposuction
There are alternatives to liposuction out there. And we don't mean long-term strategies like exercise and diet—but those are important too.
You can lose weight fast with results that compare to liposuction with two other options: cool sculpting and lipo laser.
Cool sculpting is a completely non-invasive procedure that works by freezing fat cells.
During the procedure, your doctor will use the CoolSculpting applicator on the treatment areas. The applicator freezes and kills the fat cells in that area. When these cells die, they are processed out of your body over the next few weeks.
Research shows that it's safe and effective, with the ability to reduce fat by 23% in each treatment. But it's not an ideal procedure for anyone with skin conditions or blood clotting disorders.
One of the benefits of the cool sculpting procedure is that it's not invasive and can take as little as 35 minutes for the procedure. But the results do take a few weeks and up to two months to be noticeable.
Lipo Laser, on the other hand, produces immediate results.
Lipo laser is only minimally invasive but still has little to no recovery time. The procedure is so minimally invasive that it only requires local anesthesia to comfortably undergo.
When you get a lipo laser treatment, your doctor will make a tiny incision in the skin after they numb the area. They then put a tiny laser that liquefies fat under the skin. Once the fat has been liquefied, then a small cannula, or tube, is used to suck the fat from under the skin.
Any swelling or bruising is minimal, especially when compared with the effects of liposuction. You can also return to your normal life in just a couple of days, although strenuous physical activity isn't recommended for a few weeks after the procedure.
Strawberry Lipo Laser
Another option is the Strawberry Lipo Laser. It is one of the FDA-approved Lipo Laser treatments available and has proven to shrink fat cells and create tighter and smoother skin.
How does the Strawberry Lipo Laser work
The procedure works by using a laser to safely target fat cells just under the skin. When the laser hits these cells, it creates open pores. Then, when those cells are open, they release the excess fatty acids, glycerol, and water stored inside. These fluids are processed and released through your lymphatic system, and the fat cells shrink in size.
The shrinkage in cell size is typically noticeable immediately. But to see a complete reduction in fat cell size, it is typically recommended to get up to 8 treatments. This helps to target stubborn fat in different areas to achieve your ideal weight and tighten your skin.
Side effects of the Strawberry Lipo Laser
The Strawberry Lipo Laser procedure comes with fewer side effects. There is no bruising, swelling, or downtime required. The minimal recovery time makes it an ideal option for anyone who wants to get quick results without the potential complications of traditional liposuction.
Who can get the Strawberry Lipo Laser?
Just like with liposuction and other weight loss procedures, there are limitations on who can get the procedure. The Strawberry Lipo Laser is typically for those who are within 30% of their ideal weight.
The procedure does help you lose weight faster than diet and exercise alone. But if someone is not within their ideal range, they will have to use other methods like medications, diets, and exercise to reach their ideal weight.
There are also health complications that make someone ineligible for the Strawberry Lipo Laser. If you have any of the following, you are not likely to be recommended for the procedure:
Pacemaker

Unregulated hypertension

Kidney or liver disorders

Cancer

Pregnancy

Tattoos in the targeted areas
We help you lose weight fast
At Valley Medical Weight Loss Center, our doctors and specialists help you achieve your unique weight loss goals quickly and safely.
We offer the Strawberry Lipo Laser for patients who are ready to lose the stubborn fat that hasn't been easily lost with diet and exercise. Plus we provide personalized diet plans that help you lose weight fast.
Our patients have high success rates not just because of the quality of our weight loss plans, but also because of the support from our doctors. Our patients get unparalleled support from everyone on our team because we know that your life changes when you have the right support to achieve your weight loss goals.
To start your weight loss journey with a personalized program and the support of doctors who listen to your needs, come in for your first consultation today.