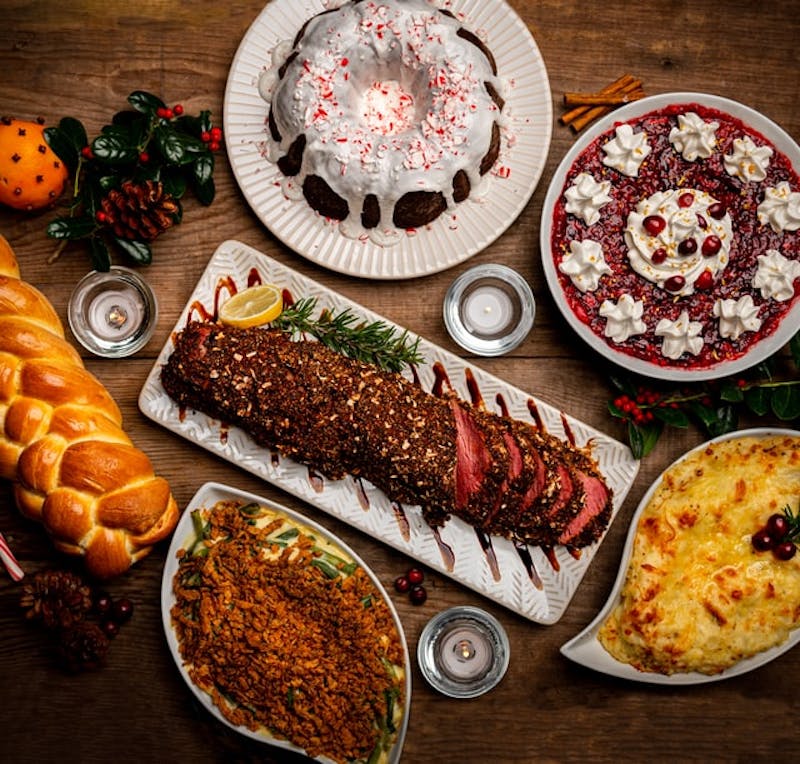 Sticking to your weight loss plan is hard no matter what time of year it is–the holidays can make it even more challenging. Here's how to overcome the temptation to throw your diet out the window and instead stick to your weight loss goals while enjoying the occasional holiday treat.
The holiday season is here and that means more than gifts, celebrations, and pretty lights. It also means it's the time of year when we have so many of our favorite holiday treats. Whether it's a family tradition to have a special holiday dessert or the temptation of all those holiday flavors at your favorite ice cream parlors and coffee shops–it seems like there's more delicious food to try than ever at this time of year.
If you're on a diet, that means that this can also be one of the most stressful times of the year.
Quickly following Thanksgiving, which is one day of feasting, we have the whole of December with multiple holidays and more gatherings than any other time of year. That means there's more alcohol flowing and more food for eating so you have more opportunities to slip back into your old eating habits. The stress comes in when you know you want to achieve a weight loss goal but you also want to enjoy your special holiday.
When you feel like you have to avoid your favorite foods or feel left out by turning down gatherings to make sure you stick to your diet, it's a downer for your whole holiday season. That's why so many people end up giving up on their diet around the holiday season.
The good news is that the holiday doesn't have to be a stressful time if you want to lose weight. It's possible to stay on track with your goals for the month of December and enjoy all the holiday gatherings.
5 Tips to stick to your weight loss goals
Get clear about your goals
The first and most important step for weight loss is to get very clear about what your weight loss goals are. It's impossible to achieve your goal if you aren't super clear on what it is.
But here's the thing about your weight loss goals during the holiday season–they might have to be slightly different than at the other times of the year. Whether you travel or have family visiting, or just have more social gatherings to attend, you likely cannot follow the same routine you typically do. This makes it difficult to stick to your regular diet plans.
So with that in mind, it's helpful to create short-term goals for your most busy and tempting weeks in the holiday season.
These short-term goals help you get through the day-to-day of the holiday season and help you keep the few weeks of the holiday in perspective. This is just a few weeks of the year–you don't have to give up on your diet just because there's more temptation at this time than others.
2. It's okay to make slight adjustments to your diet at this time of the year
While adjusting your short-term goals for the holiday season, you can make minor changes to your diet too. Take a look at your calendar and see when you'll be expected to attend holiday gatherings where non-diet-friendly food will be amply available. Consider what your plans with family and friends are that revolve around special meals and treats for the holiday.
To be able to both enjoy the holiday and stay on track, you can work your favorite holiday treats into your diet in moderation. Consider your regular ideal calorie intake and how you may fit your favorite holiday dessert or special meal into your plan for the week.
Remember that these adjustments are temporary. You are not defined by eating your favorite chocolate at the holiday or by having a deviating one day of the year to enjoy quality time and traditions with friends and family. The very next day, you can get right back to your typical diet for weight loss success.
3. Have a post-holiday plan for how to get back into the swing of your regular diet
Once you've created your smaller goals to get through the holiday season with balance and moderation, it's important to get back to your weight loss diet quickly. It's easy to use the holidays as a means to completely give up on your goals as many do. But it's easier to stick with it if you have a plan to get back on track again. Here are some tips to get back to your regular diet:
Create a plan for how to keep away from food that's not part of your regular diet

Make sure any holiday treats aren't left in your home or within easy reach

Get back on your regular meal plan and schedule
4. Have a weight-loss buddy so you can hold each other accountable
Achieving weight loss goals is easier with others. If you know that others you're close with also want to lose weight, make plans to help each other stick to your diet goals during the holiday season. This can take form in a number of ways:
Agree to follow the same daily diet and track your results

Get together to meal prep with your weight-loss buddy to follow through on cooking what you're supposed to according to your goals

Check in with each other if either of you feels tempted to deviate from your agreed-upon plan
4. Opt for making healthier versions of your favorite holiday recipes
Finally, a simple way to prevent eating too many more calories during the holiday is to adjust your favorite recipes. Look for diet-friendly options for your favorite meals and desserts that cut back on sugar, unhealthy fats, and salt. Opt to make meals with as many fruits, veggies, and other whole foods as possible. You can still enjoy delicious food while being calorie-conscious.
Even if you aren't the one cooking, see what healthy options are on the menu for holiday dinners at restaurants. Although the temptation is always there with heavy comfort foods, almost every restaurant has smaller and more calorie-friendly options available. When in doubt, enjoy your meal out and factor those calories into the rest of your day by cutting out calories from other meals in your day to stay on target for your daily goals.
Stick to your weight loss goals and start the new year off right
As part of your post-holiday plan to achieve your weight loss goals, we're here at Valley Medical Weight Loss to help you.
You're more likely to achieve your weight loss goals with the support of doctors and weight loss professionals. We offer weight loss programs that fit anyone's goals, no matter how much weight you want to lose. You can start one of our programs or try our weight loss supplements. We have options that suit any lifestyle and any goal.
When you come in for a consultation with one of our doctors, you'll get to discuss your health history, your lifestyle, and your ideal weight goal as they help you determine the best weight loss plan for you.
Contact your closest Valley Medical Weight Loss location today to get on the right track for 2022.