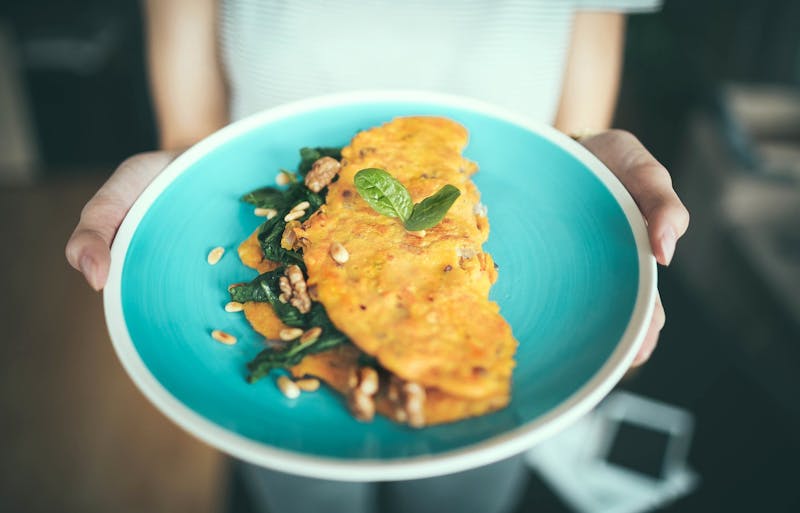 You've probably heard the phrase "breakfast is the most important meal of the day" over and over again. While it may not be the most important – we're inclined to think all meals are important – this popular bit of advice has some roots in truth. A healthy breakfast sets the precedent for the entire day.
If you skip breakfast, you're bound to be ravenous by lunchtime. Choose a sugary, refined carbohydrate-rich breakfast, and you set yourself for a blood sugar roller-coaster ride. But if you put together a protein-packed meal that's loaded with fiber-rich veggies, you can help foster weight loss and even improve your mental capacity throughout the day. So what are the steps to building a healthy breakfast?
Start with Protein
Many breakfast plates are loaded with carbohydrates, like cereals, waffles, pancakes, and toasts, and seriously lacking in protein. While carbohydrates are important, they don't help keep you full like protein does. In fact, eating lean proteins at breakfast can help reduce the urge to snack throughout the day. Start building your breakfast plate by choosing quality sources of protein like eggs, unflavored Greek yogurt, or a handful of unsalted nuts.
Add Some Fresh Produce to Your Healthy Breakfast
Fruits and vegetables are packed with micronutrients and including them at breakfast makes it more likely that you'll meet your vitamin and mineral needs for the day. Fruits and veggies are also loaded with fiber and water, which helps fill you up without contributing an excess amount of calories. Add some mild tasting vegetables, like broccoli, zucchini, or spinach to your scrambled eggs; mix some berries into your Greek yogurt; or chop up some banana and toss it with almonds for a filling "monkey salad".
Think Outside the Box
There is no rule that says only certain foods are acceptable for breakfast and others are off-limits, yet so many people categorize certain foods as "breakfast foods", while saving others for lunch or dinner. You don't always have to eat a veggie omelet or a bowl of yogurt in the morning. Eat whatever you want!
If you made chicken with roasted vegetables for dinner the night before and have leftovers, eat those. Bake a sweet potato, top it with some ground turkey, and have some steamed broccoli on the side. It may sound strange, especially if you're used to eating waffles or pancakes for breakfast, but try it out. You may be pleasantly surprised at how much you like it.