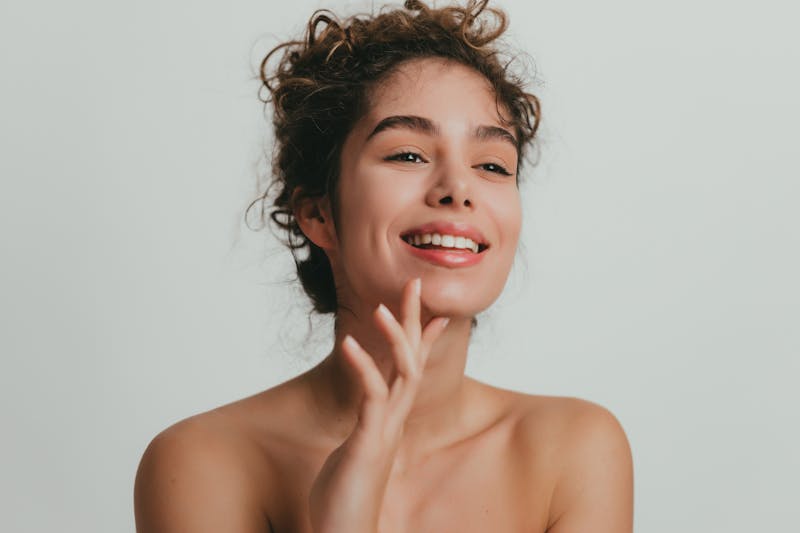 Valley Medical Weight Loss and Med Spa is excited to announce the newest addition to our aesthetic injectables—Juvéderm Skinvive™! This revolutionary new skincare treatment is injected underneath the skin, but it's not designed to plump or contour. Instead, it infuses a concentrated layer of hyaluronic acid microdroplets to aid your skin in natural rejuvenation. Here's everything you need to know.
Why a Filler That Doesn't Plump?
Most aesthetic injectables are designed to restore the youthful fullness your face loses with age. Or for added volume and contouring in areas where you naturally have less volume. However, not all skincare and antiaging concerns are related to volume. And many are searching for non-invasive solutions that don't alter the shape of their face.
The Skinvive™ injectable infuses a smooth layer of hyaluronic acid microdroplets directly underneath your cheeks. Hyaluronic acid is a naturally occurring humectant. It's one of many antiaging substances your body produces less of as you age.
It contributes to your skin's:
Moisture retention
Smooth texture
Natural facial volume
Natural facial plumpness
A youthful and dewy glow
When precision injected into your dermal layer, it transform your skin's texture and appearance—with long-lasting results up to 6 months.
Can't I Just Use Topical Hyaluronic Acid (HA)?
Absolutely, and topical HA products can be highly effective. There are a variety of serums and creams that contain a high concentration of hyaluronic acid.
By injecting it underneath your skin, you take an inside-out approach that is far more effective than topical products alone. Also, a longer-lasting and more convenient option than daily topical application.
Do Other Fillers Contain Hyaluronic Acid?
Yes. Juvéderm offers a range of traditional fillers that plump, firm, smooth, and lift—many of which are formulated with a filling agent and hyaluronic acid. This includes Juvéderm XC, Ultra, Ultra Plus, Vollure, Volbella, and Voluma.
Juvéderm Skinvive™ is more appealing to those who want to restore their skin's natural radiance without altering the shape of their face. Just be mindful that when plumping fillers are precision injected, they look natural. But if plumping isn't what you need, Skinvive™ may be a better fit.
How Does Skinvive™ Injectable Work?
Skinvive™ is an ultra-smooth, low-viscosity gel that is injected directly underneath the dermis of the cheeks in microdroplets. The dermis is the second layer of the skin. Traditional fillers are injected subdermally to lift and plump.
Skinvivie™ forms an ultra-thin layer that won't change the shape of your face. Since it's closer to your skin's surface, you will experience a moisture-rich, healthy, and youthful glow.
It's a popular choice for those with dry cheeks, uneven skin texture, dull skin, sun damage, or who simply want to restore their daily glow. Instead of lifting and filing the skin, it improves the quality of your skin.
How Long Does Skinvive Last?
This FDA-approved injectable is proven to last up to 6 months. Most patients say that their skin looks and feels healthier and refreshed, and that they look like themselves—but better.
Topical products designed to create a healthy glow sometimes walk the fine line of looking oily. While topical HA works, if you stop using it the smoothing and glow fade in a week or less.
By injecting hyaluronic acid into the dermis, the results are long-lasting and more effective.
How Long Before I See Results?
One of the many exciting things about this aesthetic treatment is that it's fast-acting. Expect to see a mild radiance almost immediately, with improved smoothing and glow between 5 and 10 days.
Some patients describe their results as "smooth as glass".
Is Skinvive™ Right For Me?
Valley Medical Weight Loss and Med Spa offers a variety of non-invasive skincare treatments. During your initial consultation, we'll discuss your aesthetic objectives and present you with the most suitable options.
Skinvive™ is a popular option for those who have little to no visible signs of aging but are looking to improve their skin's quality and texture. Patients with more advanced signs of aging may combine this microdroplet treatment with some of our other options.
What to Expect During Your Treatment—And Does it Hurt?
If you decide that Skinvive™ injectable is right for you, you'll need to set aside about 45 minutes. We'll determine where on your cheeks to inject and apply a topical numbing cream accordingly. The injection also has lidocaine within to minimize discomfort.
Your injection locations are personalized to your facial structure, but the microdroplets are administered on your cheeks every 5 millimeters or so.
Most patients describe the sensation as a pinprick, but some don't feel a thing.
Can I Combine Skinvive™ With Other Skincare Therapies?
Yes! During your initial consultation, we'll discuss your concerns and suggest solo or combined treatments. Then we'll map out a treatment schedule.
Your treatment schedule will be designed to optimize and personalize your results.
Please advise us of all aesthetic treatments you've had elsewhere and plan to have post-treatment. This ensures proper spacing and optimal results from Juvéderm Skinvive™ and your other treatments.
What Are The Downtime and Side Effects?
During your initial consultation, we'll provide you with personalized pre- and post-care instructions. Before your treatment, you may need to adjust your skincare routine and avoid blood thinners, and alcohol. We also advise hydrating before and after.
Post-treatment, most clients experience slight redness that fades in less than 2 hours.
You may also experience:
Swelling and tenderness at the treatment site—most common in those with sensitive skin types. Symptoms typically subside within a couple of days.
Bruising—although not common, mild bruising can occur post-treatment, often disappearing within a week.
Sensitivity to touch—this is a temporary side effect that improves within a few days. Be gentle with your skin in the meantime.
Rare Side Effects
While extremely rare, more serious side effects can occur. These may include:
Lumps—very rarely, patients may notice lumps or bumps under the skin. This is usually due to uneven distribution of the product. Lumps and bumps can be corrected and avoided by choosing a skilled aesthetic injector.
Color changes—very rarely, some patients have experienced minor changes in skin color at the treatment site. Discoloration isn't permanent and should gradually return to your skin's original color.
Allergic reaction—there's a low risk of a severe allergic reaction. Seek immediate medical attention if you experience hives, shortness of breath, or any other severe symptoms
Want to Learn More About Skinvive™?
If you would like to learn more about Skinvive™ injectable, we invite you to schedule a consultation with Valley Medical Weight Loss and Med Spa.
We'll review your skin and health and discuss your aesthetic objectives before advising on your treatment options.
For your convenience, we have 3 locations in Phoenix, Tempe, and Glendale.