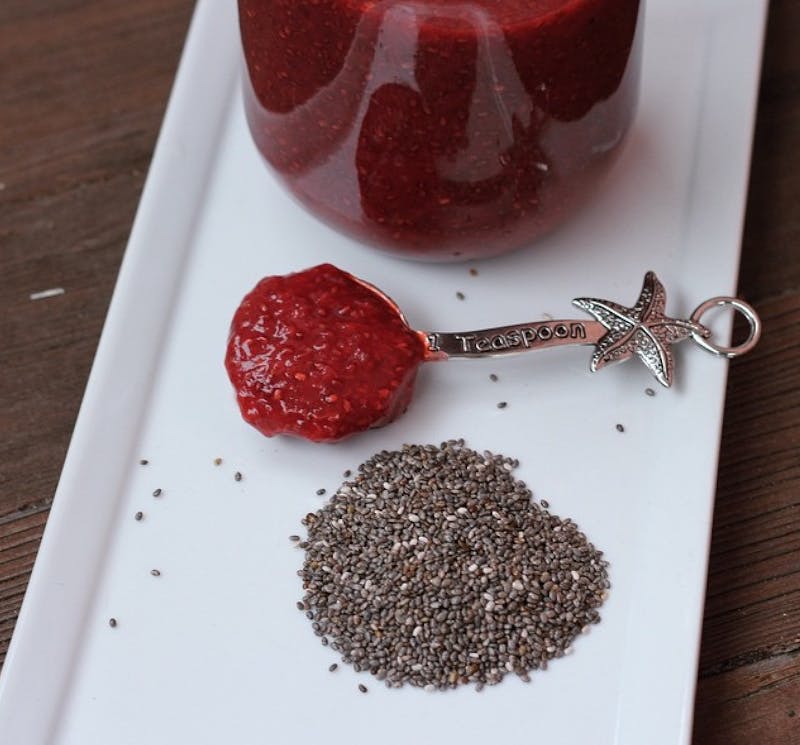 Even if you're not a fan of the intense heat of the summer, I think there's one thing that we can all agree on – the abundance of berries is a definite plus. During the summer, berries are readily available, less expensive, and sweeter than at other times of the year. If you're like me and like to buy berries in bulk, you may be wondering what to do with all of them. Smoothies are always an option, but sometimes it's fun to get a little more creative than that. Many people choose to make jam with fresh berries, but traditional jam is loaded with refined sugar and pectin – two ingredients that turn your healthy berries into a not-so-healthy treat.
Strawberry Chia Jam
The solution? This strawberry chia seed jam. It's made with only two ingredients – berries and chia seeds. Really, that's it! You can add some raw honey, if you want, but if you're really watching your waistline, leave it out and you'll be left with a perfectly delicious fresh jam without any of the guilt.
But it's not just about what's NOT in this jam, it's about what IS in it. In addition to strawberries, which are rich in vitamins and minerals, it's also loaded with chia seeds, which the Aztecs referred to as a super food. In short, chia seeds are about 30% protein and contain essential fatty acids that your body can't make on its own. They're also rich in vitamins A, B, D, E, and K and a good source of calcium, copper, iodine, iron, magnesium, manganese, niacin, phosphorus, potassium, silicon, sodium, sulfur, thiamine, and zinc. For a more in-depth discussion of chia seeds, check out our earlier blog post here. For the super simple strawberry chia seed jam recipe, keep reading.
What You Need:
1 pound fresh strawberries (or mixed berries of your choice)
2 tablespoons chia seeds
1-2 tablespoons raw honey (optional)
What To Do:
Heat up fruit (and honey if you're using it) over medium heat in a saucepan. Stir occasionally and mash with a spoon or fork until the fruit starts bubbling and boiling. Keep stirring and mashing until it looks like a chunky fruit puree. At this point, stick an immersion blender into the mixture and blend until smooth. If you don't have an immersion blender, you can transfer to a regular blender and puree or just keep mashing with a fork until mixture is smooth.

Add chia seeds and stir until combined. Stir over the heat for another minute and then remove from heat and allow to cool. If after 10-15 minutes, your mixture still seems liquid-y, add another teaspoon of chia seeds. Keep in mind, the mixture will thicken as it cools. Store in the refrigerator and use as you would any other jam!