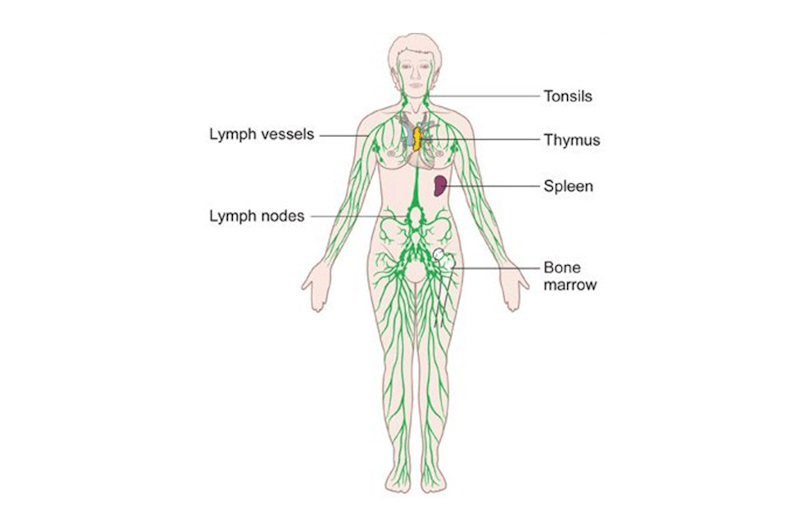 You're probably familiar with the terms "lymphatic" or "lymph", but how much do you know about this important, yet under-loved body system? The lymphatic system is arguably one of the most important systems in the body, and yet it doesn't get much mainstream attention when it comes to maintaining your health. Of course, all body systems are important, but the lymphatic system has three main functions that have an extremely profound effect on how you feel:
Makes up a major part of your immune system that helps defend against bacteria, viruses, and any other foreign invaders.
Helps your body absorb fats and fat-soluble nutrients.
Helps maintain fluid balance.
If your lymphatic system is struggling, it's impossible for you to feel your best. In this two part series, we're going to discuss what the lymphatic system is and the best things you can do to keep your lymphatic system healthy.
What is the Lymphatic System?
The lymphatic system consists of lymph vessels, lymph ducts, and lymph nodes that form a "network" that travels through all of the body's tissues. The major players in the lymph system are the bone marrow, spleen, lymph nodes, thymus glands, and tonsils. Most lymph nodes are found in groupings in the neck, armpit, and groin area, but they're located all over the body. Lymph nodes help filter blood and lymph fluid to fight infection and disease.
To fight infection, lymph fluid enters the lymph nodes, where specific white blood cells called macrophages fight foreign bodies and take them, as well as debris and any other waste products, out of the blood. After the foreign bodies have been removed, the lymph fluid returns to your veins and then goes back into your bloodstream. If you have an active infection, sometimes this causes your "glands", which are actually your lymph nodes, to swell up.
The lymphatic system is also responsible for producing antibodies, the proteins that help your immune system attack foreign invaders.
How to Keep the Lymphatic System Healthy
Unlike other body systems, the lymphatic system depends on you to keep it healthy because the only way lymph fluid can properly travel through the body is through your movement. This differs from other systems, like the circulatory system, for example, because the heart will beat and blood will move through your body even if you lie on the couch all day; however, when you're sedentary, the lymph fluid will start to become stagnant. Also, unlike blood, which flows all over your body in both directions, lymph fluid only moves upward, toward the neck.
When your lymphatic system is unhealthy, it can lead to several conditions, such as enlarged lymph nodes, inflammation of lymph nodes, enlarged spleen, inflamed tonsils, and even cancer; an unhealthy lymph system can also lead to lymphedema, or swelling of the tissues, which is not only uncomfortable, it can interfere with your weight loss goals.
Some of the best things you can do to keep your lymphatic system healthy are eat a clean diet, stay hydrated, incorporate lemon water into your routine, exercise regularly, take beneficial herbs and supplements, and get massages. Dry skin brushing and rebounding are especially beneficial to the lymphatic system. Make sure to check back next week for an in-depth description of these two therapies, as well as supplements that are good for the lymphatic system.