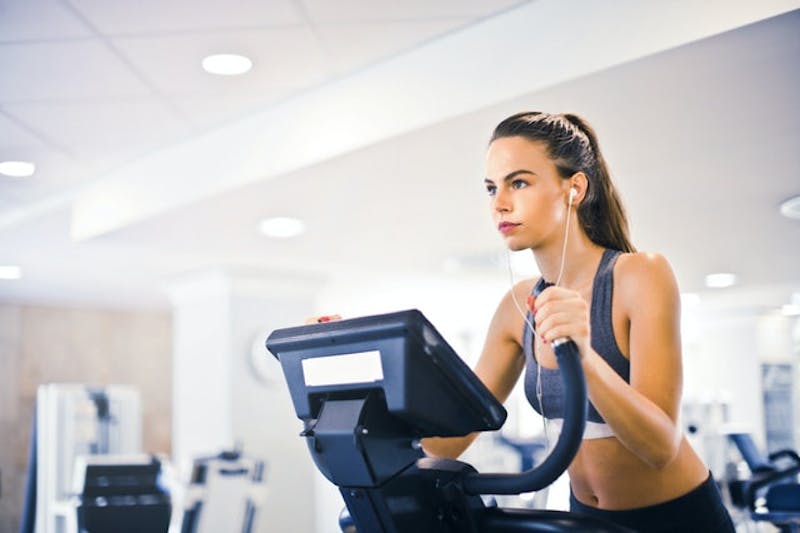 If it's your goal to lose weight this year, here are some of the best tips to help you stick to your New Year's weight loss resolution.
We go into every year feeling hopeful about what we can accomplish. We always want the next year to be different than the one before in some way. Especially this year. We're all ready to leave 2020 behind for better times. And millions of Americans are preparing by making resolutions for next year.
If your resolution for 2021 is to finally stick to that new diet plan and hit your weight loss goals, then it's time to get a strategy in place.
Because without a plan, you're bound to end up with the results that many of us who have made a weight loss resolution are familiar with—after only a month, or sometimes just a few weeks into the new year, you fall back into your regular habits. You get distracted. Real life gets in the way. And those diet and weight loss plans for 2021 are just a dream from another time.
And as the year unfolds, you don't make nearly as much progress as you'd hoped.
So how do you get over this cycle of starting and stopping? How can you stick to your weight loss goals this time around?
Let's get into how to make resolutions you can actually stick to. Plus, some mindset tips to help you get through the inevitable tough times you'll face achieving your goals.
What makes a good weight loss resolution?
While the heart and desire you put into your resolution at the start are admirable, not all New Year's resolutions are created equal.
Some resolutions are so grand and unwieldy that there's no way it can be accomplished in a year.
Others just aren't specific enough. And it makes it hard for you to focus on taking all the steps to get where you want.
So what do you need to make your New Year's weight loss resolution a tangible goal that you can actually achieve in time?
A big goal with small steps
Losing weight is a big goal. It's challenging, requires determination, consistency, and often saying "no" to things you enjoy.
This is why a plan to take you from where you are now to where you want to be is essential. It's the piece that can't be overlooked as you think about losing weight in the new year.
When you decide you want to lose weight, you need to break that goal down into steps or chunks of time.
The reason is that just saying you want to lose weight is too big and unwieldy of a goal. The bigger a goal is, the more difficult it is to accomplish it. It also means it'll take more time to get where you want to be. And it's easy to get frustrated when you don't lose weight as fast as you expect.
To avoid that frustration, you want to break down the steps that will take you from where you start to where you want to end.
Start by creating a plan you can follow for 2–3 weeks at a time, with a goal to lose a certain amount of weight. Within each week's plans, you'll break down your diet and exercise plan. There should be at least one goal you know for certain you can accomplish in that amount of time. So that way you always have something to celebrate and keep your motivation up.
Once you've reached the end of the 2–3 weeks, then you observe where you are, celebrate the progress you made, and tweak your plan for the next 2–3 weeks to reach your next target.
The point of all these smaller chunks of time is to hit important progress points on your way to reaching your ultimate goal. That means celebrating the 2.5 pounds you lose every two weeks in addition to the 10 pounds you lose after two months. Even if you can't see the progress, it's still worth celebrating.
Strategies to help you stick to your resolutions
So now that you have a plan in place you're ready to go. But that doesn't mean it's all smooth sailing from here.
You will to face challenges achieving your weight loss goals. You always have in the past, and you very likely will in the future.
So how can you make facing challenges easier this time?
Set yourself up for success by building in reminders and rewards to keep you on track.
Embrace slow and steady progress
Lifestyle changes take time to stick. It's easy to get overwhelmed and feel off-center when you change aspects of your life as ingrained as your diet. And when the results don't show up overnight, you're more likely to revert to the old habits that feel more convenient and comfortable to you.
Remember that the weight you want to lose didn't just show up overnight. It took time. That means it will take time for you to lose that weight too.
So when you haven't lost all the weight you imagined after one month of diet and exercise, but you have seen some progress remember to trust the process! You will hit your goal, it just takes time.
Reward
Everyone loves a reward.
And if you're tackling the challenge of weight loss, then you deserve rewards. So build in a time each week you know you'll reward yourself for sticking to your plan.
This might be a cheat meal on Saturday night. A time where you get one hour to have your favorite meal. Or maybe you enjoy a glass or two of your favorite wine. And once that hour is done, no more eating or drinking outside of your meal plan for the next week.
Another ideal time to reward yourself is when you hit an important milestone. Like when you lose the 10, 15, and 20 pounds that you worked so hard to lose.
But the truth is, the reward is just something extra to boost your motivation at the beginning.
As you keep going in your weight loss plan, you see how amazing you feel with a good diet and regular exercise. And that alone will be enough motivation to keep going!
Gratitude
Remember that bullying yourself into losing weight isn't how you change your life.
Feeling shame about your body won't help you lose weight.
Embracing a healthy and fit lifestyle is far easier when you enjoy the process.
So remember to be grateful for everything your body does for you already. And feel the gratitude as you get through each day of eating healthy and exercise. Be grateful that you are capable of change, and trust that if you keep making progress that
Feeling grateful and hopeful about your ability to lose weight will help you see your goals through to the end.
Daily reminder
Write down exactly what you want to achieve. And look at it every single day. Some days you won't need it. But on the days your motivation is weak, you'll be grateful that reminder is there.
And when you feel the temptation for unhealthy snacks, remind yourself how wretched you felt when you lived on unhealthy foods. It won't take long into a healthy diet for you to notice how much better healthy food makes you feel.
Get assistance from professionals who are ready to help you make your weight loss resolution a reality
It's far easier to lose weight when you aren't trying to do it alone.
At Valley Medical Weight loss we have professionals to help you create a weight loss plan that actually works. And we offer ongoing check-ins with experts when you need someone to hold you accountable to stick with your plan.
Start 2021 off right by investing in your health, yourself, and your future. We'll help you create a weight loss plan that works and lets you enjoy the process of losing weight.
Reach out to one of our locations to set up a time to meet with one of our experts.