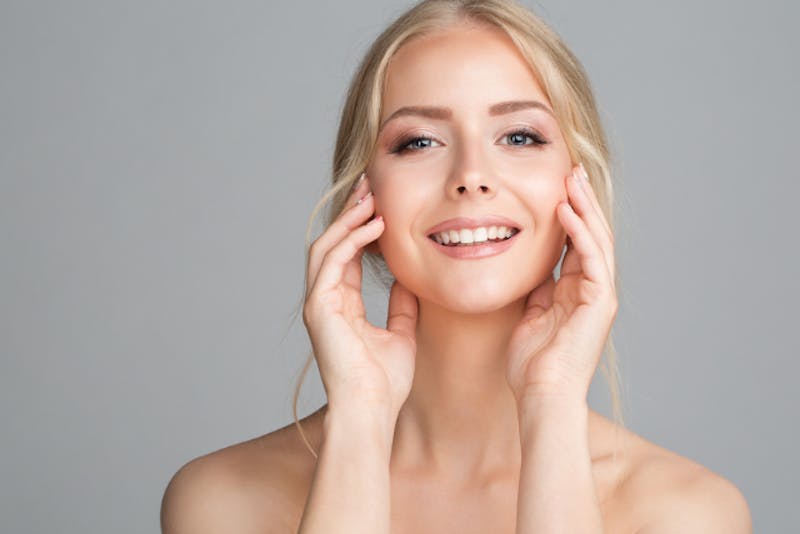 Are you concerned about fine lines and wrinkles? Acne scars? Dark spots? How about stretch marks? If you answered YES to any of these, you're not alone. Many men and women opt for a variety of cosmetic procedures to slow down the visible signs of aging. While there are many treatments available, one popular noninvasive option is microneedling+RF.
Microneedling is a cosmetic procedure that involves pricking the skin with tiny sterilized needles. The small wounds cause your body to make more collagen and elastin, which in turn heal your skin and help you look younger. This procedure really takes advantage of the body's natural healing response. As new collagen is produced, skin tissue becomes smoother, firmer, and more toned.
Microneedling is minimally invasive, requiring little to no downtime, and is considered safe for most people who are in overall good health. Microneedling has been combined with radiofrequency (RF) technology to deliver powerful results.
The key differences in various types of microneedling+RF technology treatments are the tools used and the intent behind the procedure while the basic technique is similar.
Let's take a look at three effective microneedling+RF treatments:
Morpheus8 VirtueRF Vivace
Morpheus8
Morpheus8 is one of the most advanced FDA-approved skin tightening and toning methods currently available. This device combines microneedling with radiofrequency technology for fractional resurfacing that stimulates collagen production. By targeting the deeper layers of the skin, the building blocks will reorganize themselves in a natural anti-aging process. Morpheus8 is a safe and effective minimally invasive newer microneedling treatment developed to be very effective. Its purpose is to achieve facial and body subdermal adipose remodeling. On its own, microneedling provokes a healing response in which collagen production increases. This is a benefit indeed. But by inserting radiofrequency energy to tissue approximately 4mm deep, this device prompts tissue remodeling that includes thickening and tightening.
An ideal candidate is someone who wants to improve their appearance without undergoing laser or surgical procedures. If you're looking for meaningful facial rejuvenation without surgery, consider this treatment. Typically candidates are between the ages of 30-55 with visible signs of aging and are in relatively good health. An initial consultation with a professional is recommended to find out if you're an optimal candidate.
Ideal Candidate
Morpheus8 delivers the deepest fractional treatments available, penetrating subdermal tissue up to 8mm (7mm + 1mm thermal profile).
Dual handpieces allow for increased treatment functionality: Morpheus8 for smaller treatment areas and Morpheus8 Body for larger and deeper tissue treatments.
Four fractional tips with different microneedle configurations deliver clinically proven radiofrequency (RF) energy to multiple treatment depths (0.5mm – 7mm).
Equipped with Burst mode RF technology, Morpheus8 Body automatically deploys bipolar RF energy to multi-level treatment depths in a single cycle. The ability to target tissue sequentially at three levels, in millisecond intervals, allows for a significant reduction in treatment times, minimizes skin injury, increases treatment uniformity, and enables customized full body fractional procedures.
Safe on skin types up to and including VI with little risk of post inflammatory hyperpigmentation (PIH) which is common with other resurfacing methods.
The RF device has tips with varying depths. Treatments should be customized to the patient for desired results. Total procedure time depends on the area being treated, but typically runs about 60-90 minutes.
Morpheus8 effectively remodels skin and tissue with minimal risk of post-inflammatory hyperpigmentation. Patients should expect little to no thermal damage to skin types I – VI.
Morpheus8 begins to stimulate change immediately after the first treatment. Depending on the extent of improvement a patient desires, a series of 2 to 4 treatments may be considered.Over time, collagen will tighten and patients will notice an improvement in their facial appearance (or whatever area was treated). A Morpheus8 treatment or series of treatments can truly make a patient appear younger. Reach out for a consultation and skin assessment so that we can better understand your needs and goals.
It's important to note that Morpheus8 can be combined with other treatments such as PRP for even more dramatic results.
VirtueRF
VirtueRF is also an FDA-approved skin rejuvenation treatment that uses a combination of microneedling and radiofrequency (RF) energy to stimulate collagen and elastin production. It can be used on your face, neck, or body, is ideal for any skin type, and it is especially helpful in reducing acne scarring and fine lines.
The VirtueRF is a minimally invasive procedure to stimulate the production of collagen and improve skin look and vitality on the face, neck, hands, and body. VirtueRF uses microneedles carrying radio frequency energy to deliver precise heat treatment to thousands of targeted zones beneath the skin. By heating specific subdermal areas, collagen is generated for tighter, smoother skin and wrinkle reduction — all without damaging the skin's surface.
VirtueRF is the "OG" of this type of microneedling+RF technology. Radio frequency has been used in medical treatments for over 70 years, but VirtueRF's FDA approval was noted as a game changer: it allowed for controlled, precise, and customizable skin-tightening and wrinkle-reducing treatment, all with virtually no pain or downtime.
First, the treatment zones are cleansed and a topical anesthetic is applied to ensure your comfort during the procedure. After letting the anesthetic take effect over 20 to 30 minutes, the procedure begins. Virtue RF can be used on all areas of the body including, but not limited to the face, neck, abdomen, and arms. There are no limitations, so we can customize your treatment to your target areas.
The size, location, and condition of your target areas will affect treatment times, but usually treatments on the hands, body, or face or neck are appointments that last about 30 minutes.VirtueRF microneedling is unmatched in comfort compared to its competitors and allows for fast recovery and minimal to no evidence of treatment.
Advantages of VirtueRF
Advantages of the VirtueRF technology include:
A unique component of the Virtue RF experience is its exclusive post-treatment Microcurrent Dual Face Mask to eliminate redness and optimize the post-RF microneedling healing. A wet mask immediately soothes the skin with:
Sodium Hyaluronate
Aloe Vera Extract
Caffeine
Treatment results are both immediate and progressive. Soon after the appointment, your skin will feel softer and look brighter. As the deeper layers of the skin heal and the collagen is rebuilt, you will see improvement in the next four to six months. Since the VirtueRF relies on your natural collagen production, results depend on how you take care of your skin. Results generally last for years!
VirtueRF microneedling is excellent for men or women looking to improve wrinkles, fine lines, skin tightness, skin tone, and skin texture, and are ready to undergo a minimally invasive procedure for those results. The VirtueRF is compatible with the whole body, all skin types (including tanned and dark skin, unlike some laser treatments), and works all year round! We'll determine if VirtueRF is best for your goals during a free consultation.
Vivace
The Vivace platform also combines microneedling with radio frequency (RF) to stimulate skin tightening, improve skin texture, and minimize fine lines. Simply put, it's the cutting edge of microneedling technology. Vivace is FDA-cleared for your safety.
Providers show that Vivace is effective in alleviating facial wrinkles, fine lines, and tightening the face and neck. Uniquely designed, only Vivace boasts a precision robotic motor that creates a virtually pain-free experience compared to any other device in providers' offices.
Vivace RF microneedling can benefit all skin types and tones. When correctly positioned, these needle tips apply heat deep within the tissue, without triggering the layer of melanin-producing cells that can lead to hyperpigmentation in those with deep skin tones. This makes Vivace a safer skin-rejuvenating option for more melanated complexions. People with aging skin should see an improvement in wrinkles, and those with dull skin will see it brighten.
Vivace Microneedle RF is fully verified, validated, and backed by years of successful use by plastic surgeons, dermatologists, and other aesthetic providers in North America, along with clinical and laboratory testing conducted by Aesthetics Biomedical®.
Advantages of Vivace RF
The most comfortable experience with minimal downtime
31 multilevel precise robotic depth adjustments
0.5mm-3.5mm depth
Robotic soothe glide hand piece for gentle insertion
36 golden perfectly-sized insulated needles
Protect epidermis for the most comfortable patient experience
Patterned RF emissions by chevron circuit
1MHz & 2MHz radio frequency
AVC (Automatic Visualization Confirmation)
Before treatment, a numbing cream is applied to ease any discomfort during the procedure. If you do, alert your provider so they can allow more time for your skin to get fully numb. You'll probably feel light pressure and an occasional sparking feeling, but most patients say they felt very little or no pain during the treatment.
As part of the Vivace Experience, your provider will apply a soothing sheet mask immediately after your RF microneedling treatment, to calm the skin and minimize redness. You'll wear the mask until it begins to dry out. After that, you'll need to keep your skin clear and free of any makeup for at least 4–6 hours, if not overnight. It creates tiny channels in your skin, so it is more receptive and sensitive to anything you apply. Avoid direct sun exposure, excessive sweating, and steam for a couple of days, too. Weeks following your treatment, you can use the Optimal Treatment Serum and Soothe Weekly Mask to take care of your skin and accelerate your results. They both contain peptides, along with other skin-boosting ingredients.
For optimal results, you might request a few treatments, spaced 4-6 weeks apart. Results can take up to 3 months to see full effect as the process of collagen regeneration increases over time. And while everyone is different, the collagen you make is your own and continues accelerated production over 3 months.
In Summary
Despite the fact that they use the same technology, as you can see there are differences between Morpheus8, VirtueRF, and Vivace.
Morpheus8 is among the newest fractional RF devices with FDA approval. This device uses 4-millimeter needles that provide unparalleled treatment depth, making it ideal for the face, neck, abdomen, and other parts of the body. Morpheus8 helps patients contour difficult to treat areas while improving skin health at the same time. In some cases, patients report slight discomfort during this procedure, but its robust mechanical motor allows providers to set satisfactory levels to treat all types of skin as comfortably as possible. Because it is one of the most powerful and deep-reaching microneedling treatments available, Morpheus8 is the ultimate in microneedling+RF. It is truly in a league of its own, so if it's in the budget, this is a great choice–you'll notice the most benefits from the treatment.
VirtueRF is compatible with the whole body, all skin types (including tanned and dark skin), and works all year round. It is a versatile treatment to address unique concerns. There are immediate results and virtually no downtime.
Vivace was designed to target wrinkles, sagging skin, and fine lines in the face, neck, and hands. You can use Vivace on other parts of the body, but these areas tend to have thicker skin so the results may not be as noticeable. Moreover, Vivace has a powerful 70-watt adjustable RF distributor and 36 gold-tip with insulated needles that go as deep as 3.5 millimeters, which provides optimal results on the face and neck areas.
Now Available
Valley Medical Weight Loss is thrilled to offer these treatments to its patients. We are happy to offer a consultation where you can learn more about Morpheus8, VirtueRF, Vivace, or any of our facial or full body treatments.
Booking an appointment is unnecessary as we are a walk-in only clinic. Simply come in at your convenience, Mon, Tue, Thu, or Fri between 9 am-4:30 pm, or Saturdays from 8 am to 1:30 pm, or you can contact us HERE with any questions.