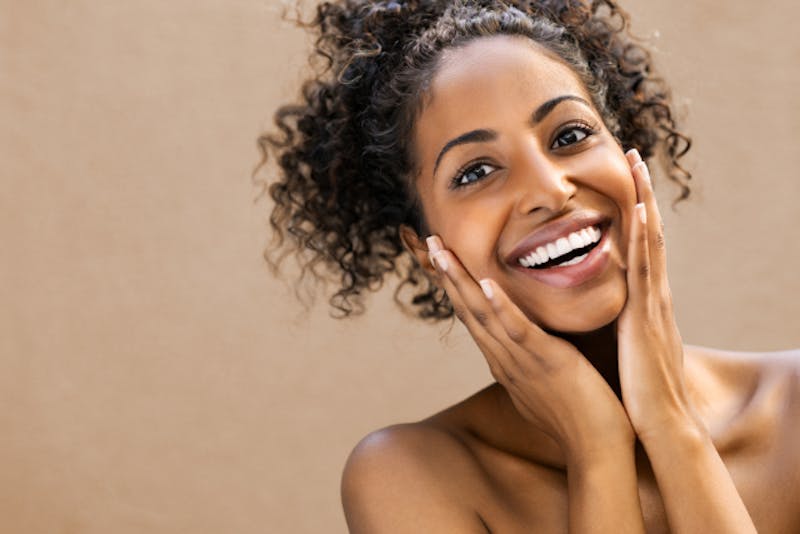 What Is Morpheus8?
Building blocks, such as collagen and elastin, maintain glowing, youthful skin. Time, environmental exposure, genetics, and lifestyle impact the abundance and quality of collagen and elastin. To postpone or correct these signs of aging, we need to utilize treatments proven to reach deep beneath the epidermis, where the skin's foundation begins. Morpheus8 fractional radio-frequency treatments stimulate these important building blocks to create healthier, younger-looking skin on the face and body.
Morpheus8 is one of the most advanced skin tightening and toning methods currently available. This device combines microneedling with radiofrequency technology for fractional resurfacing that stimulates collagen production. By targeting the deeper layers of the skin, the building blocks will reorganize themselves in a natural anti-aging process.
Morpheus8 is a safe and effective minimally invasive new microneedling treatment developed to be more effective than other types of microneedling treatment. Its purpose is to achieve facial and body subdermal adipose remodeling. It is the only device that combines radiofrequency with the microneedling technique. On its own, microneedling provokes a healing response in which collagen production increases. This is a benefit indeed. But by inserting radiofrequency energy into tissue approximately 4mm deep, this device prompts tissue remodeling, including thickening and tightening.
An ideal candidate is someone who wants to improve their appearance without undergoing laser or surgical procedures. Consider this treatment if you're looking for meaningful facial rejuvenation without surgery. Typically candidates are between the ages of 30-55 with visible signs of aging and are in relatively good health. An initial consultation with a professional is recommended to find out if you're an optimal candidate.
Benefits of Morpheus8
Morpheus8 delivers the deepest fractional treatments available, penetrating subdermal tissue up to 8mm (7mm + 1mm thermal profile).

Dual handpieces allow for increased treatment functionality: Morpheus8 for smaller treatment areas and Morpheus8 Body for larger and deeper tissue treatments.

Four fractional tips with different microneedle configurations deliver clinically proven radiofrequency (RF) energy to multiple treatment depths (0.5mm – 7mm).

Equipped with Burst mode RF technology, Morpheus8 Body automatically deploys bipolar RF energy to multi-level treatment depths in a single cycle. The ability to target tissue sequentially at three levels, in millisecond intervals, allows for a significant reduction in treatment times, minimizes skin injury, increases treatment uniformity, and enables customized full-body fractional procedures.

Safe on skin types up to and including VI with little risk of post-inflammatory hyperpigmentation (PIH), which is common with other resurfacing methods.
Treatment Areas
Morpheus8 can be used on any face or body area that would benefit from skin tightening, wrinkle reduction, and refined contouring. It targets subdermal layers of the skin and tissue to remodel collagen on the face and body. This fractional tissue treatment stimulates collagen production in the dermis' underlying layers.
Because it achieves multiple corrections simultaneously, this is an excellent solution for facial rejuvenation; however, Morpheus8's modular tips enable procedures to be customized for large or small body areas.
Treatment areas include but are not limited to:
Jowling

Under eye bags

Excess fat in face and neck

Frown lines

Nasal labial fold lines

Aging lines on cheek and neck

Enlarged pores

Sun damage

Arms

Knees

Abdomen

Stretch marks

Cystic acne/acne scars
Furthermore, it is suitable for all skin tones. Morpheus8 effectively remodels skin and tissue with minimal risk of post-inflammatory hyperpigmentation. Patients should expect little to no thermal damage to skin types I – VI.
How Does Morpheus8 Work?
Morpheus8 utilizes radio frequency technology to give your face, neck, and body a more youthful appearance.
This is an outpatient procedure. Patients feel no significant discomfort during the treatment because a topical numbing cream is applied – anesthesia or IV sedation is not used. The device delivers RF energy through micropins to the skin.
The RF device has several tips with varying pin counts and depth capabilities. Customized treatments give each patient the desired results. The total procedure time depends on the treated area but typically lasts about 90 minutes.
How Many Treatments Are Needed?
Morpheus8 begins to stimulate change immediately after the first treatment. Depending on the extent of improvement a patient desires, they may consider a series of 3 to 4 treatments. Reach out for a consultation and skin assessment so that we can better understand your needs and goals.
It's important to note that Morpheus8 can be combined with other treatments, such as PRP or Forma, for even more dramatic results.
Collagen will tighten over time and patients will notice an improvement in their facial appearance (or whatever area was treated). A Morpheus8 treatment or series of treatments can truly make a patient appear younger.
Post-Treatment
Microneedling with Morpheus8 goes above and beyond to affect deep adipose tissue. Therefore, the skin may be slightly sensitive for a few days. Generally, we encourage patients to refrain from wearing makeup for 1 to 2 days. Occasionally, mild redness and swelling may occur for a day or two. These side effects are typically mild, and they diminish quickly.
Patients should moisturize the treatment area and avoid direct sun exposure. We recommend patient use a good, broad-spectrum sunscreen every day. In addition to reducing their future risk of skin cancer, sunscreens also reduce wrinkles and slow the aging process.
Although results are visible within a few days, most noticeable results appear after three weeks. Improvements continue for up to three to six months after treatment. Once you experience this treatment for yourself, you will achieve some noticeable results, lasting approximately one year.
Now Available
Valley Medical Weight Loss is thrilled to offer Morpheus8 to its patients. We are happy to offer a consultation if you are interested in learning more about Morpheus8 or any of our facial or full-body treatments. For more information or to book an appointment contact us at [email protected].