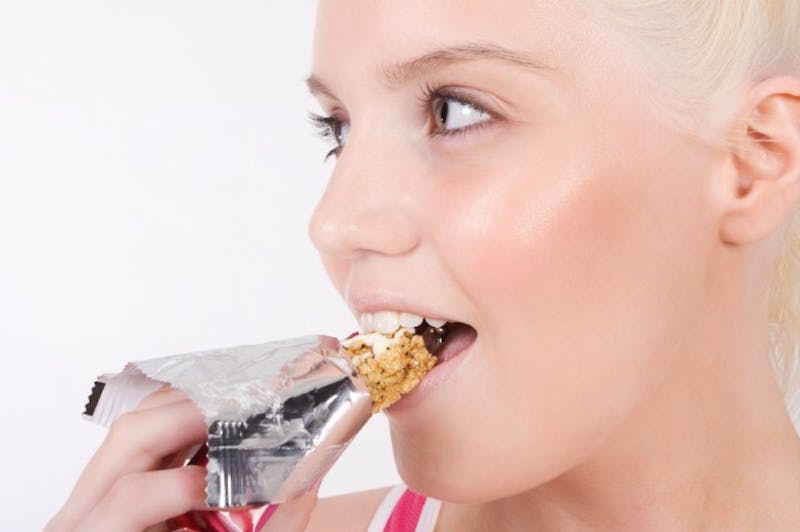 Because they are so portable, which happens to make them extremely convenient, nutrition bars (or energy bars or protein bars – it doesn't matter what you call them) are often a staple for dieters. They seem like an easy and healthy option to stave off hunger in between meals and after a workout, but don't believe all the hype just yet. Some of these chocolate-covered "nutrition" bars are just candy bars in disguise.
It's true that some nutrition bars can be a great option, but most are backed by outlandish claims that grossly misrepresent what's actually in the product. We know that it's hard to separate fact from fiction, especially when there are literally hundreds of bars lining the grocery store shelves, but we're going to help you narrow it down with four key areas that you should be paying attention to when choosing a nutrition bar.
It's All about the Ingredients!
Most of the nutrition bars available are loaded with chemicals and artificial ingredients that result in a good taste, but aren't necessarily good for you. A good rule of thumb is if you can't pronounce it or your grandparents wouldn't recognize it, don't eat it! Instead, choose nutrition bars that are made from natural, wholesome ingredients like nuts, seeds, and dried fruits. As a general rule, the fewer ingredients, the better.
Use Caution with Calories
Nutrition bars serve different purposes, and because of this, the calorie counts can vary significantly between bars. Some bars are meant to be a meal replacement, while others are supposed to be a quick snack to hold you over until you can enjoy your next meal. If you're looking for a snack bar, check out the calories and stick to one that contains only 100 to 200 per bar. If you're planning to eat the bar as a meal, choose one that packs around 300 calories and has at least 10 grams of protein – you'll need it to help hold you over!
Figure Out Fiber Content
One of fiber's claims to fame is that it helps keep you full. It's slow to digest, so it stays in your system longer and it absorbs water, so it expands in your stomach, literally filling it up. If you want a bar that's going to keep you full, choose one that offers at least 2 to 3 grams of fiber per day.
Say Sayonara to Sugar
One of the things that you'll want to pay really close attention to when choosing a nutrition bar is the amount of sugar. This one can get tricky because many of the healthy options contain dried fruits, so a lot of the sugar content comes from natural sources. Because of this, you'll have to look past the nutrition facts label at the ingredient list. Avoid bars that contain added sugars like cane juice, rice syrup, sucrose, fructose, honey, molasses or corn syrup. These added sugars not only increase calories (in the form of empty calories), but they also contribute to systemic, or widespread, inflammation, which is a known risk factor for heart disease, diabetes, and arthritis.
If you want to be sure that you have full control over your nutrition bars and the ingredients in them, you can also take a look at this list of homemade energy bar recipes. The Chocolate, Cashew, and Almond Bars are our favorite!