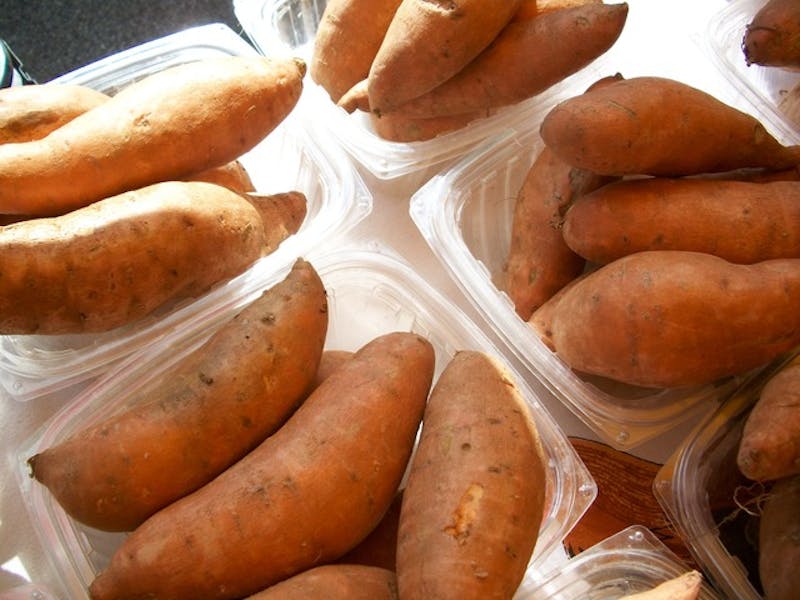 Although sweet potatoes weren't part of the fare available at the very first Thanksgiving, they have since become a staple on tables across the nation. Many people like them because they're sweet and creamy – a combination that rivals many desserts – but what you may not know is that sweet potatoes are loaded with beneficial nutrients. Because they're a nutritional powerhouse, WebMD even classifies them as a "winter superfood". So tomorrow when you're eating that side of sweet potatoes, think of some of these benefits and smile knowing that you're doing your body good (we'll pretend we don't see those marshmallows).
A Bunch of Beta-Carotene
Sweet potatoes are loaded with beta-carotene – a carotenoid that turns into vitamin A in your body. Carotenoids like beta-carotene contribute to good eye health and help strengthen your immune system. They are also antioxidants so they protect you from cancer and contribute to anti-aging. Beta-carotene also gives sweet potatoes their beautiful orange hue.
A Mouthful of Magnesium
Magnesium is known as the anti-stress mineral because it helps you relax. Magnesium also helps keep your arteries, bones, blood, heart, muscles, and nerves healthy. Researchers estimate that a whopping 80 percent of Americans are deficient in this important mineral. Sweet potatoes are a good source of magnesium – so eat up!
Savor the Starch
Sweet potatoes – like any potatoes – are classified as a starchy vegetable because they contain a lot of a specific carbohydrate called a starch. When many people think of starches, they think of spikes in blood sugar and weight gain, and this is why starchy foods are generally excluded from low-carbohydrate diets. It might not be in your best interest to avoid sweet potatoes because of their starch content though.
These natural sugars in sweet potatoes are slow digesting. They move through your body at a slower rate than other carbohydrates. Because of this, they have a less dramatic effect on your blood sugar levels. In fact, they may even help control hunger – which translates to weight loss and increased energy.
Down That Vitamin D
There aren't a lot of foods in the diet that are sources of vitamin D. Because of this, many Americans are deficient in vitamin D. You can get vitamin D when you expose your skin to the sun, but sometimes this isn't enough – especially in the winter months. Sweet potatoes are one of the few foods that contain vitamin D. Vitamin D is unique because it acts as a steroid hormone, so it has a wide range of roles. It boosts your immune system, increases your energy levels, keeps your bones, heart, nerves, and skin healthy, and supports your thyroid gland, which helps control your weight.
The short story here is this: don't pass on the sweet potatoes. Of course, it's best to enjoy them without any added sweeteners. Sometimes they're so sweet on their own that it tastes like you're being naughty even when you're not. Since they're so versatile, you can roast, boil, bake, or steam them and end up with a delicious treat that's doing your body good.