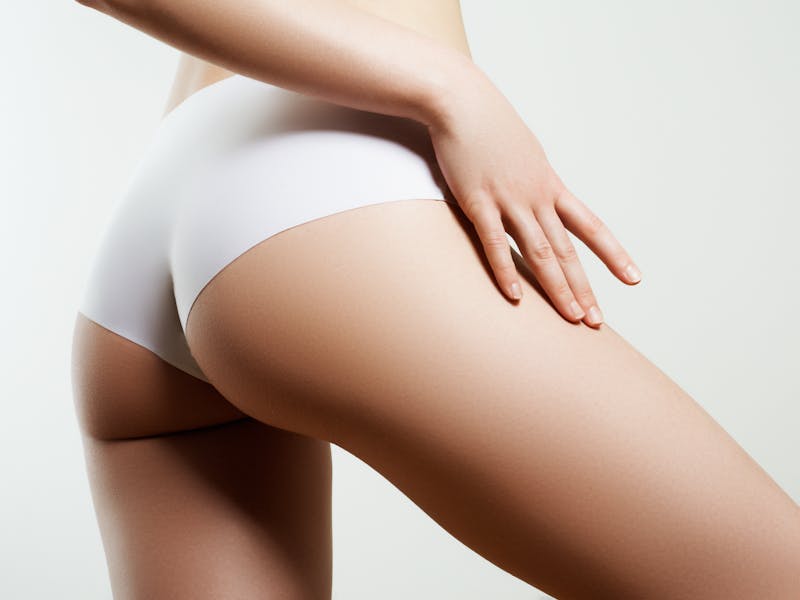 The buzz around the weekly weight loss injection Ozempic continues to grow, but a few side effects are causing some to take pause. At the top of this list are Ozempic® butt, Ozempic® face, and Ozempic® body.
If you are taking Ozempic®, Wegovy®, or generic Semaglutide for diabetes or weight loss the last thing you want is the side effect of loose and wrinkly skin. This rare side effect creates a mix of emotions. The number on the scale is decreasing and clothing fits better, but wrinkly sagging skin can leave you feeling self-conscious.

Let's dive in and discuss what these terms mean, if you are at risk, and what to do if it impacts you.
What Is Ozempic® Butt?
This refers to the sagging and wrinkled skin that is a rare side effect of any rapid weight loss intervention. Since Ozempic® is more mainstream than other interventions, we hear about it more. However, bariatric surgery patients have the same concern. So do many moms after giving birth and breastfeeding. If you watch shows like The Biggest Looser, it's something some of the contestants reference.
Where the sagging occurs varies greatly from those it affects, as you can't pick and choose when, where, and how fast you will lose weight in any area—or if you will develop Ozempic® butt.
For those it impacts, sagging can occur in many areas of the body, including:
Butt: this refers to any combination of volume loss or sagging skin. Those who had flat butts before their weight gain sometimes miss the volume.
Face: this refers to lost volume that causes a gaunt effect. Often accompanied by loose skin that looks wrinkled, which is drastically aging.
Body: this refers to skin anywhere on the body that sags or wrinkles due to the lost volume of fat. Most common in the butt, face, abdomen, arms, and breasts.
What Causes Sagging Skin After Weight Loss?
It's easy to forget, but your skin is your body's largest organ. It is a protective barrier comprised of proteins, including collagen and elastin.
Collagen and elastin work together to provide your skin's:
Structure
Elasticity
Strength
Firmness
Fullness
Moisture
Hydration
As you gain weight, your skin stretches to accommodate the excess volume. As you lose weight, the skin has less internal tissue to cover. This can make some areas look flat or hollow and can cause sagging.
Unless your collagen and elastin fibers have been damaged, your body can regain much of its elasticity, but it takes time. Either way, the faster you lose weight, the more noticeable the sagging.
If It's Just Loose Skin, Why Does It Look So Wrinkly?
In addition to the sagging, skin often looks wrinkly. Since we associate wrinkles with aging, you may feel like you look older than your chronological age. Or older than you did before the pounds began to shed. However, the wrinkles caused by Ozempic® butt or body aren't the same as wrinkles caused by aging or sun exposure.
Think of it a bit more like a deflated balloon. When inflated, the balloon is full and smooth. When deflated it's smaller than it was before you blew it up but stretched out and wrinkly. The same is true for your skin.
Unlike a balloon, you can actively work to regain elasticity.
Will I Get Ozempic® Butt?
There are no guarantees one way or the other, and this side effect is rare. However, there are some factors that will increase the risk of sagging skin on your butt.
Amount of Weight Lost
The more fat you have in any region of your body, the more it increases your odds of sagging. You may have loose skin in several places or just one or two. For example, the face but not the butt. The stomach but not the butt. The upper arms and nowhere else. If you have 100 or more pounds to lose, loose skin is far more likely, but it can occur if you have far less to lose.
Length of Time
The longer you have been obese, the more likely it is that your collagen and elastin have been damaged. Those with 100 or more pounds to lose are at a higher risk for Ozempic® butt or sagging in other areas. However, the longer your skin has been stretched out, the more likely damage has occurred.
Age
As you age, your body produces less collagen and elastin. So even if there is no damage, your skin may not have the regeneration capacity to tighten back up. Keep reading, as we cover multiple ways to stimulate the natural production of collagen.
Sun Exposure
You've likely heard that the sun can prematurely age your skin. This is caused by damaging and slowing down the natural production of collagen and elastin. So, be sure to lather up daily with broad-spectrum UV protection. Reapply every 4 hours when in the sun for extended periods of time.
Genetics
How your skin responds to weight loss, and how you age in general, are linked to your individual genetics. There is nothing you can do to change your genetics, but you may be able to stimulate your body's regeneration process.
Lifestyle
Your lifestyle can prematurely age you in a variety of ways. Smoking is at the top of this list as it damages collagen and prematurely slows production. Consistently insufficient sleep and poor overall skincare also contribute to skin health and appearance.
Does Sagging Skin Pose Any Health Concerns?
In most cases, Ozempic® butt is primarily a cosmetic concern. However, it can pose some health risks and lifestyle disturbances.
Physical discomfort: loose skin can get in the way while working out or going about daily life. This may keep you from doing some of the things you love, even things you did before you lost weight.
Mental and emotional: you may worry about other people seeing your loose skin, causing a new body image issue. Although you can fit into smaller clothing, it may limit what you feel comfortable wearing.
Skin conditions: if your skin folds over itself, you are at a higher risk for skin-irritation-related health issues. This includes excessive sweat, fungus, rashes, and ulcers. If not treated promptly these can be painful and lead to severe infections.
How To Naturally Boost Collagen Production?
Your skin is 80% collagen, so stimulating collagen production may accelerate the rate at which your skin recovers. Even if it isn't damaged, after drastic weight loss, your collagen is not as strong or healthy as it was before your weight gain.
We take a deep dive into collagen regeneration in this blog post, but below are a few tips to minimize Ozempic® butt:
Nourish your body with collagen-boosting foods. This includes bone broth, nuts, seeds, legumes, dairy, fish, eggs, chicken, beef, and other foods high in protein. Also, drink plenty of water.
Consider taking a collagen supplement a few days a week, along with supplements that support collagen or minimize oxidative damage such as vitamin C, zinc, copper, Panax ginseng, omegas, and algae.
Make skin-healthy lifestyle changes. This includes minimizing alcohol, trans fat, sugar, and caffeine. Also, exercise, prioritize quality sleep, stop smoking, and personalize your whole-body health.
Skip topical collagen creams but apply antioxidant-rich daily moisturizers from head to toe. Don't forget daily UV protection.
Are There Non-Surgical Ways to Minimize Loose Skin?
Surgery is an option, but it typically isn't covered by insurance. It also comes with pain and swelling that requires taking a few weeks off from work. If surgery isn't right for you, there are a variety of non-surgical options to explore.
We will work with you to determine what treatment is appropriate for the area of your body you are experiencing sagging. You may require different treatments for Ozempic® butt and Ozempic® face.
Morpheus8
Morpheus8 is a combination of radio frequency and microneedling designed to rapidly remodel and rebuild collagen. You'll see results after 1 visit, but you will likely require more treatments to tighten your loose skin.
Learn more HERE.
Radiesse®
Radiesse® and Hyperdilute Radiesse® are dual-purpose fillers. They instantly plump thinning areas, but also revitalize collagen production to reduce volume loss and smooth away imperfections. Hyperdilute Radiesse® is thinned out with a combination of saline and lidocaine to boost collagen in areas other than the face.
Learn more HERE.
Sculptra®
In addition to being a face volumizer, the poly-L-lactic acid (PLLA) microparticles in Sculptra® stimulate collagen production. All fillers stimulate collagen production, but none more than Sculptra®.
Learn more HERE.
Silhouette InstaLift®
This exciting new thread-lift technology targets deeper layers of the dermis than PDO threads. Also formulated with PLLA, it boosts collagen production for up to 2 years. Not to mention—you'll walk out the door with lifted skin!
Learn more HERE.
Forma Skin Tightening
Forma Skin Tightening is a surgery, laser, and injection-free anti-aging alternative. It is a pain-free combination of radio frequency and heat that target the dermal layers of the skin, boosting collagen production. Multiple treatments are required.
Learn more HERE.
PRP
Platelet-rich plasma utilizes your own blood platelets to inject a plasma-rich concentration back into your body for a variety of benefits. In terms of the visible signs of aging, PRP can regrow healthy tissue and boost collagen production. PRP can also be used for scars, hair loss, enlarged pores, and more.
Learn more HERE.
Looking For Weight Loss in the Phoenix Area?
We also have a variety of scientifically proven weight loss options to explore. Reach out today to learn more!