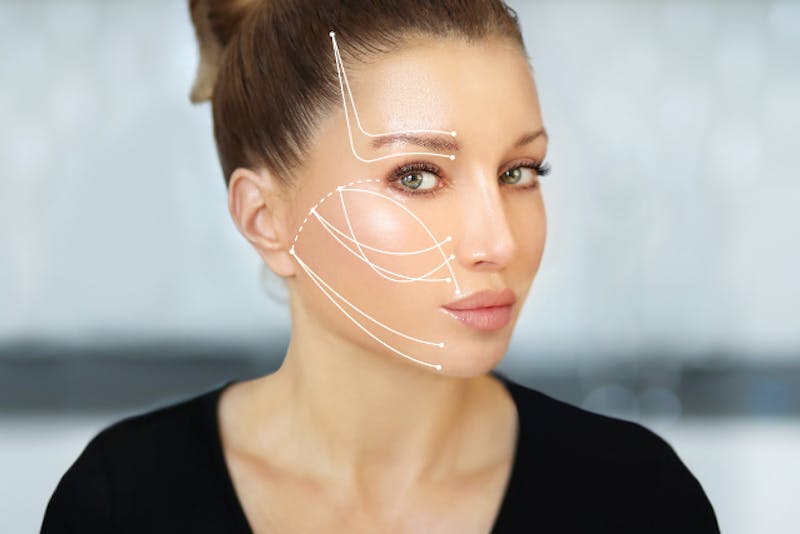 With a variety of options available, many individuals are forgoing traditional facelifts and opting for non-surgical alternatives. Medspa facilities can offer patients beautiful results, and choosing a non-invasive procedure is more cost-friendly and comes with less risk. The benefit? More natural and subtle enhancements with little to no downtime, no risk of scarring, quicker treatment times, and instant results. If you feel self-conscious about your fine lines or facial wrinkles, PDO Threads might be the right choice.
What is a Non-Surgical Facelift?
Traditionally, plastic surgeons have performed facelifts for many years. As non-surgical procedures become more safe and effective, patients are becoming interested in alternatives. The American Society of Plastic Surgeons (ASPS) reports that in 2020, over 13 million minimally invasive procedures were performed in the United States. This statistic is down from the previous year due to people opting out of procedures during the COVID-19 pandemic. Trends are looking up again in 2022 as people become more comfortable with health and safety standards.
A non-surgical facelift combines minimally invasive and non-surgical procedures designed to rejuvenate and refresh someone's appearance. These techniques do not require large incisions, general anesthesia, or overnight hospitalization compared with a surgical facelift. Patients are quickly in and out of the office, with little post-op discomfort and minimal downtime. The anti-aging results from a non-surgical facelift are significant.
Pros and Cons
Pros:
Quick procedure
Minimal downtown
No general anesthesia
More cost-effective
Cons:
Less dramatic results
Treatments must be repeated
Each non-surgical facelift is custom-tailored to meet the individual's unique needs. A variety of non-invasive techniques are available, addressing anything from fine lines, deep creases, lax skin, thinning lips, sunken cheeks, large pores, acne scarring, and the loss of facial volume. Common components of a non-surgical facelift include dermal fillers, Botox, fat injections, and needleless treatments. It is important to meet with a trusted professional who will evaluate your skin and determine the best course for you. Non-invasive treatments do need to be repeated to maintain optimal results. The more diligent you are about maintaining these non-surgical treatments, the less you may need over time.
PDO Thread Lift: What is It?
Polydioxanone (PDO) threads are a particular medical-grade thread that is thinner than hair and made of protein. Research has confirmed that PDO relaxes tendons and muscles. At the same time, a foreign body reaction improves the blood flow to the area, stimulating neocollagenesis (the production of new collagen in the skin). It also stimulates elastin and hyaluronic acid; both substances are key to maintaining firm, youthful-looking skin.
Thread lifts are a relatively new form of non-surgical facelift. If your face has loosening or sagging skin and you want a tighter, fresher, more youthful look, this treatment may suit you. There are no cuts or incisions, just injections. PDO threads have over a decade-long safety track record and are FDA approved.
What Areas Are Treated?
Lifting threads are best for:
Nasal labial folds
Jowl lift
Marionette lines
Non-operative facelift
Lifting threads provide immediate results that continue to improve over the six months post-procedure. The cuts or striations in these threads provide lifting properties. When placed under the skin, they catch the tissue and allow it to hold in place, creating a visible lift & at the same time, promoting the creation of collagen to revitalize skin. The "lifting threads" are used for the non-surgical facelift.
Smooth threads are best for:
Volume replacement (cheeks, temples, etc.)
Deep, static wrinkles
Acne scars
Vermilion border
Smooth threads aid in texture improvement, skin rejuvenation, and act as a collagen builder. The results from smooth threads are progressive rather than immediate. Typically several treatments over 3-6 months are best for optimal results.
PDO threads by MINT™ are best for:
A facelift without going under the knife
Want subtle & natural end results
A quick & relatively painless procedure with long-lasting results
PDO threads by MINT™ stand out from any other thread options because of the barbs that hold the suture in place. Additionally, MINT™ threads are the only FDA-approved threads for facial tissue fixation. These threads are stronger & deliver a longer-lasting lift than other types of threads. Additionally, they cause minimal tissue reaction and trauma during the procedure. Over six years of clinical studies have proven the safety and effectiveness of the MINT™ PDO. It is the only PDO suture with two FDA clearances.
What Happens During a Treatment?
After discussing your health history, current concerns, and goals, your specialist will determine if PDO threads are right for you.
Once you decide to move forward, the procedure starts with local anesthesia. Following a Lidocaine injection at the entry point, dissolvable threads are introduced into the skin through a fine needle- either into the skin itself, the muscle, or the subcutaneous fat.
Depending on the area, the procedure will take 70 to 90 minutes. After your procedure, you'll be able to leave and return to your life, as usual, the next day. Soreness may result from the placement of the threads, and some patients experience minor bruising or swelling, but it typically resolves within a few days. With PDO threads patients need to refrain from working out for 7-10 days afterward.
While this procedure will create an immediate and natural-looking lift, the results will improve over the next several days and weeks as the PDO stimulates neocollagenesis, increasing the amount of collagen in the skin. The skin appearance improves as the overall texture becomes thicker, tighter, and firmer, and fine lines and wrinkles are reduced.
What Results Can I Expect?
Thread-lift treatments result in an instant and natural-looking improvement in the appearance of the skin. A process of natural protein synthesis then begins after about 10-14 days. Over the subsequent weeks, results will continue to improve, peaking at around six months and lasting for up to 2 years as your body produces collagen, elastin, and hyaluronic acid. This makes this form of non-surgical facelift a long-lasting treatment. The thread itself is completely biodegradable and dissolves within 12 weeks. New collagen has formed around the thread to continue to support results, maintaining a smooth and supple texture of the skin.
Treatment may not be suitable if:
You have active acne/broken skin or are prone to cold sores
You have taken anticoagulation medications such as aspirin/warfarin/heparin or have consumed alcohol within 48 hours of treatment. We advise you to continue taking prescribed medications but stop taking some complementary supplements such as evening primrose oil, vitamin D, A, and E, fish oils, flaxseed oil, magnesium, garlic, and ginkgo prior to treatment.
Treatment is not suitable if:
You are pregnant or breastfeeding
You have an autoimmune disease, diabetes, or infection
Client Testimonial
"PDO threads took years off my face. My boyfriend who absolutely hates when I do these sorts of procedures as he always feels "I don't need it!" was astonished at my outcome and said I look 10 years younger. I'm thrilled with my results so thank you all!" -J.J.
Above all, always speak with your practitioner about any concerns you have before starting treatment.
If you are interested in learning more about PDO threads or other non-surgical facial procedures, we are happy to offer a consultation. For $150 off any PDO package, click HERE. Booking an appointment is unnecessary as we are a walk-in only clinic. Simply come in at your convenience, Mon, Tue, Thu, or Fri between 9 am-4:30 pm, or Saturdays from 8 am to 1:30 pm, or you can contact us HERE with any questions.