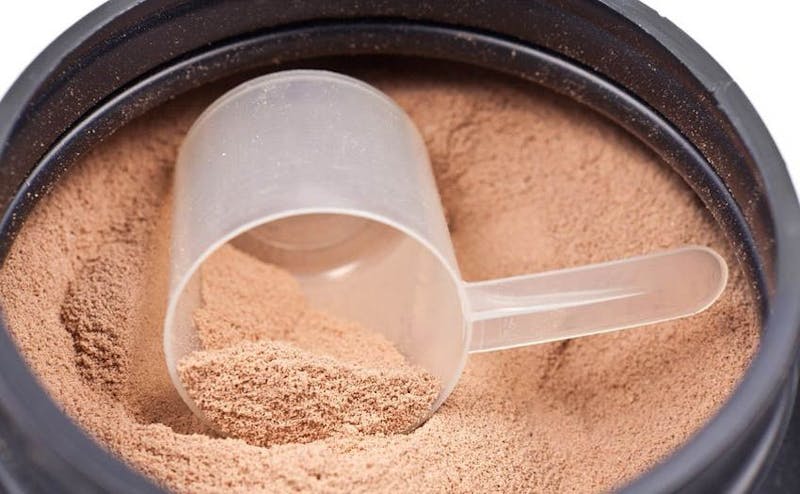 Protein powders are perhaps one of the most popular supplements on the market; and there's a reason why – they're an extremely convenient and portable way to add protein to any meal. You can throw some protein powder in a smoothie, stir it into oatmeal, or even make pancakes with it. Bodybuilders swear by them; fitness enthusiasts use them regularly; and they're often used as meal replacements for those who have trouble eating or are trying to gain weight.
Not all protein powders are created equally though. The best one for you is, of course, a personal choice, but we'll break down the differences between some of the more common varieties on the market to make that decision a little easier for you.
Milk-Based Protein Powder
Milk contains two major types of protein: whey and casein. Most of the protein in milk, or 80 percent, is in the form of casein, while 20 percent is in the form of whey. Both of these types of proteins are highly digestible and the body can use them easily. Because of this, they're two of the most commonly used proteins in protein powders. Both whey and casein are also high in what's called branched-chain amino acids. Branched-chain amino acids, or BCAAs, promote muscle growth, prevent fatigue, and may even boost your immune system.
(Our product of the month this month – the Skip-A-Meal Meal Replacement Beverage – is a whey protein meal replacement shake that serves as a high-protein, low calorie replacement for a higher calorie meal. So if whey protein is your thing, get it FREE while you can!)
Something to keep in mind is that since both whey and casein protein powders are milk-based, they do contain lactose and can cause digestive issues if you're lactose intolerant. You also need to avoid them if you're sensitive to or allergic to dairy.
Egg-Based Protein Powder
Before the milk-based protein powders took over the scene, egg white protein powder was actually the most popular source of protein supplementation. Egg white protein powder is just as easily digested and absorbed by the body as milk-based protein powder, but they tend to be naturally lower in fat and carbohydrates and are also cholesterol-free.
Soy-Based Protein Powder
Soy is a complete protein, which means that it contains all of the essential amino acids you need to stay healthy. What makes this rare is that most plant-based sources of proteins are incomplete. Soy also contains isoflavones, which act as antioxidants and can help keep your heart healthy by lowering bad cholesterol levels. Like milk- and egg-based protein powders, soy is highly digestible and absorbable, but the protein doesn't enter the bloodstream as quickly. Because of this, soy protein powder isn't the best choice directly after a workout.
Other Plant-Based Protein Powders
If you would rather avoid soy, there are many other vegetable-based protein powders available as well. Some of the most popular options are hemp, pea, and rice protein. Plant-based proteins like these are higher in carbohydrates and lower in protein than the other types of protein powders and not as easily digested and absorbed, but they provide other health benefits. For example, hemp protein also contains fiber and omega-3 fatty acids.
How Much Protein Do You Need?
While protein powders can make a good addition to your daily diet, there are common misconceptions about the amount of protein you need. Most people don't need to take in extra protein. Most of us get enough already.
There are two ways to figure out how much protein you need each day. The first is more general and based on your calorie intake. The current recommendation is to get 10 to 35 percent of your calories from protein. This means that if you're on a standard 2,000-calorie diet, you should be eating 50 to 175 grams of protein per day.
The other, more specific, way to figure out your protein needs is based on your body weight. You should be eating around 0.8 grams of protein for every 2.2 pounds of body weight. That means if you're 200 pounds, you need around 73 grams of protein per day.
How Much Protein Is In Protein Powders?
The amount of protein differs greatly depending on which type of protein powder you choose. Milk- and egg-based protein powders tend to provide the most protein per serving, while the plant-based protein powders are lower in protein and higher in carbohydrates.
What type of protein powder do you currently use? What's your favorite brand and flavor?