It's a brand NEW month, so you know what that means – a new product to go along with our monthly special, which includes:
Physician Consult & Weekly Weigh-ins Meal Plans FDA Approved Medications MetaBlast Supplements Crave-Away Supplements Weekly Upgraded Injection of B-12 Bi-Weekly Injection of Lipo X Full Body Analysis on our BODYCOMP Scale
And for April: INTEGRATIVE THERAPEUTICS 7-KETO LEAN!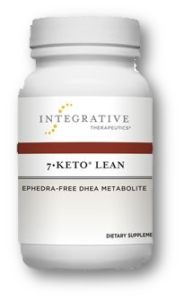 With this special you receive 4 WEEKS of everything listed above for only $295 (that's a savings of over $200) – and we'll throw in the 7-Keto Lean for FREE!
What is 7-Keto Lean?
Integrative Therapeutics 7-Keto Lean is an all-natural weight loss supplement that helps boost weight loss mainly by acting on your thyroid gland, which controls a wide range of functions in your body — one of the most notable being your metabolism.
7-Keto Lean controls your metabolism by activating certain enzymes called thermogenic enzymes, which help burn fat, increase metabolism, boost energy levels, and support your thyroid health – all of which promotes weight loss*.
Ingredients in 7-Keto Lean
The main ingredient in 7-Keto Lean is 7-Keto (its namesake) a form of DHEA, or Dehydroepiandrosterone, a hormone that's found naturally in the body. DHEA is made by your adrenal glands – the glands that sit right by each kidney – and your brain. As you age, your natural production of DHEA goes down, which can throw off your hormonal balance. Taking DHEA in supplemental form helps restore this balance and can boost weight loss*.
DHEA is not the only beneficial ingredient in 7-Keto Lean, though. It also includes L-tyrosine, asparagus extract, choline, inositol, copper, manganese, and iodine, which all have their own, important roles.
7-keto DHEA Acetate A safe and improved form of DHEA. Clinically shown to enhance weight loss and reduce body fat by supporting healthy thyroid function, thyroid hormone biosynthesis, and fat metabolism. Also helps increases thermogenic enzyme activity L-Tyrosine An essential nutrient required for thyroid hormone formation. Asparagus Extract A potent metabolic detoxifier that supports healthy fluid balance. Choline A nutrient involved in many important metabolic functions, including fat transport and metabolism. Inositol Another nutrient which promotes the transport and metabolism of fat. Copper An essential trace mineral and cofactor of enzymes involved in carbohydrate and fat metabolism. Manganese An essential mineral required for healthy thyroid hormone metabolism. Iodine Another essential nutrient found in high concentrations in the thyroid gland. Required for the synthesis of thyroid hormones, which are important in regulating cellular metabolic rate.
It DOES NOT Contain any:
Artificial coloring
Artificial flavoring
Dairy
Gluten
Preservatives
Salt
Soy
Sugar
Wheat
Yeast
Unlike many other metabolism-boosting supplements on the market, 7-Keto Lean doesn't raise your heart rate or blood pressure and it will NOT keep you awake at night!
If you're interested in taking advantage of this special offer and signing up for our monthly special, drop in or call us at either one of our locations to find out more!
Phoenix: 602-374-3374 Tempe: 480-968-5673