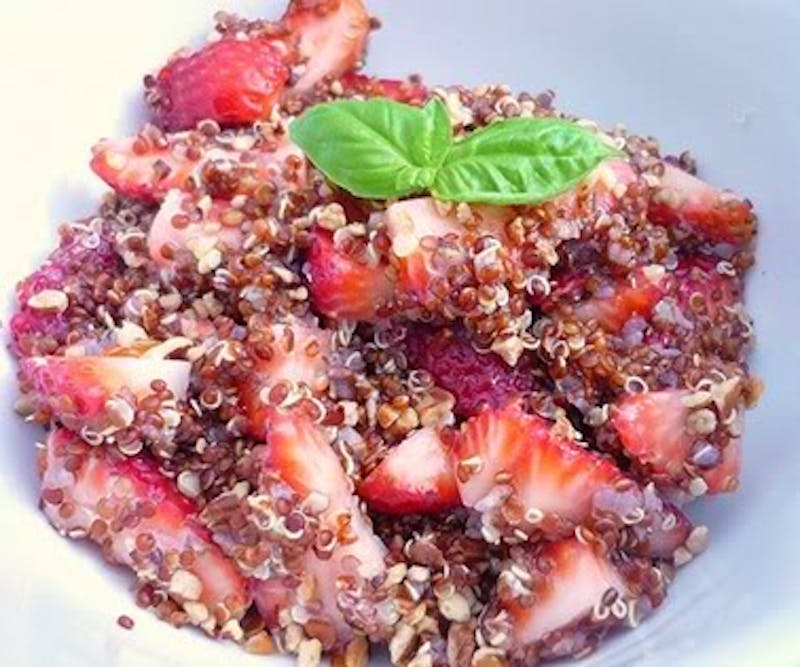 Move over rice, there's a new grain – or pseudograin if you want to get technical – in town.
Quinoa (pronounced "keen-wah") is not a new food, but over the past few years, it's gotten extremely popular and for pretty good reason. Quinoa has some unique properties that have earned it a rightful place on your plate. Although quinoa is often called a grain because it's used in place of grains, it's actually a seed.
Quinoa Versus Other Grains
So what makes quinoa a preferred choice over other grains? Well, it contains more protein per serving than any other whole-grain. Not only that, but quinoa contains all of the 9 essential amino acids, which makes it a complete protein – a rare characteristic of plant foods. It's also naturally gluten-free, so if you have problems with gluten, quinoa's got your back.
As an added bonus, quinoa takes less time to cook than other grains. You can get fully cooked quinoa on your plate in 10 to 15 minutes, while rice typically takes 25 to an hour depending on the type. More nutrition and less preparation? Win-win.
Quinoa Nutrition
In addition to being protein packed, quinoa is also rich in iron, magnesium, vitamin E, potassium, and fiber. One-third cup of cooked quinoa has only 160 calories, 2.5 grams of fat, 3 grams of fiber, and 6 grams of protein.
Types of Quinoa
White – White quinoa is the most common kind found in grocery stores and because of this, it's usually just called quinoa. White quinoa has a bland flavor, which makes it extremely versatile.
Red – Red quinoa has a more distinct, nuttier flavor than white and tends to hold its shape better. This makes red quinoa the more desirable choice for cold salads.
Black – Black quinoa has a slightly sweeter, earthier flavor than white quinoa. It's generally more difficult to find than white or red varieties.
Preparation
Quinoa seeds have a naturally bitter outer coating that serves as a protective mechanism. The purpose of the bitter coating is to prevent birds from eating the seeds so the plant can spread, but it also makes the seed taste bitter if you don't get rid of it. Many packaged quinoas already have the bitter outer coating removed, but if you buy it in bulk (which is oftentimes more cost-effective) you'll have to remove the outer coating yourself. Fortunately, this is a simple task. All you have to do is soak one cup in two cups of water for 5 to 10 minutes. After the quinoa has soaked, drain the water and rinse off the seeds.
Cooking
Cooking quinoa is a cinch. Pour your cup of soaked quinoa in a saucepan and add one and a half cups of water and about a half a teaspoon of salt. Bring the water to a boil, cover with a lid, and then reduce to a simmer. Let simmer for 15 minutes and then remove the pot from the heat and allow to sit for another 5 minutes, still covered. Then remove the lid, fluff quinoa with a fork and serve as desired.
How to Eat It
Because quinoa has a pretty bland taste, it can be served in so many ways. Many people like to make it simple by serving it as a side dish, like plain rice. You can also incorporate it into a stir-fry, add it to a chili, or toss it into your salad. Think outside the box by using quinoa in place of oatmeal for breakfast. Mix it with dried fruit, a little cinnamon, and some low-fat milk for a healthy breakfast treat.