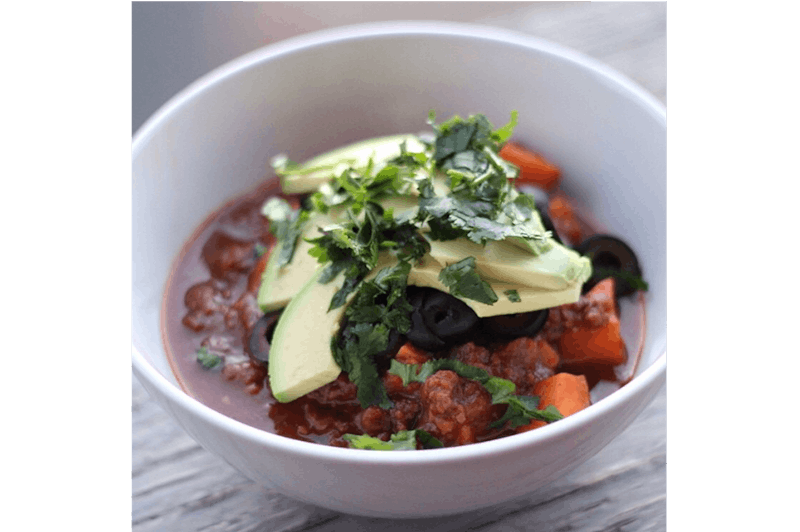 The cooler weather is coming and that means a yearning for comfort foods! You know what we're talking about – those warm, hearty meals that are sure to make your pants a little tighter, right? Not necessarily!
What if we told you you could enjoy comfort food this fall and winter without breaking your calorie bank? Don't believe us? Just try this recipe for our sweet potato pumpkin chili. It has all the flavors of fall with only 208 calories and 13.6 grams of fat (most of which are unsaturated) per serving.
A single serving of this delicious chili also provides just under 80 percent of your daily needs for vitamin A – a fat-soluble vitamin that is essential for eyesight, immune health, and reproduction. Beta-carotene, a precursor to vitamin A that is found in significant amounts in both pumpkin and sweet potatoes, also acts as a powerful antioxidant.
So without further ado, check out our sweet potato pumpkin chili. You can put your own spin on it by adding carrots, adding beans, or making it meat-less.
(Note: it freezes well!)
Ingredients:
1.5 teaspoon salt
2 TBS chili powder
1 TBS cumin powder
1/2 tsp dried oregano
1/2 tsp cinnamon powder
1/4 tsp ginger powder
1/4 tsp allspice powder
1 tablespoon olive oil
1 small yellow onion, mined
4 cloves of fresh garlic, minced
1 pound of ground turkey or lean beef
2 cups tomato sauce
2 cups beef or vegetable broth
4 cups chopped sweet potatoes, petite diced
1 (15 ounce) can pureed pumpkin (not pumpkin pie filling)
1 cup celery, diced
2 bay leaves
Top with:
Sliced avocado
Sliced olives
Chopped cilantro
Mined onions
How to Make It:
Combine all spices in a small bowl and set aside.
Heat olive oil in a large stockpot over medium heat. Once oil is hot, add minced onions and sauté until softened, about 4 minutes. Add minced garlic and continue to sauté until fragrant, about 2 more minutes.
Add beef or turkey and start to brown. Sprinkle spices over meat and continue to cook until meat is completely browned.
Pour in tomato sauce and broth and mix thoroughly. Allow to simmer for 5 minutes.
Add remaining ingredients and stir until combined. Allow to simmer on low for 40 minutes. Stirring occasionally.
Serve topped with avocado, olives, chopped cilantro, and minced onions, if desired.