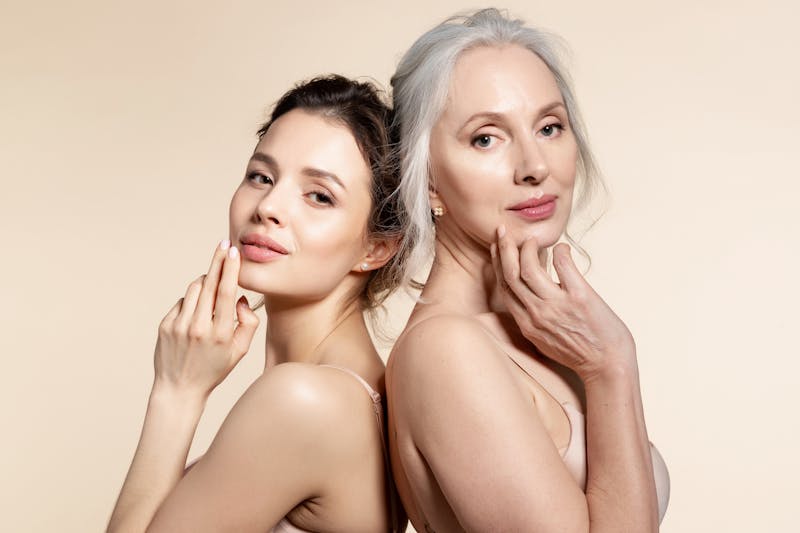 Personalizing skincare at every age is so much more than just slathering on creams and lotions. It's a holistic approach that encompasses a range of practices. From personalizing your skincare routine to proper nutrition, hydration, regular exercise, sufficient sleep, and more. It's also about knowing when to seek professional help in the form of preventive and reactive anti-aging skincare treatments.
Teen Skincare: Nurturing Healthy Habits for Lifelong Radiance
During the teenage years, the skin undergoes significant changes caused by hormonal fluctuations. This is why many teens struggle with acne, increased oil production, and blackheads. So, this is the perfect time to cultivate healthy skincare habits to promote lifelong radiance.
Understanding Teen Skin
Teenage skin is typically oilier than adult skin. This overproduction of sebum can often lead to widespread acne issues. Understanding these changes is the first step towards effective skincare. The goal is to manage these changes without aggravating the skin's natural balance.
Creating a Skincare Routine

Establishing a skincare routine is vital for teens. It should be simple, easy to follow, and include the basics that can be built upon for years to come.
Cleansing: Choose a gentle, sulfate-free cleanser to remove dirt, oil, and impurities without stripping the skin. Deep cleanse weekly with a clay mask.
Exfoliating: Exfoliate 1 to 3 times a week with a granular exfoliator or a gentle exfoliating product.
Toning: Choose an alcohol-free toner to balance the skin's pH levels and prepare it for further treatment.
Moisturizing: Despite oily skin, teens should not skip moisturizer. A non-comedogenic, oil-free moisturizer will provide necessary hydration without clogging pores.
Sun Protection: Use broad-spectrum sunscreen to protect the skin from harmful UV radiation. This can include makeup with SPF protection.
Personalizing: Personalize for the weather and as directed by a skincare professional. For example, using serum-based skincare masks in the winter months for added moisture. Teens typically don't need daily serums and masks, but masks promote self-care and pampering.
Addressing Acne Issues
Acne is a common issue among teenagers. A targeted approach is required to combat it effectively. Over-the-counter products containing salicylic acid or benzoyl peroxide can help manage mild to moderate acne. If over-the-counter products aren't effective, reach out to a dermatologist for a prescription treatment and a med spa for treating acne scarring.
Importance of Healthy Lifestyle Choices
Teenagers should also be encouraged to make healthy lifestyle choices that will benefit their skin at every age.
This includes:
Adequate sleep
A balanced diet
Regular physical activity
Hydration
No picking pimples
Avoid smoking and cigarette smoke
Be mindful of touching your face
20s Skincare: Building a Solid Foundation for Youthful Skin

In your 20s, your skin transitions from the hormonal fluctuations of adolescence to a more balanced state. This is also when your skin transitions from its peak radiance to the early signs of aging. So, it's time to begin a preventative anti-aging routine.
Revise Your Skincare Routine
Although your skin is plump and youthful, it's time to upgrade the skincare routine we introduced above.
Exfoliate 1 to 3 times a week.
Deep cleanse 1 to 2 days a week.
Cleanse each morning and evening.
Apply an alcohol-free toner.
Apply an antioxidant-rich serum.
Apply an AM or PM moisturizer.
Introduce eye care products.
Apply broad-spectrum UV protection.
Never skip washing your face, even at the end of a long day. It might not sound like a big deal, but if you don't wash away your makeup, oil, sweat, and daily grime—it will clog your pores. This can lead to increased acne and breakouts. If you frequently skip washing your face, it can accelerate the signs of aging.
Product and Ingredient Upgrades
As fine lines begin to show around the eyes and on the forehead it's time to upgrade the ingredients in your product. Ignore the trends and creative marketing and focus on scientifically proven ingredients to personalize skincare at every age.
This includes:
Retinol to increase cell turnover.
Vitamin C to boost collagen production.
Hyaluronic acid to retain moisture.
Product upgrades also include:
Serums: Incorporate serums at least a few days a week, after you tone your skin and before you apply moisturizer. Serums are thin and designed to penetrate your pores, infusing your skin with anti-aging nutrients.
Eye products: Eye serums and creams are thinner and designed to penetrate the skin surrounding the eyes. Eyes often age faster than the rest of the face, so at least add a daily eye cream to your routine.
Broad-spectrum UV protection: It's time to upgrade from using only the UV protection in your makeup, to broad-spectrum UV protection. This filters the blue lights from mobile devices and fluorescent lighting. Also, turn the blue light filter on in your electronic devices.
Preventing Damage
Prioritize the lifestyle tips in the teen's section and keep sugar consumption and alcohol consumption to a minimum as both degrade collagen production.
Now is also the time to begin exploring your options in spa treatments. At the very least, incorporate spa facials for deep cleansing and extraction. Also, explore condition-specific treatments and non-surgical aesthetic treatments.
30s Skincare: Targeting Early Signs of Aging with Precision
In your 30s, it's time to take a targeted approach to slow the visible signs of aging. Collagen and elastin production slows in your 30s, which leads to fine lines, wrinkles, and the gradual loss of firmness.
Upgrade Your Skincare Routine
Continue with the multi-step routine introduced above, but if you haven't yet—upgrade to an anti-aging product range. These products have a higher concentration of antioxidants to accelerate repair and damage. They are also formulated with collagen-boosting ingredients.
Explore Your Anti-Aging Options
Speaking of collagen, it's time to incorporate facial treatments that boost collagen production. If you haven't yet, schedule a skin consultation at a med spa. This is a review of your skin to discuss how your individual areas of opportunity can be addressed. There are a variety of pain-free, non-surgical, and minimally invasive skincare treatments to choose from for both a proactive and reactive approach.
40s, 50s, and Beyond Skincare: Embracing Change and Renewal
Skincare at every age is similar, but there are nuanced differences. In your 40s elasticity and moisture loss accelerates. Skin becomes lax and fine lines gradually develop into wrinkles and deep creases. Your whole-body metabolic process begins to slow, which slows the rate of cellular renewal and repair. You begin to lose the plumping fat in your face, which intensifies lines and wrinkles. As hormones begin to fluctuate in your late 40s and early 50s, decreased estrogen levels can leave skin looking and feeling dry.
Refining Your Skincare Routine
It's time to upgrade to an age-reversal skincare line. These products provide intense moisture and are formulated with advanced repair in mind. You may also want to incorporate a range of at-home beauty tools and devices to address circles, bags, puffiness, laxity, and firmness.
What Are Some of My Med Spa Options?
Thread Lift
In terms of your neck, thread lifts can lift the jowl area. They also lift the mid to lower-face and stimulate collagen production for up to 2 years. You'll see the difference when you walk out the door! Learn more HERE.
Forma Facial
Forma facials can be used on your face and neck. This is a generally pain-free combination of radio frequency and heat that targets the dermal layers of the skin, boosting collagen production. Multiple treatments are required.
Learn more HERE.
Morpheus8
Morpheus8 can be used on your face and neck. It is a combination of radio frequency and microneedling designed to rapidly remodel and rebuild collagen. You'll see results after 1 visit, but you may require more than one treatment for optimal results.
Learn more HERE.
Hyperdilute Radiesse®
Your lips and face may be the first thing that comes to mind when you think of fillers, but Hyperdilute Radiesse® is thinned out with a combination of saline and lidocaine to boost collagen in areas other than the face—including the neck. It also revitalizes collagen production to reduce volume loss and smooth wrinkles.
Learn more HERE.
Bellafill
Known as the 5-year dermal filler, Bellafill is a collagen-based gel that instantly lifts and smooths the skin. It corrects both wrinkles and skin indentations caused by acne, cellulite, and skin trauma. For acne scarring, it will need to be administered more often.
And More!
These are just a handful of the aesthetic services we offer at Valley Medical Weight Loss and Med Spa. We will talk you through the best options to achieve your skincare objectives during your consultation.
If you live in Phoenix, Tempe, or Glendale—reach out to Valley Medical Weight Loss and Med Spa to discuss personalized skincare at every age!