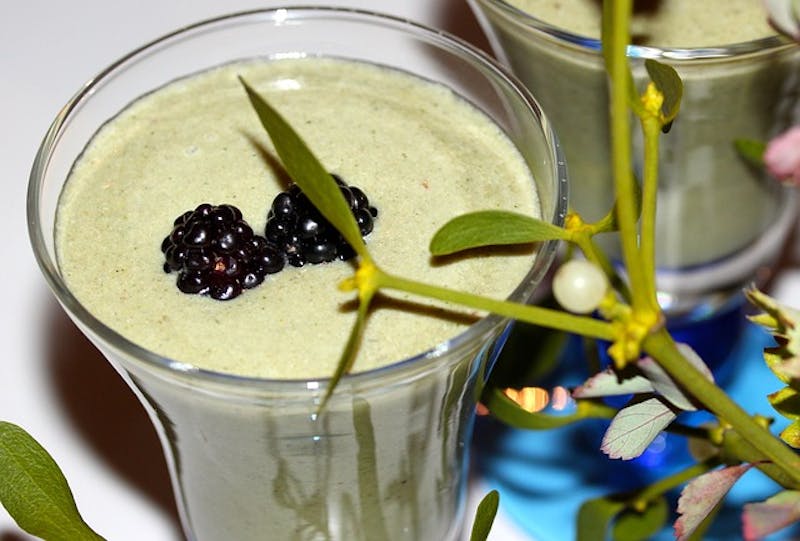 If you ask 10 different people if smoothies are good for you, you'll probably get 10 different answers. The answers range from "No way! They're full of calories" to "Well, you should really eat your food instead of drink it" to "Of course! Smoothies are great for weight loss". So who's right? Are smoothies a weight loss maker or breaker? Well, it depends.
Most of the smoothies available at chain stores are chock full of unhealthy ingredients like cream, ice cream and sugary syrups. These smoothies are also mostly fruit. While fruit is rich in a lot of the micronutrients you need to stay healthy, it's also loaded with sugar and can seriously derail your weight loss efforts when eaten – or drunk – in excess.
If you're going to make smoothies a regular part of your diet, it's best to ditch the drive-thru and make them at home. When you control what goes into your blender and you choose healthy ingredients that provide you with the nutrients you need to help keep you full until lunch, then smoothies can be the perfect addition to your weight loss plan.
Flavor with Fruit
Fruit is delicious and there's no doubt it makes a smoothie taste wonderful; but when you add too much fruit, it ups the sugar content and can hinder your weight loss. Choose fruits that are naturally lower in sugar like blueberries, blackberries, or raspberries over high-sugar fruits like mangoes, bananas, and pineapples. Measure out fruit and try to keep it to around one-half of a cup.
Go Green
Every smoothie should contain its fair share of greens. Not only are greens low in calories, but they provide essential vitamins and minerals and fiber, which helps fill you up and keeps you regular. Baby spinach is a popular choice because it has a mild flavor and can be broken down easily by the average blender. You can also choose kale, Swiss chard, beet greens, or parsley. If you're looking for some stronger "green" flavor, opt for cilantro or dandelion greens. To maximize nutrient intake, switch up your green of choice every couple of days.
Pick a Protein
Your smoothie doesn't have to be a protein shake – most people already get way more protein than they need – but it should contain some protein to keep you full until your next snack or lunch. If you feel ravenous after drinking your smoothie, it pretty much defeats the entire purpose. Your smoothie should leave you feeling light and satisfied. This is where protein comes in. Stay away from protein powders, which are often loaded with sugar and artificial ingredients, and choose natural sources like almonds, almond butter, cashews, cashew butter, or flaxseeds instead. Keep in mind, however, that nuts are high in calories, so limit to one to two tablespoons.
Find a Fat
This is where most smoothies fall short. Healthy fat is important. Like protein, it helps keep you full. It also allows you to absorb vitamins A, D, E, and K and helps curb cravings so you're less likely to overeat. Avocados are an excellent source of unsaturated fat and as an added bonus, they make smoothies extra rich and creamy. You can also melt some coconut oil and drizzle it in as your smoothie blends. As with nuts, fat sources contain a lot of calories, so make sure to watch your portions. A slice of avocado or a teaspoon of coconut oil will do.
Lighten the Liquid
The liquid you choose for your smoothie makes a big difference in the caloric outcome. Pouring a bunch of fruit juice or cream in the blender will make your smoothie smooth, sweet, and thick, but it will also slow down your progress. Ditch the fruit juice – a concentrated source of sugar and calories – and opt for water, coconut water, almond milk, or coconut milk instead.
When done right, smoothies can be a valuable tool to your weight loss plan. You can replace a heavy breakfast with a green smoothie or opt for a refreshing smoothie in place of dinner on a hot day when you don't feel like cooking; but don't consider a smoothie a beverage to go alongside a meal. When you include all of the healthy components, a smoothie becomes your meal.