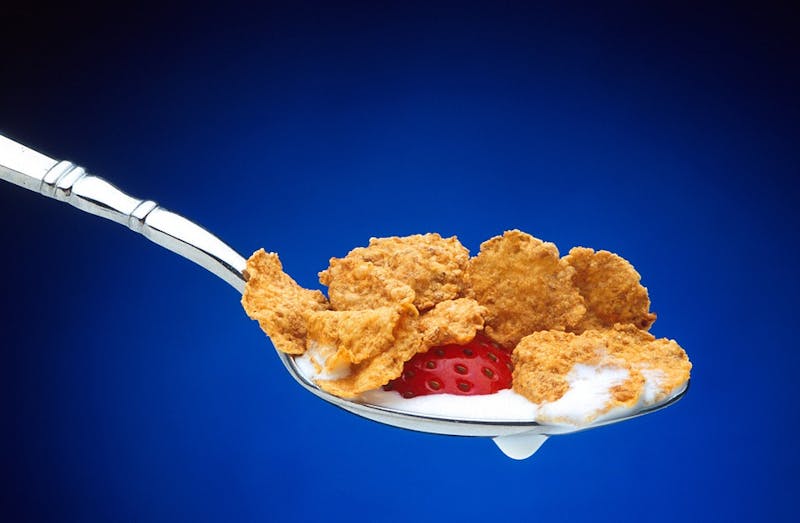 According to ABC News, 31 percents of adults who actually eat breakfast (you should be one of those adults, by the way), choose cereal as their morning meal. There are a variety of reasons for this, but one of them, of course, is convenience. Cold breakfast cereal is fast, it's easy, and it can be portable. You can throw some dry cereal in a to-go container, bring it to work with you, and eat it right at your desk with some milk from your work cafeteria. No excuses, right?
The problem with cold breakfast cereal, though, is that they're not all created equally when it comes to nutrition. Unfortunately, many of the cereals available, especially those marketed toward children, are full of sugar. It's not just the obvious cereals that are way too sugary, though. Some of the cereals you might think are healthy, like raisin bran, can also start your morning off to a not-so-sweet start.
There's literally a whole aisle in the supermarket devoted to breakfast cereal, so it can certainly be difficult to navigate the choices, especially when cereal marketers want you to think their cereal is the right choice by labeling them with things like "heart healthy" or "whole grain". The answer to whether or not a cereal is a good choice always lies on the nutrition facts label, not on the claims made on the front of the box.
Start with Calories
At the top of every nutrition facts label, you'll see a calorie count. When you're trying to lose or maintain weight, you want to always choose a cereal that contains fewer than 250 calories per cup. It's even better to find one that contains fewer than 120 calories per cup. When checking calories, pay close attention to the serving sizes listed on the label. Depending on the type of cereal (granola versus flakes, for instance) servings can vary from ½ cup to a full cup.
Move on To Fiber
Once you've figured out the calories per serving, next up is fiber. Fiber keeps you full, helps lower cholesterol and keeps you regular. Many people fall short of their daily fiber needs, so it's always a good idea to start your day off with a healthy dose of fiber. Choose a cereal that contains at least 3 grams of fiber per serving. If you can find a cereal with at least 5 grams of fiber per serving, that's even better.
Size Up the Sugar
Sugar is the area where many cereals fall short. Even if a cereal is high in fiber, it may still contain way too much sugar. Ideally, you want to choose a cold cereal that contains fewer than 5 grams of sugar per serving. It's difficult to rely on the nutrition facts label alone though because it lists both sugar from natural sources, like raisins, and added sugar. Look at the ingredient list for words like sugar, high fructose corn syrup, brown sugar, rice syrup, sucrose, or dextrose. All of these words indicate that sugars have been added to the cereal – and they're ingredients that you want to avoid.
Go Whole
Many cereals have claims on the front that boast that the cereal is "made with whole grains". While this may be true, it doesn't mean that the cereal contains enough whole grains to classify it as healthy. In order to figure out if a cereal is actually 100 percent whole grain, you'll have to look to the ingredient list. One of the first two ingredients should be whole grain wheat or whole grains oats. If instead, the ingredient list contains enriched wheat or bleached wheat, it's a good indication that the grains are refined and not the best choice.
What is your favorite cereal and how does it stack up against these recommendations?