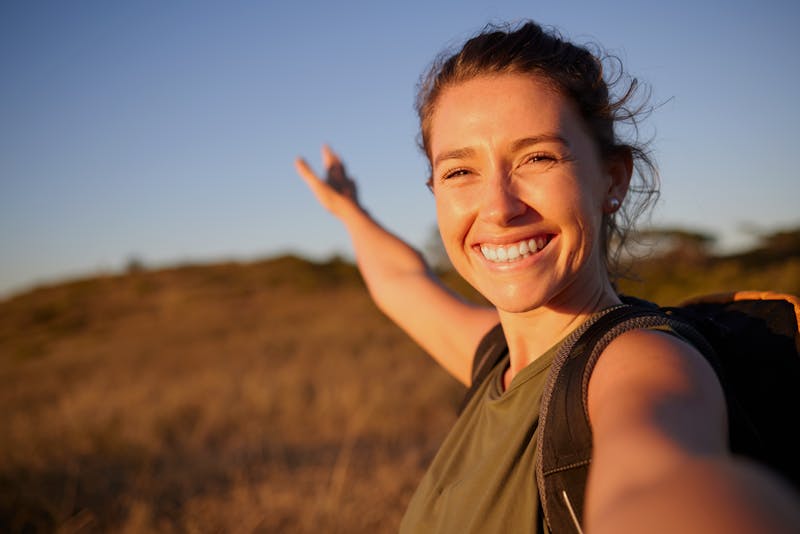 Phoenix summers are hotter than ever so you may prefer to do most of your hiking in the spring, fall, and winter. Our location is ideal because you have all the benefits of city life without having to go far to immerse yourself in nature. In addition to the physical challenge of a good hike, you can explore some breathtaking landscapes and wildlife. Hiking is also perfect for active dates and family-friendly outings. Let's dive in and explore some of the best hiking in Phoenix and our surrounding cities.
Hiking Preparedness
Hiking is an active way to enjoy nature. Even if you're on an easy trail you're unplugged and breathing in fresh air. Spending time in nature provides a variety of whole-body benefits. From decreased stress to improved cognitive performance, boosting your immunity, and increased happiness and connection. We're fortunate to live in a state with ample parks, preserves, and picturesque mountain ranges. Before you head out on your hike, plan accordingly.
This hiking checklist ensures you're prepared, also:
Check the weather and skip the hike if it's too cold, too hot, too humid, or it's advised not to hike for any reason.
Dress in layers when appropriate, including a hat and sunglasses when it's warm out and warm layers just in case.
Always bring water, and maybe an electrolyte beverage. Bring at least twice as much as you think you'll need.
Pack shelf-stable protein-rich snacks. Nuts, seeds, protein bars, and trail mix are ideal.
Wear comfortable boots, sandals, or shoes with traction and breathable socks.
Pack a mini-first aid and hiking essentials kit that includes plenty of band-aids and blister prevention aids.
Bring an ergonomic backpack, even if it's a mini pack for water, snacks, safety kits, and other essentials.
Ensure your phone is fully charged and that you have a map of the park and charted course, or at least the park mobile app.
Know the route you are hiking and bring relevant hiking gear with you.
Even if you're hiking with friends and family, let someone know where you're heading and text them when you return home.
Now let's dive into some of the best hiking trails in Phoenix and our surrounding cities.
Camelback Mountain
Camelback Mountain is just 20 minutes from downtown and is a fan favorite for locals and tourists alike. The mountain was named due to its uncanny resemblance to a kneeling camel. It's home to 2 routes, both of which require hiking and climbing—so neither is beginner-friendly.
Echo Canyon is a 2.5 mile hike that takes 2 to 3 hours roundtrip. This steep and rocky trail is challenging and requires the use of both handrails and climbing to reach the summit. At the top, you'll enjoy a 360-degree panoramic view of the sprawling landscape.
The Cholla Trail is a 2.6 mile hike that takes 2 to 3 hours roundtrip. It's a slightly less challenging climb than Echo Canyon, without compromising on breathtaking views. The first mile is a hike, and the remainder requires some climbing. At the top, you'll be able to see both Phoenix and Scottsdale.
Piestewa Peak
The Piestewa Peak Trails in Phoenix Mountains Preserve has something for everyone. The Summit Trail is the most challenging. It's only 1.2 miles, but it's steep with multiple switchbacks. Traction is a must as the path has lots of gravel and rock. At the top, you'll be rewarded with an expansive view of the city.
Those looking for a less challenging adventure can hike one of the lower-level trails. There are 6 trails total, many of which intersect to create a personalized route. Each trail has different entry points. The Freedom Trail circles the base of the peak and Quartz Ridge Trail is easier to hike and has a variety of desert views.
South Mountain Park and Preserve
At 16,000+ acres, the South Mountain Park and Preserve is one of the largest municipal parks in the nation. It's home to 3 mountain ranges, the Ma Ha Tauk, Gila, and Guadalupe. While the park boasts some of the most popular hiking trails in Phoenix, you can also mountain bike or trail ride on horseback.
Choose from 5 routes offering 50 miles of hiking, with options for novice and experienced hikers. The 3.8 mile Holbert Trail to Dobbins Lookout is a top pick. It's a steep path that offers a stunning view of the city.
The Lost Dog Wash Trail
There are a variety of outdoor activities to choose from in the McDowell Sonoran Preserve in Scottsdale. This protected desert habitat is home to an impressive range of trails that you can hike, bike, or explore by horse. As with most parks, motorized bikes are not permitted.
One of the top trails within is the Lost Dog Wash Trail. The path is rocky but moderate—and ideal for family outings. During this 4 mile hike you'll enjoy desert wildflower fields, fascinating rock formations, various cacti, and maybe even cardinals or coyotes.
Flatiron via Siphon Draw Trail
If you head 40 miles out of town to Lost Dutchman State Park, you can choose from a variety of trails. The most popular trail is the Siphon Draw Trail to Flatiron. The Flatiron is an uneven plateau on the Superstition Mountains. The hike is about 6 miles round trip, 4 miles to the top—and it takes at least 5 hours. The route goes from barren desert to lush green forest, with a sprawling view of the desert at the top.
If you aren't an avid hiker, choose from one of the other stunning trails at the park.
Wind Cave Trail
The Usery Mountain Regional Park in nearby Mesa has a year-round activities calendar. There's always something to do, either guided, solo, or with friends and family. The Wind Cave Trail is popular as it's scenic but leisurely. It's an ideal path for birdwatching and spotting lizards, hawks, and jackrabbits. And yes, there is a cave-like rock formation that is perfect for photos, picnics, and rest.
There are other trails to choose from and you can venture out on foot, on bike, or on horseback.
North Mountain and Shaw Butte
The North Mountain Preserve includes the North Mountain Trails and the Shaw Butte Trail. Enjoy a mix of both city views and mountain ranges. The Shaw Butte is one of the most popular hiking trails in Phoenix, but it's a challenging route. It's a steep and rocky 4 mile trek. Unlike many routes on this list, leashed dogs are welcome. You can also explore this preserve on your mountain bike.
The Maxine Lakin Nature Trail is an easier route that is only 1.2 miles to the Penny Howe Barrier Free Trail is just 2 small loops totaling .3 miles in distance. Moderate hikers searching for an all-day adventure prefer the 10.7 mile Charles M. Christiansen Memorial Trail.
Thunderbird Conservation Park
The Thunderbird Conservation Park in Glendale is best known for its tranquility. It's also the perfect place for budding hikers. Choose from one of 8 hiking routes, from easy to difficult. The shortest hike is the .25 mile moderate Chuckwalla and the longest is the Coach Whip, a moderate 5 mile hike.
Build your endurance with the shorter and more difficult options, such as the 1.5 mile Arrowhead Trail.
Estrella Mountain Regional Park
Estrella Mountain Regional Park is located 20 miles outside of the city in Goodyear. It's another park with an impressive activities calendar. There are many charted paths to choose from, some that you can mountain bike or traverse on horseback.
The Baseline Trail is a popular 2.4 mile moderate loop. You can mountain bike on this trail and bring a leashed dog with you. For a longer all-day hike, the 8.7 mile Pedersen Trail is ideal, but it's a difficult hike. For an easy breezy hike, enjoy the .5 mile Gila Trail.
Cave Creek Regional Park
Some of the best hiking in Phoenix is a bit outside of the city. Cave Creek Regional Park is just 45 minutes away, making it an ideal day trip. Take your choice of 8 different shared-use routes where you can hike or bike. The shortest hike is the Jasper Trail at just .2 miles and it's a fairly easy route. The longest is the Go John Trail, which is a 5.8 mile advanced route.
Or choose from several charted paths that are 2 miles or less.
Hiking Not For You?
Looking to immerse yourself in nature, unplug, and escape the hustle of modern life—but don't like to hike? Not to worry! If hiking isn't your thing, many of these trails can be explored on a mountain bike or by horseback.
If that's still not your thing, check the activities calendar for each park or nature preserve to view the other outdoor activities you can participate in. From camping to fishing, golfing, picnics, sports, stargazing, guided tours, and more.
Looking to Level Up Your Athletic Performance?
If you're an avid hiker, athlete, or fitness enthusiast and you want to learn more about how to level up your performance with vitamin injections and nutritional supplements—reach out to Valley Medical Weight Loss and Med Spa.
Safe and happy hiking!