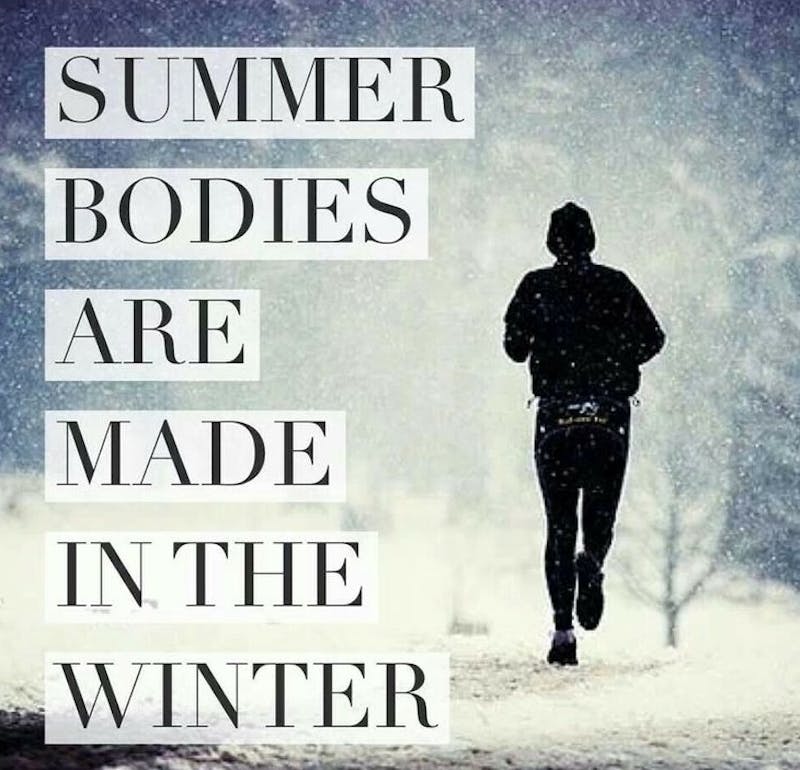 There's a popular phrase that says "summer bodies are made in the winter", which in layman's terms means that you should be really honing your diet and exercise routine in during the winter, so that you can strut your stuff come summertime. Unfortunately, it's pretty easy to fall into the opposite trap: bulking up like a hibernating bear since you'll be wearing more clothes and you need to make sure you're warm, right? There's just something about the cooler weather that makes you want to indulge in comfort foods, but since nicer weather is on the horizon, it's time to really kick it into gear. Even if you've gained some weight this winter, the time is now to start doing the things that can help get you into shape for summer.
Find an indoor workout routine that you love. Let's face it: going outside is not just as exciting in the winter, which is the perfect excuse to skip your workout, right? Wrong! There are SO many workout DVDs available now that you're bound to find one that you love. And the good news is that many of these workout DVDs only require you to work out for a half an hour. That's only 2 percent of your entire day. TWO PERCENT! You can find the time. Try something fun – like Zumba or a dance routine. If you're into something a little quieter, do beginner's yoga. You can even find a lot of these routines on YouTUBE for free, so you don't have to shell out any extra cash.
Fill up on broths and teas. It's natural to want warm, comforting foods during the winter – that's actually your body's innate physiological intelligence at work – but instead of filling up on creamy soups and cheesy dishes, opt for broth-based soups and herbal teas. These hot liquids are low in calories, so they fill you up for less and they're loaded with nutrients. Try to make your own broth-based soups at home so you can control the ingredients. Use lots of veggies and plenty of spices. Switch up your teas, since different herbs are beneficial in their own ways. Chamomile can reduce stress, while peppermint can aid with digestion.
Wear your "summer clothes". Okay, we don't want you to walk around in sundresses and shorts when it's chilly out, but trying these things on every once in a while during the winter months can help keep you on track. Yoga pants and cardigans are a lot more forgiving than shorts and dresses, so the comfort of these clothes can make you feel like you're on track when you're actually gaining weight. Nothing says "I need to get back on track" like trying on some skinny jeans in February.
Join a group activity. If you've fallen off the wagon this winter, getting the motivation to get back on track can be difficult. Often, when we're only accountable to ourselves, we tend to blow off our plans. Make yourself accountable to others by joining a group activity – it may be a boxing class or a running club or a yoga event. Choose something that you like and stick to the schedule. If you can't find a group activity that you like, get a friend on board. Check in with each other daily and hold each other accountable.