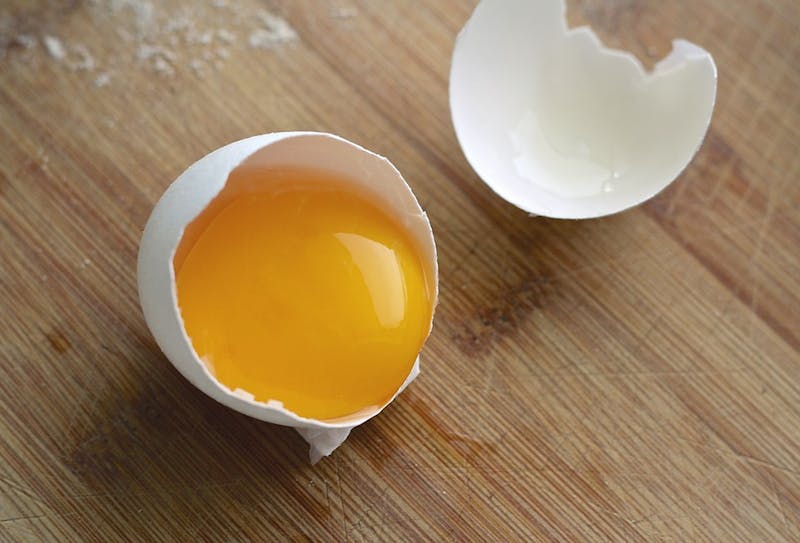 If there's one thing you need to pay attention to this winter, it's vitamin D. The vitamin has a wide range of benefits from improving your bone health to decreasing your risk of heart disease to warding off depression to boosting your immune system. The benefits don't stop there, though. Studies show that people who are deficient in vitamin D are more likely to be overweight or obese and supplementing with the vitamin may help increase weight loss.
A study done by Italian researchers showed that dieters who took vitamin D supplements in addition to following a low-calorie meal plan lost more weight than dieters who restricted calories, but didn't supplement with vitamin D.
What Makes Vitamin D Unique
Vitamin D is unique in several ways. First, although it is a vitamin, vitamin D acts similar to a steroid hormone in your body. Because of this, it not only plays important roles in keeping your bones and teeth healthy, it also helps to regulate your metabolism. Vitamin D is also unique because your body can make it with help from the sun. When you're exposed to sunlight, your body converts the sun's rays to an active form of the vitamin that your body can use. This is both good and bad.
The good news is that because your body can make it with exposure to the sun, you typically get enough vitamin D in the sunny, summer months. The bad news is that vitamin D is not present in a lot of foods, so in the winter months, it can be hard to meet your needs for vitamin D on those cold, darker days. A study in the Archives of Internal Medicine reported that right now, approximately 77 percent of Americans are at least mildly vitamin D deficient.
So what can you do?
The best thing to do is eat a lot of vitamin D rich foods on a regular basis. Vitamin D is naturally found in fatty fish like tuna, mackerel, and salmon, cheese, egg yolks, and beef liver. Some foods, like cereal, orange juice, and dairy products, are also fortified with the vitamin. Although these foods provide the vitamin, it's often still difficult to get the recommended amount – which is currently 600-800 IU per day, although the Vitamin D Council recommends 5,000 IU per day. That's why we also recommend taking a high quality vitamin D supplement, like D-mulsion, especially in the winter months.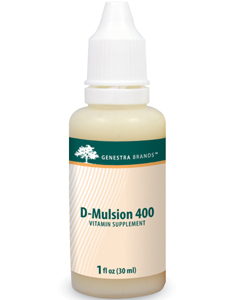 What is D-Mulsion?
D-mulsion is an emulsified form of Vitamin D that the body absorbs much better than other supplemental forms. Because vitamin D is a fat-soluble vitamin, it's absorbed better in the body when there is fat present. The Genestra brand D-Mulsion also contains extra virgin olive oil to increase absorption even more.
What are the Benefits of D-Mulsion?
D-Mulsion has many known benefits, especially:
Enhancing musculoskeletal health*
Improving immune function*
Aiding in cardiovascular health*
Increasing weight loss*
Decreasing the possibilities of cancer*
Maintaining bone health*
Reducing the risk of multiple sclerosis*
Amplifying brain development later in life*
Reducing severity and frequency of asthma symptoms*
Lowing the risk of developing rheumatoid arthritis in women*
Protecting against radiation damage*
Recovering from tuberculosis more rapidly*
Who Can Benefit from D-Mulsion?
Almost anyone can benefit from the use of D-mulsion, but especially individuals who:
Do not receive 3-5 hours of sunlight per week
Have autoimmune diseases
Possess a family history of cancer
Come in contact with radiation frequently
Are pregnant or nursing
How Should I Take D-mulsion?
Take D-mulsion exactly as recommended by your doctor. Most individuals take one drop two times daily directly on the tongue or under the tongue.
What are the Possible Side Effects of D-mulsion?
D-mulsion is classified as extremely safe when taken orally as recommended by your health practitioner. Some side effects of taking too much vitamin D include weakness, fatigue, sleepiness, headache, loss of appetite, dry mouth, metallic taste, nausea, and vomiting.
*These statements have not been evaluated by the Food and Drug Administration. This product is not intended to treat, cure, diagnose, or prevent any disease.