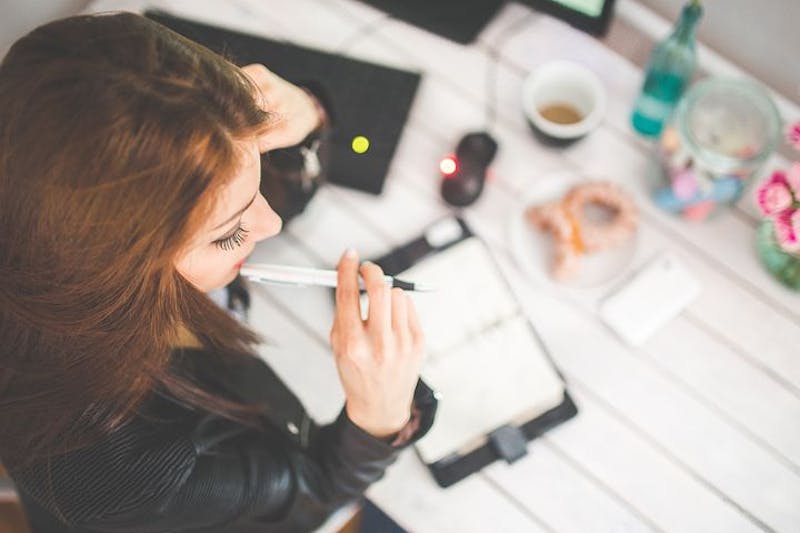 The Academy of Nutrition and Dietetics estimates that a whopping 83 percent of Americans eat at their desks during work. If you're one of these people, you probably have the best intentions to eat a healthy whole foods lunch, but short lunch breaks, temptations from not-so-healthy coworkers, and less-than-ideal take out options can make that difficult. It can become even more difficult when you're tired, from a lack of good sleep or the changes from Daylight Savings Time.
You don't have to fall victim to unhealthy work habits though – planning, healthy snacking, and holding yourself accountable to your weight loss goals can help you stay healthy at the office.
Plan, plan, plan!
You might be sick of hearing us say this, but we don't think we can ever say it enough – planning is absolutely essential! Workplace cafeterias are loaded with unhealthy food choices like pizza, pasta, and burgers. Although you may be one of the lucky ones with a healthy takeout place next store, most offices are also surrounded by fast food and quick grab-and-go options that fall short in the nutrition department. Don't rely on your at-work options. Instead, pack your lunch the night before so you can just grab it as you head out in the morning. Take some leftovers from dinner, pack some chicken and roasted veggies, or make some tuna fish and throw it on a salad. Having a healthy lunch easily accessible is KEY to making it work — at work.
Nibble as you Work
Munching on healthy snacks every few hours is a great way to keep you on track. If you start your day at 8 AM and don't get any food into your system until 2 PM, you're probably more likely to indulge in that office pizza shop order. Keeping yourself satisfied with healthy snacks – like hummus and veggies, low-fat cheese and a piece of fruit, or apple slices with no-sugar-added almond butter – will keep your blood sugar stable and your cravings in check. You want to make sure you're including a source of protein with your snacks to keep you full for longer. An apple contains essential vitamins and minerals and fiber, but combining it with a little nut butter provides the protein that will get you through to lunch.
Be Choosy with Takeout
Let's face it, even with the best of intentions, there are going to be days where you don't pack a lunch or you forget your perfectly balanced lunch in the fridge at home. When this happens, your only option may be to grab something from that takeout place down the road. Get familiar with the places near your work and look over their menus. Look for options that combine lean protein with lots of veggies and maybe some whole grains. You might do a half a turkey sandwich with a side of vegetable soup or chicken and broccoli dish with no extra sauces. Ask for sandwiches sans cheese or mayonnaise and order salad with the dressing on the side. Build a relationship with the restaurants near you. Most restaurants will be more than happy to accommodate your needs, especially if the staff knows you personally.
Get a Coworker on Board
Resisting temptation can be especially difficult at the office where stress can get high and vending machines and candy bowls can easily throw you off track. Find a coworker who is also trying to lose weight or who is passionate about a healthy lifestyle and make a commitment to help each other stay on track. Eat lunch with this coworker every day – or go on quick walks during your breaks – and avoid coworkers who try to sabotage your efforts.